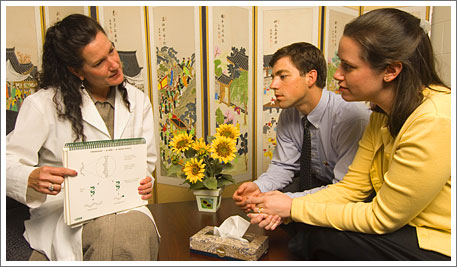 As one of the most popular and largest specialties within the diverse professional psychology field, graduate counseling psychology programs leading to a master's or doctoral degree are extremely prevalent at many universities nationwide. Since counseling psychology programs encompass a broad range of practices that can be used to help individuals improve their well-being, alleviate distress, resolve dilemmas, and cope with crises, many graduate psychology students choose this specialty area to learn the most about how to facilitate personal and interpersonal functioning across the lifespan.
If you are considering a major in counseling psychology, it's important to fully understand the counseling psychology definition, the difference between clinical and counseling psychology, and perhaps most importantly—what does a counseling psychologist do? Read on to learn more about this growing subfield and determine whether it is the ideal match for your professional goals in psychology.
Defining Counseling Psychology
Unlike other specialty areas in psychology, counseling psychology specifically has a strong focus on providing effective therapeutic treatments to help clients who are experiencing a broad range of symptoms. According to the Society of Counseling Psychology, the counseling psychology definition can be understood as a professional psychology field that pays attention to the "emotional, social, vocational, educational, health-related, developmental, and organizational concerns" that normally impact our daily lives. Across all stages of development from childhood through old age, counseling psychology is made up of culturally-based practices for addressing school adjustment problems, life transitions, relationship difficulties, learning deficits, stress management, organizational issues, and career moves.
Clinical vs. Counseling Psychology
Since the two distinctive fields of clinical psychology and counseling psychology are quite similar, they are often mistaken for each other. Although these two areas overlap, it is important to realize the main differences in their perspective and training. At its core, the difference between clinical and counseling psychology comes down to the seriousness of the conditions that the practice aims to diagnose and treat.
While counseling psychology mostly focuses on psychologically and emotionally healthy individuals, clinical psychology is more concerned with the treatment and prevention of serious mental illnesses, a practice called "psychopathology." Clinical psychologists will study and treat medically diagnosed psychological and behavioral conditions such as depression, bipolar disorder, and schizophrenia. Counseling psychologists, on the other hand, will help clients work through emotional, social, and physical stressors in their lives that aren't attributable to a diagnosed mental illness. These troubles are typically triggered by their relationships, jobs, or school and include family issues, substance abuse problems, and others.
Sinceit has emerged from the field of vocational psychology, the counseling psychology definition has a strong educational element with a variety of basic therapeutic skills. On the other hand, clinical psychology is more medical-oriented with specialized training skills for the treatment of psychopathology for severe mental health disorders.
Why Study Counseling Psychology?
What is counseling psychology's biggest benefits? A career in counseling psychology is equal parts challenging and rewarding, as you're often meeting your clients in the depths of distress or turmoil. You may want to study counseling psychology if you're an inherently empathetic person who values helping others improve their emotional and psychological wellness. You may also find deep value in helping children overcome emotional obstacles or seeing families strengthen their bonds by working with you, or helping individuals tap into their true potential and self-worth. Studying counseling psychology may also appeal to you if you're fascinated by the connection between the human brain and emotions, and you relish the opportunity to better understand the human psyche.
You may thrive in a career as a counseling psychologist if you embody the following traits:
You don't shy away from challenging issues.
You're able to be an objective voice for your clients.
Your critical thinking and close listening skills allow you to fully comprehend your clients' issues, and map the relationship between cause, effect, and solution.
You're able to establish and maintain healthy boundaries with your clients.
You love being a life-long learner and enjoy research.
<!- mfunc search_btn -> <!- /mfunc search_btn ->
What Does a Counseling Psychologist Do?
To help clients strengthen their existing skills and characteristics to achieve a more optimal level of wellness, counseling psychologists often provide psychotherapy services to help individuals overcome difficulties in their daily lives. Instead of treating people who are severely mentally impaired, counseling psychologists may help clients:
Choose a career path
Cope with the loss of a loved one
Overcome a learning challenge
Work through marital or family difficulties
Deal with high-stress situations and learn management techniques
Work through the emotional effects of injuries or physical disabilities
In general, as a counseling psychologist you'll be responsible for identifying your patients' issues and formulating a treatment plan, educating them on different options and frameworks you can work through, and coordinating with other mental health professionals as necessary.
Another critical question to understand: As part of their counseling practice, what does a counseling psychologist do and what techniques do they employ? Is a counseling psychologist a therapist? In short, yes—these practitioners are licensed to practice psychotherapy, thereby making them therapists. A counselor may use one-on-one or group therapy sessions depending on their specialty and the needs of the client. During these sessions they will use therapeutic techniques to work with children, adolescents, couples, families, and adults across the age spectrum. A few examples include:
Reflections: This involves repeating the client's statements and feelings back to them, allowing them to hear and respond to what they've expressed. A counselor may also rephrase these reflections to offer a different perspective.
Open-ended questioning: The counselor will ask questions that encourage the client to go into further detail, rather than closed "yes" or "no" questions.
Play or art therapy: Often associated with counseling children, this technique encourages the client to use toys, blocks, dolls, or art to express and manage their feelings.
Required Education and Training
What does a counseling psychologist do first to start down the path to their future career? For those who have the drive to become a counseling psychologist, the most common first step is to receive a bachelor's degree in psychology before enrolling in a master's program and then Doctor of Philosophy (Ph.D.) or Doctor of Psychology (Psy.D) program in counseling psychology.
Some students will earn a bachelor's in social work first, then progress to a master's in psychology or counseling instead, prior to earning their Ph.D. or Psy.D. Others may be eligible to bypass a master's degree altogether and enter directly into their doctoral program. It's also important to note that each state has specific requirements for licensure—some accept a master's degree only for limited licensure, while others require a full doctoral degree before you can begin practicing. Make sure you research programs near you to understand their prerequisite requirements.
To ensure the highest academic quality standards, it is important to choose a program that has been fully accredited through the American Psychological Association (APA). Once you have earned a counseling psychology degree, you will have the credentials needed to work as a licensed counseling psychologist in private practices, businesses, government agencies, hospitals, mental health clinics, substance abuse treatment centers, research firms, universities, and schools.
What Can You Do with a Counseling Psychology Master's?
Since many states require a Ph.D. or Psy.D. for full licensure, what does a counseling psychologist do with just a master's degree? There are several different fields and practices you can enter after completing an initial graduate degree program. Some states allow limited licensure to practice as a mental health counselor, gaining experience with actual before earning a doctorate and practicing as a state-licensed psychologist.
Your counseling psychology master's degree may allow you to work as a:
School counselor, assisting students with planning and handling their curriculum as well as coping with the stresses of adolescence and study.
Grief counselor, acting as a source of support for those who have lost a loved one or experienced a traumatic event.
Addiction's counselor, helping people work through and recover from substance abuse.
Career counselor, advising professionals through career transitions and the emotional stressors that accompany major financial changes.
Domestic violence counselor, providing emotional and logistic support for victims of physical abuse, including potentially finding legal and/or medical assistance.
Mediator/conflict resolution counselor, helping couples work through divorce or families conduct interventions.
Art therapist, using creativity and visual arts to help patients cope with emotional stressors, trauma, or loss.
How Long Does a PhD in Counseling Psychology Take?
Several factors influence how long it might take to get your Ph.D. in counseling psychology. These include:
How many credits your program requires
Whether you attend full-time or part-time
How long your dissertation takes
Whether you're eligible for an accelerated program
In general, expect your counseling psychology Ph.D. to take between 4-8 years to complete, with the average doctoral program lasting 5-6 years
<!- mfunc search_btn -> <!- /mfunc search_btn ->
Find a Counseling Psychology Program
An APA-accredited counseling psychology program will put you on your path to helping clients lead healthier, happier lives. Earning your master's in counseling psychology prepares you to enter the field, gain experience with clients, and eventually earn your doctorate.
The right program caters to your interests and sets you up for a career path in a specialty of your choosing. The best schools to earn a counseling degree offer formats that work with your schedule—some programs offer online-only coursework, while others meet on campus or offer a hybrid model. Once you've found the perfect master's program in counseling psychology, you're well on your way to making a major difference in people's lives.