Earning a master's degree in psychology is a solid move if you want a high-paying career that has the potential to have a positive impact on individuals and society.
Psychology is a field that encompasses a wide array of subject matter. Not everyone who chooses to pursue a master's degree in psychology starts off with an undergraduate degree in the field. In fact, nearly any bachelor's degree can serve as a foundation for a psychology master's program.
And the beauty of that is that an undergraduate degree in different fields in combination with a master's in psychology can add a lot of depth and breadth to a graduate's knowledge and expertise. Just about any field you can imagine relies on some understanding of the mind and human behavior, even fields like business, marketing, IT and data science.
When it comes down to it, most of the fields that people study are human focused in one way or another. Moving on to a graduate program in psychology is a natural next step for many students looking to find a meaningful focus for their careers.
So, is a masters in psychology worth it? Absolutely. A master's degree in psychology prepares students for advanced careers in diverse fields, from couples counseling to human services and even roles outside the field of psychology that still rely on a strong knowledge of psychological principles. A master's in psychology can lead to personal growth and better self-awareness, and consistently proves to be a good return on investment since it gives graduates access to well-paying jobs.
So, you may be asking at this point, exactly how much can I make with a masters in psychology? The answer is that the range of salaries is as broad as the kind of jobs you'll be eligible to compete for. As you will see here, the salary range is anywhere from just below $50,000 to upwards of $100,000 based on data reported by the US Bureau of Labor Statistics. Of course, independent therapists have the potential to earn much more than this.
You can choose from different types of psychology masters degrees, whether you want to receive a terminal degree or one focused on doctoral preparation, or even one in a specialized area, like a criminal psychology master's degree.
Here are some of the highest-paying jobs that you can get with a master's degree in psychology. Some involve serving individuals and families, some focus on successful business, and others are specific to niches like forensics or sports.
Mental Health Counselor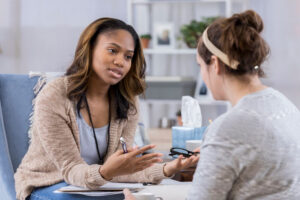 Mental health counselors help people cope with and move past concerns that are affecting their mental health. They assess mental health and behavioral issues that can include everything from the all-too-common anxiety and depression to behavioral problems related to alcohol and drug abuse. They work with patients to find ways to treat their problems and improve their quality of life. Many people rely on mental health counselors long-term with ongoing issues, and others see them when handling things like the death of a loved one, a divorce, or a job loss.
Mental health counselors make an average of about $48,000 per year.
Recreational Therapist
Recreational therapists develop and roll out treatment plans to help patients use recreational activities to improve their health, both physically and mentally. Their patients have disabilities, injuries, or illnesses and recreational therapists often work in hospitals, nursing homes, and parks and recreation departments.
The average salary for a recreational therapist is $48,000.
Marriage and Family Therapist
Similar to a mental health counselor, a marriage and family therapist helps patients cope with and solve issues that arise in their personal relationships. Their work isn't limited to spousal issues, but instead they consider the mental and emotional health of the entire family unit. Some specialize in children or couples' therapy specifically.
A marriage and family therapist usually makes about $51,000 per year.
Social Worker
A social worker focuses on the social support that people in their communities need. Social workers provide counseling and guidance to their clients and ensure that they have access to the resources that will benefit them. This is a role that usually involves a master's in social work specifically (MSW), but it's a degree and discipline that is heavy in psychology and a perfect option for psychology undergrads.
A social worker earns about $52,000 annually.
Research Assistant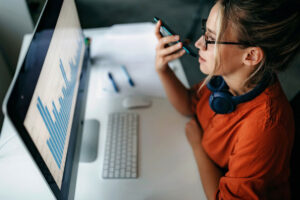 While a researcher with a master's degree in psychology can't hold the title of lead research psychologist, many assist in active psychological research and contribute to advancements in the field. Research assistants often work for universities, government agencies, or private research organizations.
A psychology research assistant can make about $54,000 per year, often while working toward a doctorate.
Career Counselor
School and career counselors help students develop academic and social skills and guide them toward careers that align with their work history and skillset. They also often help people find the kind of vocational training (or re-training for people changing fields) they need to compete in the current job market. Understanding how an individual thinks, behaves and what their proclivities and propensities are is necessary to understanding how to help them plan their futures.
These counselors earn an average of about $58,120 per year.
Special Education Teacher
A special education teacher working with children who have disorders and disabilities that can range from vision impairment to severe autism spectrum disorder, will find that a master's in developmental or child psychology will prepare them for the job. Some special education programs that meet the requirements for teacher certification offer concentrations in these areas. The education and training an advanced degree provides equips special ed teachers with the expertise to attend to the learning, emotional, and social development needs of students, along with skills to implement the individualized education plans they need to learn effectively.
A special education teacher makes about $61,500 a year.
Life Coach
A life coach, also called an executive coach or enrichment specialist, works with clients to guide them toward achieving their life vision. This can mean everything from meeting personal weight loss goals to leading a company to set new benchmarks. A background in psychology is perfect for understanding how clients feel and think, what contributes to their patterns of behavior, and what motivates them to reach their goals.
Life coaches, classified as health education specialists, earn an average of $62,120 per year.
Survey Researcher
Survey researchers in psychology design and conduct surveys related to everything from community health to consumer behavior, and then analyze the data to find useful information in the numbers about how to better serve people, or more skillfully market to them. Surveying is critical to psychological research, and to developing the kind of social programs that are known to have a real impact on the people and communities they are designed to serve.
A survey researcher earns an average salary of $66,970.
Sports Psychologist
Sports psychologists deal with the psychological elements of athletic performance, everything from focus and motivation to the kind of performance anxiety made famous in the recent Olympic games when Simone Biles described getting the "twisties." There are master's degree programs specifically in sports psychology designed for professionals interested in helping athletes keep their heads in the game.
These professionals can make a comfortable living helping athletes, with clinical psychologists working for college athletic teams earning an average of $86,160. Of course, in the professional leagues, salaries just go up from there.
School Psychologist
Most school psychologists hold master's degrees in psychology. School psychologists work with children to diagnose and treat problems related to learning and behavior, and anything else that can disrupt healthy academic and social development. In addition to the reward of knowing that they help kids overcome academic, social, emotional, and behavioral problems, school psychologists generally enjoy career stability, good salaries, and the kind of benefits that most people would love to have.
School psychologists earn an average of $89,000 annually.
Forensic Psychologist
Most forensic psychologists get into the field as consultants and expert witnesses with a master's in psychology that includes a focus in forensic psychology. Working on all sides of the criminal justice system, they provide the kind of expert testimony that can turn a case, and also help law enforcement develop criminal profiles and train detectives on the psychological aspects of criminal investigations.
Someone with a master's degree working in forensic psychology may make up to $100,130 per year, while independent consultants can make even more.
Industrial-Organizational Psychologist
In this applied psychology role, industrial-organizational psychologists use their training in psychology to solve workplace issues related to everything from productivity and redundancy to worker morale and safety. From office layout to the design of industrial production plants, almost all modern workplaces incorporate our knowledge of how people think and behave to thoughtfully design the safest and most productive work environments possible.
An I/O psychologist will earn $113,000 a year, on average.
Diversity and Inclusion Manager
An in-demand subset of training and development managers are those specializing in diversity and inclusion in the workplace. A diversity and inclusion manager develops, implements, and monitors strategies to promote diversity and inclusion.
A diversity and inclusion management position is one of the highest paying jobs a psychology master's degree can get you, coming with an average salary of $115,640.
Engineering Psychologist
Engineering psychologists focus on improving the design of systems, operations, and equipment to increase productivity and efficiency and reduce injury. It's a fascinating field that takes what we know about human behavior and responses to design everything from consumer products to industrial machinery to make them safer and more intuitive for the people who use them. Engineering psychologists need a master's degree to begin work in the role, while doctorates aren't uncommon for upward mobility in the field.
Engineering psychologists working in scientific and technical consulting earn an average of $116,210 per year.
The Highest-Paying Jobs in Psychology Go To Professionals with the Highest Degrees
As you can see, the highest paying master's degrees in psychology jobs bring in some pretty comfortable salaries. But work your way up to a PhD in psychology salary and it's possible in some cases to see those numbers rise even higher, with jobs like private practice clinical therapist, neuropsychologist, geropsychologist, and many more specialty positions.
What field in psychology pays the most? That would be psychiatry. While a psychiatrist is considered a full medical doctor who needs to complete medical school and a residency, some people decide to first earn a master's in psychology to get started in the field, working their way up to becoming a residency trained psychiatrist. Once you've arrived, you can expect an average salary of $217,000 a year.
2020 US Bureau of Labor Statistics salary figures for Psychologists and related professions reflect national data, not-school information. Conditions in your area may vary. Data accessed November 2021.
<!- mfunc feat_school ->
Featured Programs:
Sponsored School(s)
Sponsored School(s)
All school search, finder, or match results, as well as colleges and universities displayed as "Featured School(s)" or "Sponsored Content" are advertisers that compensate us for placement on this site. The resources, editorial content, and school evaluations published on this site are developed independent of the schools that advertise here.
<!- /mfunc feat_school ->