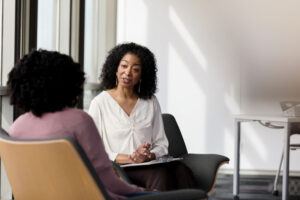 There's a whole lot of angles you can approach a career in psychology from, but in the most basic sense it comes down to two primary branches. There's the clinical side of the field where you need to have a doctorate to work with people with severe and debilitating mental health issues… and then there's the side of the field that everybody is more familiar with, the one in which practitioners earn a master's degree and give people practical tools for healthy relationships and a healthy outlook on life: counseling psychology.
So, if you're seriously considering getting into this line of work, the next big question is naturally going to be: what is a master's in counseling psychology?
A master's in counseling psychology or similar degree is the standard minimum to become a counselor who specializes in working with families and couples, people in need of career counseling and guidance, students and staff in schools, people struggling with behavioral and chemical addictions, or folks who just need some talk therapy to get through a traumatic loss or difficult episode in their lives.
A master's in counseling psychology is a way to build on what you learned in your bachelor's program. It's a way to open up new career possibilities and boost your professional competency by developing your skills in assessing and treating common mental and behavioral health issues.
Master's in Counseling Psychology – What to Expect from Your Graduate Program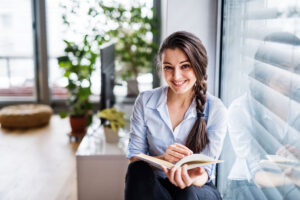 Programs can be offered as a straight master's in counseling psychology, or as a master's in psychology with a focus in counseling. The difference is subtle, but as you would expect, a straight master's in counseling will put more focus on the practical skills you need to be an effective counselor, and less focus on psychological theory.
The big admission requirement, of course, is a bachelor's degree. The expectation can range from allowing in candidates with a bachelor's in any field to requiring a bachelor's psychology or a closely related field specifically. Even schools that accept non-psychology bachelor's degrees will expect you to have some prerequisite undergraduate psychology courses under your belt.
In just about any counseling psychology master's program, you can expect the curriculum to cover:
Psychological assessments and testing
Case management
Counseling foundations and helping relationships
Lifespan development
Group counseling processes and dynamics
Counseling paradigms
Psychopathology
You can also look out for programs that offer an optional emphasis in one of these focus areas:
Substance abuse counseling
Marriage and family counseling
School counseling
Clinical counseling
Practicums, clinical experiences, field experiences, and internships are commonly part of a master's degree in counseling psychology. This will all take place right in your own community or the surrounding area, giving you supervised experience that lets you take what you learned in the classroom and apply it out in the real world. As a bonus, this kind of fieldwork gives you an early lead on job prospects. It's not uncommon for internships to turn into full time positions.
<!- mfunc search_btn -> <!- /mfunc search_btn ->
How long is a master's degree in counseling psychology?
Like almost all master's programs, you can expect at least two years of full-time study, or as long as three years if you're enrolled in a part-time program.
Can I be a counselor with a master's in psychology?
Yes, a master's in counseling psychology can fulfill a state's education requirement for becoming a Licensed Professional Counselor (LPC), Licensed Mental Health Counselor (LMHC), Licensed Professional Clinical Counselor (LPCC), among other types of counselor licensing designations that might be available in your state.
How hard is a master's in counseling?
Master's programs are rigorous by nature, designed to ensure you have the professional knowledge to help your clients and do no harm. Expect to apply yourself and give the program everything you got. Your professors are there to answer your questions and help you complete the didactic and clinical portions, but you'll need to bring your A-game to get through it with good grades.
Can I earn a master's in counseling psychology online or on-campus?
Master's in counseling psychology programs are routinely offered online, and in a hybrid format that combines on-campus and remote courses. But with fieldwork being standard, no counseling psychology master's program can be truly 100% online. If you opt for a fully online program, your school will help you find a field placement in your area, and likely already has a relationship with local clinics and practices that can provide supervised field experience.
What's the difference between a Master of Arts (MA) and a Master of Science (MS) in counseling psychology?
Surprisingly little. It usually comes down to a couple more courses in the humanities versus a couple more in the sciences. A lot of it comes down to perception too, with MS degrees conveying a sense of being based more in the hard sciences versus MA degrees being more inclusive of liberal arts courses. One key difference is that MS programs tend to include a thesis more often than MA programs.
What Can You Do with a Master's in Counseling Psychology?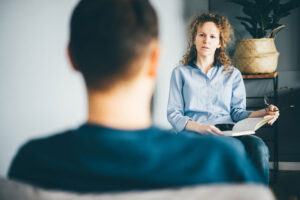 Earning a master's in counseling psychology can take your career to the next level, and that has a lot to do with the fact that bachelor's degrees simply don't meet the requirements for counselor licensing in most cases.
This can mean the difference between doing superficial intake interviews and general client assessments to working one-on-one with clients to help them change their lives and overcome challenges.
There are several counseling roles that are regulated at the state level through licensing. Requirements different a bit from state to state, but as a rule, earning a master's degree in counseling psychology can fulfill the education requirement for the following jobs:
School psychologist
Social worker
Drug, alcohol, and addiction counselor
Marriage and family therapist
Licensed Professional Counselor (LPC)
Licensed Mental Health Counselor (LMHC)
Licensed Professional Clinical Counselor (LPCC)
Occupational therapist
Rehabilitation counselor
Naturally, as your career advances so does your salary. The US Department of Labor reports the following national average annual salaries for professions that typically require at least a master's degree in counseling:
Substance Abuse and Mental Health Counselors – $51,550
Guidance and Career Counselors – $62,320
Rehabilitation Counselors – $42,080
Marriage and Family Therapists – $56,890
Occupational Therapists – $87,480
It also projects a much-faster-than-average growth rate for counseling careers related to mental health and behavioral disorders. Over the decade leading up to 2029, the number of jobs for counselors is expected to increase by 25 percent. That's a whole lot faster than most jobs, even in the healthcare industry, which is seeing some of the strongest growth of any sector.
Check out our list of the Top 10 Online Master's in Psychology Degree Programs
So, is a master's in counseling psychology worth it? Hopefully we've already answered that question. It most definitely is if you plan to be a licensed counselor, work directly with people to help them live fuller lives and increase your salary in the process. We think it is most definitely worth it!
How to Choose the Best Master's in Counseling Psychology Program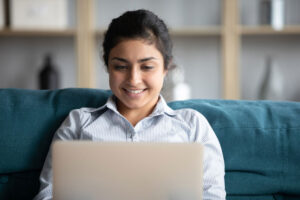 Accreditation is an important factor to consider when you're matching a degree program with your career goals. And in the most general sense, it's the only way to pick a high-quality program over one that might not meet the highest standards in preparing you for professional practice in psychology.
You've got three main accreditors to be aware of when looking at master's programs in counseling psychology:
The Council for Accreditation of Counseling and Related Educational Programs (CACREP) has been accrediting counseling psychology and related master's programs for longer than anybody else. Most states require at least a master's degree in psychology from a CACREP-accredited program if you want to become an LPC, LPCC, or LMHC (states use varying professional titles for their counselors). CACREP-accredited counseling psychology programs are at least 60 semester credits (90 quarter credits), include a practicum that's at least 100 hours, and include an internship that's at least 600 hours.
The Masters in Psychology and Counseling Accreditation Council (MPCAC) accredits counseling programs exclusively. With the exception of a few states that only recognize MPCAC accreditation, graduating from an MPCAC-accredited school is not a requirement for becoming a counselor. Many states do, however, accept MPCAC accredited master's programs as meeting the requirements for licensure even if they don't expressly require it. You can be sure, though, that any program with the MPCAC stamp of approval does meet high standards of quality.
<!- mfunc search_btn -> <!- /mfunc search_btn ->
The American Psychological Association (APA) only accredits doctoral programs in psychology – PsyD and PhD programs. You'll need to graduate from one of these programs if you want to become a full authority licensed clinical psychologist. If this career path is in your future, then you may want to consider earning your master's from a school that also has an APA-accredited doctoral program. If you don't plan to earn a doctorate and become a licensed psychologist, then this really isn't an important consideration.
There are a lot of programs that hold accreditation, so narrowing it down to the best master's in counseling psychology program for you could mean going a step further in your research. This could involve verifying the program is led by top-notch faculty with published work and looking at the practicums and internships offered to ensure they are enriching and diverse.
You can recognize a program with a strong commitment to students by looking at on-time graduation rates, and programs with a high job placement rate in a relevant field. Schools that hit these marks usually go out of their way to make it known.