Share this infographic on your site!
Why are animals more humane than humans and what we can learn from them?
Noteworthy Animal/Human Relationships:
○ Siegfried and Roy
■ First performers to use big animals in Las Vegas
■ Revolutionized the big entertainment events
● 30k live shows involving elephants, tigers, lions, macaws and cheetahs
■ Roy worked with the big cats, raising them from infancy
● He bonded with them by having them sleep next to him for their first year
○ Ace, John and Christian the Lion
■ Ace Bourke and John Rendall purchased the lion cub from Harrods dept. store in London in 1969
■ They raised Christian until he became too big
● George Adamson helped him return to the wilds of Kenya
● He assembled a "man-made" pride for Christian
■ A year later, Ace and John visited their old friend in the wild
● The stunning reunion was recorded as Christian ran to hug Ace and John
● They were immediately accepted by other members of his pride
■ 40 years later, the video was introduced on YouTube
● Now 100 million views
○ Koko the gorilla and Francine Patterson
■ Friendship began in 1972 when Francine was in graduate school
● She was doing a study of animal intelligence
● She began working with 1-year-old Koko
■ Their friendship has lasted more than 30 years
■ Francine has taught Koko sign language
● Koko has now mastered over 1,000 signs
● Understands more than 2,000 words
● She often initiates conversation with humans
● She talks about her thoughts, feelings, wants and needs
● She is more advanced in sign language than any other non-human
○ Pavlov's dog
■ Pavlov was the discoverer of "classical conditioning" aka "Pavolvian conditioning"
■ He discovered this type of conditioning by accident
● Original test: measure the salivary secretions of a dog at the sight of food
● He began to notice the same salivary response with things that were associated with food
○ The bowl, the lab assistant, sounds
■ Pavlov devoted the rest of his life to the study of associative responses
● In studies, he used a bell as neural stimulus
● Every time the dog was fed Pavlov rang a bell
○ The sound of a bell meant food
■ Eating + the sound of the bell = the dog salivating
■ In turn – the sound of the bell = Salivation
○ Many of the same principles apply to humans
<!- mfunc search_btn -> <!- /mfunc search_btn ->
Classical Conditioning in Humans
○ Many of the same principals apply for humans as for animals
○ Classical conditioning: utilized prolifically in advertising
■ Marketers are experts and knowing what drives consumers to buy
● Sight or smell of food, candy or beverages
○ Produces saliva and desire
■ Even the sight of a logo can trigger urges to purchase
● Ex. McDonald's golden arches
○ Symbolizes food and makes people feel hungry
○ McDonald's has successfully conditioned the vast majority of the world
Life Lessons From Animals
○ Take naps
■ Naps boost alertness, increase creativity, and improve memory
○ Social bonds increase life and reduce stress
■ Bats, elephants, dolphins, horses, hyenas and chimpanzees all have best friends
■ Humpback whales reunite with their friends every summer
○ Keep moving!
■ Sled dogs can run 1,150 miles in 10 to 17 days
■ Exercise reduces stress, improves sleep quality, decreases chance of depression, and improves quality of learning
○ Be excited to learn
■ Cows heart rates go up and they move quickly after achieving tasks
○ Be Empathetic
■ Dogs will lick and nuzzle anyone nearby who is crying or in distress
○ Be fair
■ Dogs have a keen sense of morality that boosts overall development and helps establish a society
○ Practice Mindfulness
■ Being mindful of your surroundings can actually change the way you perceive the passage of time
○ Share information
■ Whales share information about finding new food sources as resources become scarce
○ Don't give up so easily
■ Salmon swim thousand of miles upstream to spawn at the same place they were spawned
<!- mfunc feat_school ->
Featured Programs:
Sponsored School(s)
Sponsored School(s)
All school search, finder, or match results, as well as colleges and universities displayed as "Featured School(s)" or "Sponsored Content" are advertisers that compensate us for placement on this site. The resources, editorial content, and school evaluations published on this site are developed independent of the schools that advertise here.
<!- /mfunc feat_school ->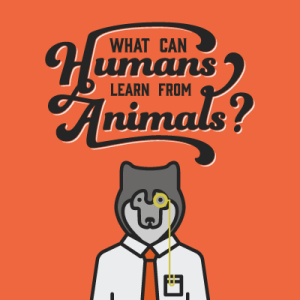 Sources:
http://www.rd.com/true-stories/survival/siegfried-and-roy-tiger-attack/
http://www.alioncalledchristian.com.au/
http://www.psych.upenn.edu/~seyfarth/Publications/annurev-psych-%20Friendship.pdf
http://www.koko.org/index.php
http://www.huffingtonpost.com/2013/09/23/lessons-animals-can-teach-us_n_3942283.html
http://www.simplypsychology.org/pavlov.html
http://sites.ewu.edu/cedp324-sain/2013/08/12/advertisements-and-classical-conditioning-by-natasha-barnhart/
http://psychology.about.com/od/behavioralpsychology/a/classcond.htm
http://www.alioncalledchristian.com.au/wp-content/gallery/christian-the-lion/018-lion30-derek-bff.jpg
https://www.koko.org/special/enewsletter/2015_E04_KBDAY/msg.html
http://upload.wikimedia.org/wikipedia/commons/c/c2/Ivan_Pavlov_NLM2.jpg