Share this infographic on your site!
Most of us have heard the long-held theory that the order in which you and your siblings are born has an impact on your personality as an adult. While it may not hold up for every person in the world, studies have indicated there is a great deal of truth in that theory.
1.86
Average children per family in U.S.
Highest
Utah 2.21
Lowest
West Virginia 1.71
5 years
Gap when birth order is restarted
The First-Born
These children quickly learn how to please their parents — becoming conscientious, organized and reliable and serving as surrogate parents to younger siblings.
First-born characteristics:
Reliable
Conscientious
Structured
Cautious
Controlling
Achieving
3,000
How much more quality hours spent with first children between the ages of 4 and 13 than their next sibling
Top careers for first-borns
Government
Information technology
Engineering
Science
100%
Astronauts who've gone into space who were either eldest children or eldest sons
Famous first-borns
Walter Cronkite
Once the "most trusted man in America," Cronkite famously reported on the assassination of President John F. Kennedy and the 1969 moon landing.
Key birth order trait: Reliable
Oprah Winfrey
Winfrey went from local Chicago TV reporter to one of the most influential (and wealthy) women in the world.
Key birth order trait: Conscientious
Winston Churchill
Churchill's steadfast refusal to consider defeat helped inspire the English during World War II; he's regarded as one of the greatest wartime leaders in history.
Key birth order trait: Controlling
The Middle Child
Difficult to categorize, they avoid being boxed in and have a more go-with-the-flow attitude than their older siblings. They tend to be unbiased and levelheaded and are good at negotiations, most likely from playing mediator between their siblings.
Middle-child characteristics:
People-pleasing
Somewhat rebellious
Good friend
Social
Peacemaker
Top careers for middle and second children
Public service
Caretaking
Law enforcement
Construction
Education
65%
Percentage of middle children who put money into their savings accounts each month (more than their older and younger counterparts). They are also more likely to be asked for money from a sibling.
80%
Percentage of middle children who remain faithful to their partner
(compared to 65% for first-borns an 53% for youngest children)
Famous middle children
Barbara Walters
A TV journalist known for her celebrity interviews, Walters was the first woman to co-host a nightly evening news program.
Key birth order trait: Social
John F. Kennedy
A president whose life was cut short by an assassination, one of Kennedy's biggest achievements was avoiding a nuclear incident during the Cuban Missile Crisis of 1962.
Key birth order trait: Peacemaker
Martin Luther King Jr.
Leader of the civil rights movement of the 1960s, King's message of non-violence in the face of attempts at repression helped galvanize popular thinking in favor of his movement.
Key birth order trait: Rebellious
<!- mfunc search_btn -> <!- /mfunc search_btn ->
The Baby
These children usually receive the least discipline, the fewest responsibilities and the biggest audience. As a result of being babied, they tend to be tender and altruistic. They learn that being funny and adorable gains attention and approval.
Youngest characteristics
Fun-loving
Uncomplicated
Manipulative
Outgoing
Attention-seeking
Self-centered
Top careers for youngest children
Art
Design
Editing and writing
Information technology
Sales
85%
Percent of youngest children who suffer from nightmares, compared to 25% of oldest children.
Famous youngest children
Mark Twain
The beloved American author and humorist has been called the father of American literature.
Key birth order trait: Outgoing
Stephen Colbert
The youngest of 11 siblings, Colbert shrewdly portrays an oblivious, arch-conservative newsman.
Key birth order trait: Attention-seeking
Prince Harry
The younger of the two English princes has provided tabloid fodder over the years with his somewhat reckless behavior.
Key birth order trait: Fun-loving
The Only Child
These children are typically mature for their age due to time spent with adults. Many are high achievers, with a few rebelling and following their own path.
Only child characteristics:
Mature
Perfectionist
Conscientious
Diligent
Top careers for only children
Information technology
Engineering
Nursing
Law enforcement
18%
Percentage of one-child families
Famous only children
Elvis Presley
The best-selling solo artist in the history of music, Presley remains one of the most important figures in American culture.
Key birth order trait: Perfectionist
Frank Sinatra
A singer and actor expelled from school as a teenager, Sinatra defined an entire genre of popular music and represented a particular swanky lifestyle.
Key birth order trait: Mature
Franklin D. Roosevelt
America's longest-serving president, Roosevelt grew up with a mother who lavished attention on him.
Key birth order trait: Diligent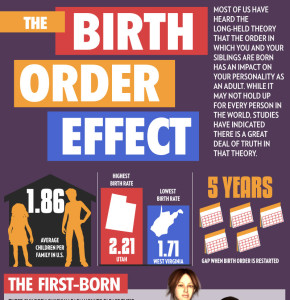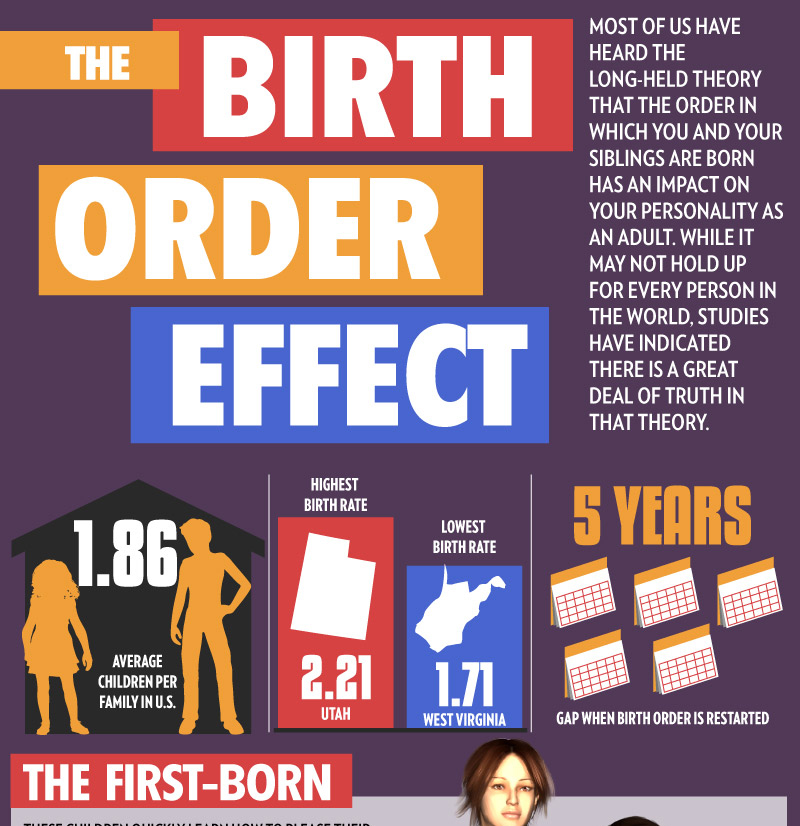 Sources:
https://www.psychologytoday.com/us
https://www.augustachronicle.com/
Featured Programs:
Sponsored School(s)
Sponsored School(s)
All school search, finder, or match results, as well as colleges and universities displayed as "Featured School(s)" or "Sponsored Content" are advertisers that compensate us for placement on this site. The resources, editorial content, and school evaluations published on this site are developed independent of the schools that advertise here.
<!- /mfunc feat_school ->