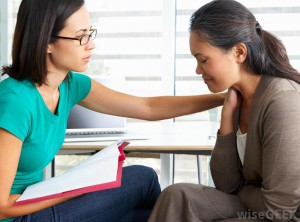 If you would like to make a difference in the lives of people are suffering from a loss, you may want to consider becoming a bereavement counselor. A bereavement counselor, who may also hold the title grief counselor, is a highly trained professional who works in the psychology discipline and who is trained to help direct people through the 5 stages of grief.
In order to do this, you will need to complete quite a bit of formal training. Read on, and find out about the most direct pathway you can take to becoming a bereavement counselor.
Step 1: Enter a Bachelor's Program
The very first step to make your career goals become realities is to enroll in a Bachelor's degree program that is accredited and meets the prerequisite requirements of most Master's programs.
While you can choose from many majors, most choose to major in Psychology, Counseling or Social Services. When you are choosing your classes, be sure that you take courses in abnormal psychology, communications, family guidance and social psychology so that you are equipped with the skills you need to be an effective listener and speaker.
30 Great Small Colleges for a Counseling Degree (Bachelor's)
Step 2: Find an Accredited Graduate Program
As you are studying for your Bachelor's, you should begin to search for the Master's degree program that you will attend after you graduate. There are many different majors that will work for you when you want to work in grief counseling. Some of these include: Grief Counseling, Thanatology or a broader major in Community Health. While a Master's may not be required in some states, almost all employers prefer to hire graduate students or Master's degree holders because they can become certified.
<!- mfunc search_btn -> <!- /mfunc search_btn ->
Step 3: Earn your License
The laws surrounding licensing and is set by either the state or by the city in some jurisdictions. You will need to find out where you plan on practicing as a counselor and then review the laws surrounding licensure so that you can find out what steps you need to take. You can check with your local licensing agency to find out if you need to test or have a specific type of degree before applying.
Step 4: Get Certified
Certification shows how committed you are to the field of grief counseling. If you want to become the most marketable grief counselor, you can do this by earning certification through the American Academy of Grief Counseling or the Association for Death Education and Counseling. Before you can be certified, you must complete a professional degree program and then enroll to complete 100 hours of continuing education coursework.
You will need to decide what type of setting you want to work in and then decide what type of degree to earn. Make sure that you do the homework as you map out your career path, and compare different programs. Once you map out the path, the next step to becoming a bereavement counselor is to take action.