Share this infographic on your site!
Everyone wants to be smarter, but how much of a difference can we really make?
Types of Intelligence
● Crystallized
The information and functional knowledge stored in the brain
● Fluid
The ability to learn and think critically
<!- mfunc search_btn -> <!- /mfunc search_btn ->
How to Strengthen Your Fluid Intelligence
Previously thought to be untrainable abilities, information processing and problem solving skills are now believed to be improved by the following exercises:
• Memory training
Uses strategic activities to increase activity in the prefrontal cortex and target the brain's weak memory centers
• Working Puzzles
Requires the integrated interpretation of multiple sets of information such as shape, pattern, and orientation
• Meditating
Sustaining attention and vigilance improves short-term memory
• Learning a new language
Switching between languages ignites the prefrontal cortex, where higher-order functions occur
• Napping
Resting for 90 minutes recharges and strengthens power in the hippocampus, thus improving memory and navigational skills
• Physical exercise
Stimulates production of BDNF (brain-derived neurotrophic factor), which nurtures the creation of new neurons and synapses
• Drinking coffee
Strengthens electrical activity between neurons
Are You Getting Any Smarter?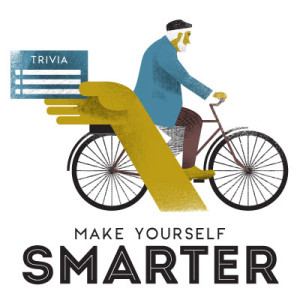 SOURCES:
brainage.nintendo.com/why-concentration-training/
news-medical.net/health/Hippocampus-What-is-the-Hippocampus.aspx
forbes.com/sites/alexknapp/2012/01/10/yes-you-can-make-yourself-smarter/
nytimes.com/2012/04/22/magazine/can-you-make-yourself-smarter.html?pagewanted=all&_r=0