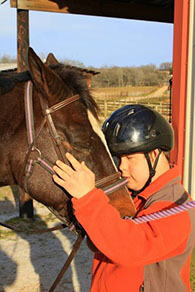 As mental health professionals and psychological researchers are constantly looking for more effective treatment interventions to address the problems that face youth or adolescents, Equine Assisted Therapy (EAT) has steadily risen in popularity as a successful non-traditional approach to psychotherapy.
Designed to provide personal insights to clients, the practice of using horses for emotional growth enables participants to use their behaviors, feelings, and thought patterns to better understand the horses as well as themselves. Since the potential applications of the practice are limitless and growing rapidly in the field of mental health, the following is a complete explanation on Equine Assisted Therapy and how it can benefit individuals with a variety of mental health, human development, and behavioral issues.
How Equine Assisted Therapy Works
Structured as a collaborative effort between a licensed therapist and a horse specialist working with the clients to address mental health treatment goals, Equine Assisted Therapy is experiential in nature for emotional growth and learning. Often compared to rope courses used by therapists around the world, the therapy enables participants to learn about themselves and other beings by engaging in various activities with the horses as well as processing the feelings, patterns, and behaviors experienced. Unlike horsemanship that focuses on mastering the skills of horseback riding, EAT focuses on learning to manage a horse psychologically so that clients can develop confidence and trust. Through Equine Assisted Therapy, the mental health and equine professionals set up numerous ground activities involving the horses that will require the client to apply certain targeted skills that need improvement.
Benefits of Utilizing Horses in Psychotherapy
Horses possess many of the characters that make them one of the most effective agents of change throughout therapy sessions, including awareness, honesty, trustworthiness, and nonverbal communication abilities. Since the horses are large, powerful, and intimidating to many individuals, the therapy offers the natural opportunity for clients to overcome obstacles of fear and develop confidence. Horses also mirror human body language naturally; therefore, the animals are effective messengers for teaching individuals how to change themselves to receive a different response. As distinctively social animals, Equine Assisted Therapy has been proven to help nurture social relationships, build strong work ethic, foster responsibility, develop assertiveness, and improve communication skills.
<!- mfunc search_btn -> <!- /mfunc search_btn ->
How to Become a Practitioner of Equine Assisted Therapy
In order to provide therapeutic services to clients involving horses, it is required that mental health professionals become certified in the craft of equine therapy. Regardless of whether a therapist or equine specialist has been licensed as a mental health professional, it is essential that those who wish to practice EAT obtain certification through the Equine Assisted Growth and Learning Association (EAGLA). As the largest and most established professional association focused on Equine Assisted Therapy, the certification ensures that professionals receive the highest level of training and learn the structure model for the most effective implementation of horses into therapy and learning sessions.
Overall, equine assisted therapy is a powerful approach that has a tremendous therapeutic impact on individuals, youth, groups, families, and communities of all ages with various mental health concerns, such as attention deficient disorder, substance abuse, depression, anxiety, or eating disorders. According to researcher Bettina Shultz in "The Effects of Equine-Assisted Psychotherapy on the Psychosocial Functioning of At-Risk Adolescents," youth who are participating in EAT score 32.11 points better on the Youth Outcome Questionnaire than those who are not. Therefore, it is highly recommended that any mental health professionals who are interested in finding more effective intervention techniques consider gaining certification in Equine Assisted Therapy for a truly rewarding career helping individuals with the assistance of horses.
You might also be interested in: The Psychology of Dogs