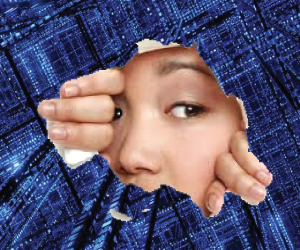 Cyber-psychology is an emerging discipline that focuses on the study of human-machine interaction. Cyber-psychology studies how humans are impacted by technology, how they interact over online mediums, and the effect of cyberspace interactions on the minds of individuals. The discipline also studies how humans interact with, inside and after exposure to virtual realities.
Online Identity and Behavior
People generally tend to behave differently behind the anonymity of an online platform than they would behave in face to face interactions. Generally, cyber-psychology views cyberspace as an extention of the individual's psychic world.
One aspect of cyber-psychology deals with the study of online identities and relationships, and how online behavior differs from the behavior of individuals in the physical realm. Some studies in in the discipline may extend beyond human to human interactions and focus more on how humans interact with machines and devices, such as video games and mobile phones.
Current mainstream research in cyber-psychology focuses mainly on the general realm of the psychological effects of computers and devices on people and groups. However, the discipline also includes the study of the impact of artificial intelligence and trans-human technology, such as bionic body enhancements and cyborgs, on the human psyche, though existing research fairly is sparse in these areas. Fully accredited Cyberpsychology programs are now offered in Canada, Ireland and other areas of Great Britain, however, such programs will undoubtedly soon appear in the United States as well.
Practical Applications
The field of Cyber-psychology is relatively new so the contribution of the discipline to the greater body of psychological knowledge is yet to be fully realized.
Addiction Studies
Studies in cyber-psychology may contribute to the body of knowledge of Addiction and Recovery. Many individuals display signs and symptoms of addiction to online activities like video games and social media platforms.
Cyberbullying and Online Harassment
Studies in cyber-psychology may address the contributing factors and effects of cyberbullying on victims and observers. These studies may find new ways to combat the problem of individuals using online platforms to harass, stalk and bully others.
<!- mfunc search_btn -> <!- /mfunc search_btn ->
eTherapy
Web therapy, or "eTherapy," is the controversial approach of delivering therapeutic counseling to patients over an online medium. eTherapy can be an effective method for treatment for those who would not otherwise seek out counseling. The patient's anonymity can be maintained, however, the therapist faces distinct challenges with this type of delivery system. According to WiseGeek, the field of cyber-psychology may examine ways to enhance the patient-therapist relationship in eTherapy.
Virtual Reality
Virtual reality has been used in therapeutic situations for many years now. Virtual reality can alter an individual's perceptions of their physical space, creating new opportunities for therapy and conditioning. In fact, the plot of the movie Lawnmower Man from 1992 depicts a scenario where a simple gardener is transformed into a genius through the use of virtual reality.
Professional Journals
A few peer-reviewed journals featuring studies in cyber-psychology have emerged in recent years. "Cyber-psychology, Behavior and Social Networking" is one such journal, released monthly by Mary Ann Liebert, Inc. Publishers. Another relevant Eurpean journal published exclusively on the web is "Cyber-psychology: Journal of Psychosocial Research on Cyberspace." Finally, the British Psychological Society's Research Digest regularly publishes articles in the field of cyber-psychology.