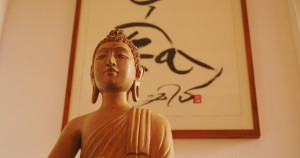 Contemplative psychology is an alternative approach to psychotherapy that incorporates Buddhist teachings with modern Western psyhcology.
It was developed in the 1970s at Naropa University by a Buddhist monk named Chogyam Trungpa Rinpoche and members of the Naropa psychology department. Rinpoche became interested in psychological counseling because he believed that Buddhist philosophy, inwardness and self-awareness could benefit the Western social science of psychology.
Brilliant Sanity
The academic discipline he created is a hybrid of academic psychology and spiritual Buddhist teachings, and by combining these two disparate areas of study, practitioners believe that a new form of counseling is created that is more than the sum of its parts. Contemplative psychoanalysis takes a very different approach to mental health than conventional Western psychology, and a focus is placed on individuals' "brilliant sanity," which refers to the awareness and reason that is always within a person, even if it sometimes gets buried by confusion and anxiety.
Infographic: Surprising Alternative Treatments for Mental Disorders
People who practice this blend of Buddhism and psychotherapy are experts of meditation, and they understand the power it has to center a person's thoughts and emotions. Meditation and spiritual therapy are used when counseling patients, but this discipline also uses the scientific language and research of modern psychoanalysis. A degree in contemplative psychology is a bachelor of arts, and practitioners don't become mental health doctors unless they go to medical school. This degree isn't widely offered, so students may have to move to another state to enroll in a program. It's an unusual area of study, and relatively few students choose to major in it. However, because there are so few graduates of these programs, competition for jobs that require both psychological expertise and spiritual understanding is relatively low.
<!- mfunc search_btn -> <!- /mfunc search_btn ->
Employment in Contemplative Psychotherapy
Graduates can work in most occupations that require a bachelor's degree in psychology, but their skills are best put to use by working with patients who are seeking spiritual awareness or for whom conventional psychotherapy has failed. Some fields in which graduates find work include human resources, education, case management, alternative healthcare and business. It's an excellent subject for an entrepreneur to study because it teaches students both the fundamental principles of psychology and the connection to fellow human beings of Buddhism. An entrepreneur doesn't need to apply for a job, so there is a much greater freedom to choose an alternative major. However, students planning to go into business administration or entrepreneurship may want to choose contemplative psychoanalysis as a minor so that they can concentrate on business courses.
Related: 50 Most Affordable Selective Small Colleges for a Psychology Degree
Students who decide to focus completely on contemplative psychotherapy can still find work in occupations that require strong interpersonal skills, especially in helping others. There are opportunities in non-profit organizations and social justice programs for people with the psychological and spiritual skill set that comes from this major. It's also a practical set of skills to have in human resources because it teaches students to analyze people and see their inner "brilliant sanity" through the layers of anxiety. Employers in businesses value these skills when hiring human resources personnel.
Psychology is a valuable social science that is used in any field that requires people skills, such as business, management, social work and counseling. Students of a contemplative psychology program gain practical academic skills as well as a better spiritual awareness through Buddhist philosophy.