Psychology is a multi-faceted field, and those who study this discipline can work with all types of populations. But if you have an interest in working with children and teenagers in an educational setting, you should consider becoming a school psychologist.
School psychologists have a big responsibility within their workplaces, tending to the emotional and psychological needs of young students that are still in their critical development years. Yet this responsibility is accompanied by big rewards as you help your students overcome challenges and reach their highest potential.
So how do you become a school psychologist and start making an impact in your community? From the right school psychologist degree you should pursue, to the various school psychologist requirements you'll encounter on the job, let's walk through how to become a school psychologist.
What Does a School Psychologist Do?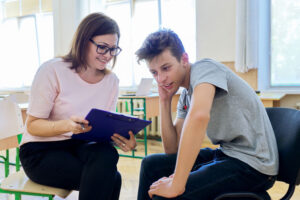 School psychologists are highly trained counselors and mental health professionals who provide counseling services to children, teenagers, parents, faculty, and sometimes the greater community. They work in diverse academic settings, from elementary schools to the university level.
At its most basic, a school psychologist's requirements on the job are to identify mental, emotional, and behavioral challenges that may be affecting their students' academic success and overall mental health, and help them work through those issues. That said, a school psychologist does far more than simply counsel students going through a rough time. Their job is incredibly collaborative, involving buy-in from parents, teachers, and administrators to create tailored plans of action for specific students' needs. Common job duties also include:
Creating behavioral management plans for struggling students
Designing academic and social care plans for students with disabilities
Advising on and/or implementing school mental health programs
Training faculty and staff on healthy communication practices with students and parents
Addressing systemic schoolwide issues, such as bullying
Conducting threat assessments for at-risk students
Providing community counseling during times of grief or trauma
School Psychologist Salary & Job Growth
Before committing to a career in counseling students, you may be wondering: Are school psychologists in demand?Thankfully, the job outlook for those with a school psychologist degree is very healthy. The U.S. Bureau of Labor Statistics estimates that the overall psychology field will grow by 8% over the next decade. Career opportunities in school psychology will continue to rise considering this growing demand.
That said, it's well known that educators and school faculty are often not paid nearly as well as they should be, considering the major responsibilities they carry and the impact they have. So, do school psychologists make good money, or do they also fall into the underpaid category? According to the BLS' 2020 salary data, psychologist salaries on average are quite comfortable earning an annual median salary of around $82,180. Those working in elementary and secondary schools average around $77,560 per year. Salary will vary based on region, work setting, employer, and years of experience.
Becoming a School Psychologist
Learning how to be a school psychologist is a combination of excellent education and hands-on experience. So, the first question is, what degree do you need to be a school psychologist? While many other clinical psychology careers require a doctorate to practice, most school psychologists only need a master's degree (or whatever degree your state requires for licensure). Depending on your school, you may be able to get your foot in the door as a counselor with a bachelor's degree, while you continue your studies to become a fully licensed school psychologist.
<!- mfunc search_btn -> <!- /mfunc search_btn ->
With that in mind, how much schooling do you need to be a school psychologist? Generally, you should expect to spend around 6-7 years studying for your school psychologist degree over the course of both your bachelor's and master's programs. Let's take a closer look at the education needed to become a school psychologist.
1. Earn Your Degree
The first step in how to become a school psychologist is completing a bachelor's degree in psychology. Your initial school psychologist degree will include general education courses such as English composition, speech, mathematics, social sciences, history, biology, and physical sciences as well as advanced-level psychology courses such as child psychology, education psychology, cognition, human behavior, psychotherapy, counseling, and the history of psychology. To be eligible for your graduate degree program, you'll want at least a 3.0 GPA or higher in your undergraduate program.
After earning your BA or BS in psychology, you'll need a master's degree to be in line with most states' school psychologist requirements. You'll want to enroll in an accredited master's degree program that offers a concentration in school psychology. These programs can be completed at either traditional brick-and-mortar institutions or online colleges and universities. Your master's program is where you can specialize your coursework to center on working with students and young patients, which is a critical part in learning how to become a school psychologist. You will take a variety of courses that will prepare to work in an academic setting dealing exclusively with the educational, emotional, and psychological needs of students. Courses include I/Q evaluation, counseling, psychotherapy, and educational psychology.
Do you need a Ph.D. to be a school psychologist? As mentioned, unlike many other psychology careers, a doctorate in psychology isn't required to work as a school psychologist. Typically, your master's degree is sufficient for licensure in most states.
2. Earn Your State License
An important step in how to become a school psychologist is to become nationally certified through the National Association of School Psychologists. School psychologist requirements dictate that you must complete 60 semester or 90 quarter credits through an accredited school psychology graduate program, as well as an organized internship of at least 1,200 hours within an academic setting such as a school or university to qualify for your exam. Once you send in certified copies of your school transcripts and proof of internship completion, you will be allowed to take the National School Psychology examination, which is administered through ETS, the same organization that administers the SAT and Praxis exams. You must obtain a passing score of at least 165 in order to obtain this certification.
Once you've earned your national certification, you'll need to earn your state license. Each state's school psychologist requirements differ, though most require completion of your master's degree and a passing score on your national exam. Find your state's licensing board information online to learn details of how to become a school psychologist in your specific area.
3. Look for a School Psychologist Job
After you've earned your school psychologist degree and passed your state and national licensing exams, you can begin applying for jobs within different school districts or academic settings. All types of educational environments hire psychologists to work with their students, including public and private K-12 schools, preschools and daycare centers, colleges and universities, and community or student wellness centers.
It's recommended that you begin looking at the school psychologist requirements for different schools and districts before you've taken your national certification test—in fact, you can begin applying to jobs (or minimally contacting your chosen schools for more information) while you're still finishing up your graduate degree. This allows you to begin networking early and get your name out there as a candidate for any open positions, provided you pass your exams.
4. Maintain Your Certification
Just as with many careers in the medical and educational fields, you must continue your own training to maintain your certification as a practicing school psychologist. This involves taking continuing education courses that teach the latest theories and techniques designed to support school-aged patients, as well as potentially retesting every few years depending on your state's school psychologist requirements.
Start Your Psychology Program
No matter what drives you to become a school psychologist, the result is the same: you'll have a major impact on young lives at a time when they need support the most. But the first step in how to become a school psychologist is finding and starting your accredited degree program.
You can structure your school psychology degree however works best for you—whether that's traditional on-campus learning or earning your psychology degree online. Take a look at our list of psychology programs by state to find the program near you that checks all the boxes.