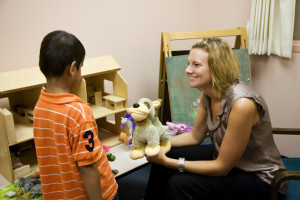 For graduates who are interested in combining their love of psychology with education, one of the most popular career options is the increasingly complex role of school psychologist.
According to the American Psychological Association (APA), school psychology is defined as the "general practice of professional psychology that is concerned with the science and practice of psychology with children, youth, families, learners or all ages, and the schooling process." School psychologists are given the task of helping children reach their fullest academic, social, behavioral, career, and emotional potential in a supportive learning environment. If you are considering this rewarding position, the following is a brief job description and a guide on how you can become a school psychologist too.
Job Responsibilities for School Psychologists
School psychologists work with elementary and secondary school students individually or in groups to help deal with various behavioral issues, learning difficulties, disabilities, emotional problems, and other concerns. In many cases, school psychologists will provide counseling, mentoring, and instructional services to help promote wellness by reinforcing strong communication, problem-solving, anger management, self-regulation, or social skills. For those who are facing learning disabilities, school psychologists will also help increase achievement by assessing their abilities and devising the best instructional strategies for optimal learning.
Beyond working directly with students, school psychologists are required to frequently collaborate with teachers, parents, administrators, and other professionals in the school building to strengthen connections between home and school for all students. School psychologists may be involved in evaluating eligibility for special education services, teaching parenting skills, making referrals to help coordinate community support, designing student progress monitoring systems, and implementing school-wide prevention programs. Often, school psychologists are also involved in promoting school policies that will ensure the safety of students by reducing school violence, harassment, and bullying.
How School Psychologists Make a Difference
Although the majority of school psychologists are employed in K-12 elementary and secondary schools, school psychologists can also find employment in universities, school-based mental health centers, day-treatment centers, residential clinics, hospitals, juvenile justice centers, and private practices. As vital mental health professionals that truly make a difference in lives, school psychologists are essential for helping children, parents, educators, and community members resolve concerns facing children and adolescents. Whether youth are lacking effective study skills, experimenting with drugs, falling behind in their studies, or thinking about suicide, school psychologists can use their training in psychological principles to brainstorm the most effective approaches for solving these complex issues.
<!- mfunc search_btn -> <!- /mfunc search_btn ->
How to Become a School Psychologist
Due to the extreme importance of the role, it is no surprise that school psychologists need to receive extensive training in both psychology and education for licensure. According to the National Association of School Psychologists (NASP), individuals must successfully complete at least a specialist-level degree program of 60 graduate semester hours with a year-long supervised internship for legal practice. However, it is typically recommended that aspiring school psychologists receive a Ph.D. or Psy.D in School Psychology from an accredited institution to receive the most comprehensive training on educational interventions, child development, assessment, consultation, collaboration, school law, and mental health.
Resource: Top 15 Most Affordable School Psychology Degrees 2014
Overall, school psychologists are specially trained mental health professionals who concentrate their services on addressing education-related concerns, counseling students, suggest improvements to teaching strategies, and implementing plans to tackle behavioral problems. Since there is currently a rising need for qualified individuals to work with the increasing number of students with special needs, learning disabilities, developmental disorders, and behavioral issues, it is an excellent time to consider becoming a school psychologist to help children and adolescents reach their most optimal well-being.