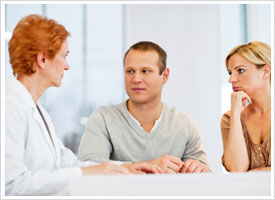 Those interested in careers in nursing will be interested in what a psychiatric nurse practitioner does.
Psychiatric nurse practitioners work with patients to meet their mental health needs. This type of nurse may provide treatment to individuals, families, and communities to help diagnose and treat certain conditions or concerns. Psychiatric nurse practitioners offer primary care services.
Job Tasks of a Psychiatric Nurse Practitioner
A psychiatric nurse practitioner must often know how to use different pieces of medical equipment, including surgical lasers, defibrillators, and EKG machines. They often have to do a great deal of computer work, including data entry and using medical software to record information regarding patients. When working with patients, a psychiatric nurse practitioner's responsibilities include collaborating with doctors and psychiatrists, educating patients, and providing counseling to patients. Although psychiatric nurse practitioners may often work closely with doctors, they do not require supervision and are able to work independently.
Education
Those successful in finding employment as psychiatric nurse practitioners normally need to have a Master's degree. Often, a doctoral degree is needed to find a position working in an advanced position in psychiatric/mental health nursing. Psychiatric nurse practitioners are highly educated individuals who make a significant difference in their fields by contributing to policy development, practice evaluation, quality improvement, and healthcare reform. Those who attain high degrees in the field- such as a PhD or EdD- may become administrators, researchers, or professors.
Psychiatric nurse practitioners must be licensed by a state board of nursing. They must have a license as a psychiatric nurse practitioner in addition to being registered nurses. The requirements for licensure as a psychiatric nurse practitioner include having a valid RN license, completing a Master's degree program for working as a nurse practitioner, and more depending on the particular state.
<!- mfunc search_btn -> <!- /mfunc search_btn ->
Work Environment
Any type of position within nursing can be very demanding both physically and mentally. Psychiatric nurse practitioners will usually work full time schedules, and they may have to cover shifts that last from 8 to 12 hours. Sometimes, nurses need to work evenings, night, and weekends. There are some considerable on-the-job risks for psychiatric nurse practitioners. Those who work in this position may have to come in contact with patients who have infectious diseases or who have emotional/mental conditions that cause them to become violent. Working in any area of nursing requires individuals to have physical stamina.
Though a demanding job, working as a psychiatric nurse practitioner is a rewarding career that allows individuals to make positive differences in the lives of patients.
Related article: What is Health Psychology?