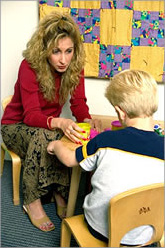 In the fields of psychology and social work, many professionals who are passionate about helping children consider the educational requirements for working with victims of child abuse. This concentration often requires specialized education that helps to train the professional to work effectively with children who have experienced significant trauma, abuse, pain and grief. These requirements can be above and beyond the content taken in earning initial licensure in psychology or social work.
Requirements for Social Workers and Psychologists
The type of education required is dependent on whether the individual is a social worker or a psychologist. According to the Child Welfare Information Gateway, all professionals that work with victims of child abuse need to have an understanding of normal child development, the effects of attachment and loss on children and the impact of both normal and abnormal life experiences on a child's development. Therapists should have an understanding of a variety of theories, including interpersonal, cognitive, behavioral, systems, and victimization theories. Professionals should also receive extensive training in one more treatment modalities, including primary prevention programs, play therapy, individual therapy, group therapy, art therapy or family therapy.
In many cases, both social workers and psychologists require a minimum of a master's degree in order to become licensed to practice. Some states require a doctoral degree in psychology to independently practice. In addition to meeting licensure requirements, the professionals should have extensive training and education in working with children, trauma victims, and those experiencing significant levels of grief.
Requirements for Non-Clinical Therapeutic Professionals
Individuals can also work as a juvenile court counselor or a foster care provider in order to help children who have experienced abuse. These non-clinical positions are still essential in helping a child overcome abusive situations. Foster care providers typically do not require formal college or university-level training, but are required to complete coursework on preventing abuse and neglect, working with traumatized children and providing therapeutic interventions.
Juvenile court counseling positions typically require a bachelor's degree in the fields of social work, criminal justice, psychology or counseling. These professionals also often receive significant on-the-job training in unarmed self-defense, first aid and safe transportation of juveniles. Entry-level positions may not require any formal licensure, but managerial or counseling positions often require passing a rigorous examination, completing supervised experience and earning a license to practice.
Juvenile court counselors often are required to successfully complete one to two years of supervised internships or residency prior to being permitted to practice independently. Because working with abused children involves serving a very vulnerable population of individuals who have faced horrific abuses, these internships may be challenging to the professional. Supervision allows the professional additional opportunities to receive assistance in coping with his or her own feelings about the assigned cases.
<!- mfunc search_btn -> <!- /mfunc search_btn ->
Working with children who have been abused can be a very challenging career choice. Child abuse victims have often witnessed and experienced unthinkable acts and some may also be facing separation from the abusers, who also happen to be their parents, adding an additional layer of grief and trauma. The educational requirements for working with victims of child abuse vary based on the field of practice, but all of the positions require professionals to be well-trained in working with children and adolescents that present with trauma-related issues, grief and post-traumatic stress disorder.