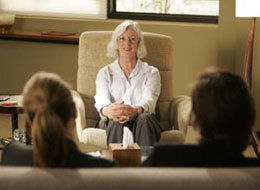 A sex therapist is a person who assists other people in diagnosing and treating sexual disorders and problems. A therapist of this type will use a number of skills and resources to help his or her patients. To become a sex therapist, an interested party must receive specialized training, obtain licensing, and perform a certain amount of hours in the field to obtain the proper credentials. The following is the process that one would use to become a practicing sex therapist:
Education
The first step in becoming a sex therapist is gaining education and obtaining a degree in a counseling or therapy related field. Obtaining a Master's degree in fields of psychology, therapy, healthcare, social work, or counseling are ways to get started. Studying in these fields will give the person the knowledge of how the human brain works and the skills necessary to assist people with uncovering root causes for maladaptive behaviors. This type of training will also give the prospective sex therapist the ability to help people develop the coping skills necessary to control certain behaviors. With these skills, the prospective sex therapist can then broaden his or her scope of education to include sex therapy education and training.
Sex Therapy Training
An individual wishing to become a sex therapist will need at least 150 hours of specific sex therapy related training. He or she must study the history of sexology, medical problems that affect sexuality, consultation techniques, interpersonal relationship elements, how to conduct sexual research, and more. These courses will supply the individual with the information needed to assess, counsel, treat and advise a person who comes to him or her with a sexual problem. The education that the person receives should come from an accredited university or have approval from the American Association of Sexuality Educators Counselors and Therapists.
Practicing Sex Therapy
After obtaining a Master's degree in a related field and gaining additional sex therapy training, an interested party can apply for internships or other programs that will allow him or her to obtain 200 hours of supervised treatment of clients with sexual problems. He or she will also need to obtain at least 50 hours of supervision. These two items are required for certification, which is the final step before becoming a sex therapist.
<!- mfunc search_btn -> <!- /mfunc search_btn ->
Applying for Certification
The last step in becoming a sex therapist is applying for certification. To obtain sex therapy certification, the individual must have a Master's degree in a related field, certification in that field, approximately 150 hours of human sexuality education, 200 hours of clinical experience, and 50 hours of supervised experience. Once the person meets the criteria for certification, he or she must complete a formal application and wait to gain approval.
The application fee is approximately $300, and the individual must accompany it with transcripts, endorsements from supervisors, license copies and signatures. Once the individual receives his or her certification to become a sex therapist, that person can enjoy a fruitful life that involves helping people and making a substantial salary by doing such.
Ready to become a sex therapist? Get started by finding an online master's degree program.