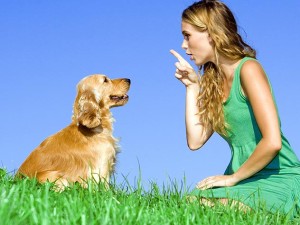 An animal behaviorist is a professional that studies animal behavior, including the causes, influential factors and purpose of the behavior. Some animal behaviorists also promote changes in animal behavior through training and behavior analysis. Animal behaviorists can work in colleges and universities researching behavior, in zoos and companies that design and produce products for pets, and in private practices. Becoming an animal behaviorist can be a challenging, yet rewarding decision. The following describes the process for becoming a specialist in animal behavior.
Education Requirements
According to the Animal Behavior Society, most specialists in the field have an education in ethology, behavioral ecology, anthropology or comparative psychology. The first two specializations are typically related to the biological, zoological, ecological and evolutionary aspects of behavior, while the latter two specializations often focus on the psychological and sociological aspects of behavior.
The type of degree required is dependent on the individual's career aspirations. Some career choices, such as being an animal trainer for pets, can require only a bachelor's degree in psychology or animal sciences. This can typically be accomplished in four years. Careers in academia, research or the zoological field typically require a minimum of a master's degree, with many requiring a Ph.D. or a Doctor of Veterinary Medicine. This may take four to eight years, or longer, and require the student to successfully complete supervised internships or clinical rotations, as well as an independent research project.
<!- mfunc search_btn -> <!- /mfunc search_btn ->
Certification Requirements
According to the Animal Behavior Society, anyone who works with animals or consults with the public or professionals about animal behavior problems should be certified to do so. There are two levels of certification: Associate Certified Applied Animal Behaviorist (ACAAB) and a Certified Applied Animal Behaviorist (CAAB). In order to earn an ACAAB certification, you must have a master's degree in a biological or behavioral science from an accredited college or university that includes an emphasis in animal behavior. At least 30 semester credits of behavior science, including ethnology, animal behavior, animal learning and psychology should be completed. Applicants should also have at least two years of professional experience in applied animal behavior, as well as have significant supervised and independent practice in the field.
To become a CAAB, the applicant must have earned a doctoral degree in a biological or behavioral science and have five years of professional experience or have a doctorate in veterinary medicine, two years of supervised residency practice and three years of professional experience. In addition, the applicant must have presented or contributed to a talk or poster presentation at the ABS annual meeting. This certification is primarily for individuals who would like to pursue advanced careers as a researcher or expert in the field of behaviorism.
With ABS certification requirements met, CAAB- and ACAAB-certified animal behaviorists can then begin offering behavioral training services. This could involve working with zoo, farm, and laboratory animals, as well as conducting behavioral studies of animals in the wild.