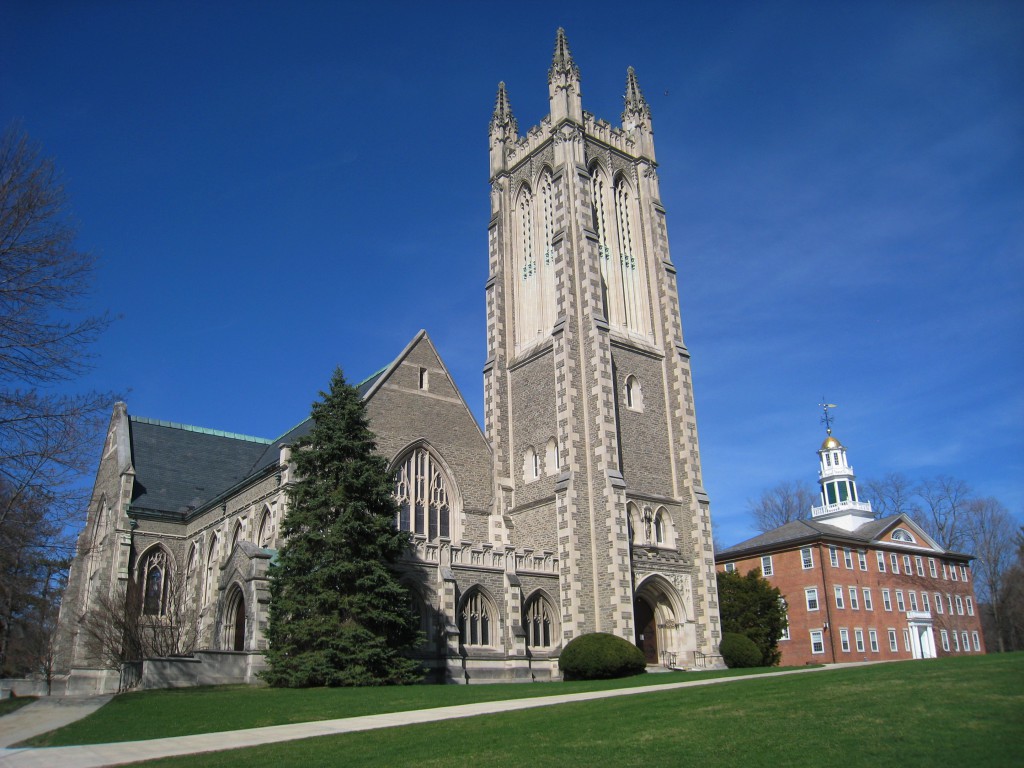 Founded in 1793 after a prominent local man passed away and left funds to establish a new college, Williams College opened as an institution of higher learning for young men. The college took over a small campus previously used as a preparatory school that offered primarily high school classes. The college made some major changes during its early years. It admitted its first African-American student long before any other schools in the region did, and it established a missionary program that allowed students to take time off and perform missionary work overseas. Williams College also stopped Greek organizations from operating on campus in the 1960s and began admitting female students the following decade. Large donations given to the school in recent years led to it introducing new programs and expanding its campus.
Williams has a good reputation according to several major publications. Forbes choose WC as the top college for undergraduate students in the nation, and both U.S. News and World Report and Washington Monthly called it one of the top liberal arts schools in the country. Newsweek highlighted the college for the number of students who won major awards while enrolled or after graduating, and the National Collegiate Scouting Association ranked the college as the best school in terms of student athletes. The college also ranks high because of the number of students who complete their studies within four years or less.
Accreditation Details
Williams College obtained accreditation from the Commissions on Institutions of Higher Education of the New England Association of Schools and Colleges. This organization requires that all colleges that receive accreditation agree to apply for an extension at least once every decade. Williams most recently went through this process in 2008 and developed a self study committee to better prepare for its next accreditation check in 2018. The committee meets prior to the organization returning to campus to discuss the upcoming review. Members on the committee include professors, faculty members and graduates. They work together to ensure that the college retains its accreditation and that it meets or exceeds all the requirements put in place by that organization. Williams College is also a member of several prominent organizations that offer additional opportunities for students. Current and prospective students can check with the departments on campus for more details regarding its membership.
Application Requirements
With an acceptance rate of less than 17%, Williams College is one of the nation's most selective institutions of higher learning and has an acceptance rate on par with some elite Ivy League schools. The college recommends that students take a combination of different classes in high school and take preparatory, advanced or honors courses whenever possible. The college wants diverse students who can showcase the experiences they had outside the classroom, which is why students will want to mention their volunteer work, any positions they held and clubs or activities they did after and outside of school.
As Williams College uses the Common Application, all students must create an account with that website and select Williams from the list of available colleges. They can apply to other schools who use the application or just to Williams. In addition to the application, students must also submit a score from the ACT with writing section or the SAT and two subject tests taken as part of the SAT. The college also requires a report from the student's school, a report sent by the school in the middle of the year, an application fee and two reports/letters from their teachers. Students may also complete the optional essay as part of the Common Application. This essay lets them demonstrate their writing skills and help set them apart from other applicants.
<!- mfunc search_btn -> <!- /mfunc search_btn ->
Tuition and Financial Aid
The total cost of tuition for full time students attending Williams College is close to $50,000 a year. This does not include the room and board that students living on campus pay or the textbooks, supplies and other expenses that all students pay. Those who do not have health insurance must also pay the school around $1,500 for a health insurance policy. Though Williams charges a high tuition rate, it also offers a number of financial aid packages. More than half of all its students receive some type of financial help, and the average amount that students receive is nearly $47,000 every year.
Williams uses a blind financial aid policy that does not look at a student's need when determining if a student qualifies for acceptance. The college asks that students complete the FAFSA, list Williams on that application and file a copy online. The FAFSA establishes the amount of aid a student needs based on how much his or her parents can help. Williams uses that information and details found on the student's application to determine if the student qualifies for merit based scholarships, work study programs, student loans or grants. Most students receive a combination of grants, loans and scholarships, and those who live on campus can also take part in a work study program or get a job on campus.
Online Degrees Offered
Psychology
Williams College established its psychology program with the idea in mind that students could learn and benefit from other campus departments. In addition to psychology courses, students also take classes from other fields, including cognitive science, leadership studies, legal studies and teaching. The idea is that the more they learn about related fields, the more they can use the skills they learn in different ways. The basic program for students majoring in psychology starts with a class on introductory psychology and a class on experimentation and statistics, which introduces them to research techniques.
Students also take upper level courses that include classes on psychological disorders, cognitive psychology, neuroscience, educational psychology, clinical psychology and developmental psychology. Williams added an independent study program to its curriculum as a way to introduce students to independent thinking. This class lets them pick a topic and spend a semester studying that subject while working with an adviser or professor. Those who agree to take three specific classes, write a thesis and maintain a high grade point average can graduate with an honors degree. Williams College also requires that all psychology students take a capstone course as part of their senior year studies.
<!- mfunc search_btn -> <!- /mfunc search_btn ->