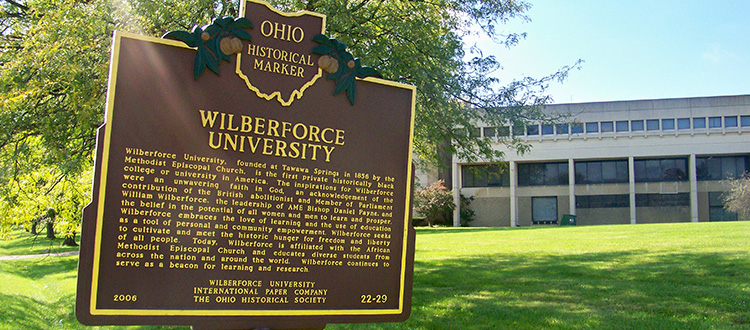 Wilberforce University was founded in 1856, tracing its origins to before the Civil War. Founded around the same time as the Ohio Underground Railroad was established as a way to help slaves escape to freedom in the North, the college became one of the destination points on the railroad. The university became a symbol, not only of freedom from bondage, but also freedom from ignorance as slaves were not permitted to learn.
The university was named in honor of William Wilberforce, an 18th century abolitionist and is the nation's oldest, private, historically black college. The institution began when the Methodist Episcopal Church purchased property at Tawawa Springs, located near Xenia. Initially, the school was a success until the Civil War, when enrollment dwindled and financial support became scarce. The school was forced to close its doors in 1862. In 1863, Bishop Daniel A. Payne of the African Methodist Episcopal Church, who had been a member of the initial corporation that operated Wilberforce, joined forces with two other local residents, John G. Mitchell, principal of the Eastern District Public School in Cincinnati and James A. Shorter, pastor of the A.M.E. Church in Zanesville. The three men convinced the owners of the university to turn the property over to them as agents of the church.
Incorporated again in 1863, the State of Ohio began funding the university by establishing a normal and industrial department, which later became Central State University, a sister institution. The Theological Department at Wilberforce also became a sister institution, Payne Theological Seminary, in 1891.
Today, Wilberforce continues its long tradition of excellence in education. It offers more than 20 fully-accredited liberal arts concentrations, attracting an increasingly diverse population of students.
Wilberforce University Accreditation Details
Wilberforce University is accredited by the Higher Learning Commission of the North Central Association of Colleges and Schools. This affirms that Wilberforce continues to provide high-quality educational programs and that they are always striving to improve those programs. Other programs may be accredited by specific agencies who confirm the educational value of programs within specific industries.
<!- mfunc search_btn -> <!- /mfunc search_btn ->
Wilberforce University Application Requirements
In order to apply to Wilberforce University, prospective students who have no college experience must have a high school grade point average of 2.0 or above. Official transcripts must be provided as well as official SAT or ACT scores.
Students with more than 30 credit hours of college study are considered transfer students. In order to apply to Wilberforce, they must submit official transcripts from every college or university attended and must have a cumulative GPA of at least 2.0 or higher. Students who have less than 30 hours of college credit must also submit high school transcripts.
Students who wish to enter graduate studies at Wilberforce must provide official transcripts from all colleges and universities attended. One of the transcripts must indicate the granting of a bachelor's degree or higher. Students must also provide three letters of recommendation, a completed application form and an autobiographical statement form. Official GMAT or GRE scores may also be required. Applicants for the graduate programs at Wilberforce are judged for admission based on the following criteria:
Academic performance and potential
Career goals
Personal characteristics
Writing skills
Leadership ability
Students for whom English is a second language may be required to submit official Test of English as a Foreign Language (TOEFL) scores.
Wilberforce University Tuition and Financial Aid
Full-time tuition at Wilberforce University is $13,025 per year for undergraduate studies and $8,682 per year for graduate studies.
Financial aid is available at Wilberforce and is determined on an individual basis. Students may receive financial aid in the following forms:
Wilberforce aid – may include scholarships and/or grants
Federal and state grants
Work-study
Federal Direct and Perkins Loans
More than 95 percent of incoming freshman at Wilberforce receive some type of financial aid. In order to apply for financial aid at Wilberforce, students must complete the Free Application for Federal Student Aid (FAFSA). Because every student's need is different, the Financial Aid Office at Wilberforce creates individualized financial aid packets. Factors used to determine the amount of aid offered are based on family income, savings, number of people in the household attending college and more in order to determine how much the student and their family must contribute toward education.
Wilberforce University Online Degree(s) Available
Psychology
The Psychology program at Wilberforce University is offered through the Arts and Sciences Department. The program provides students with a solid foundation in psychology using learning experiences both inside and outside the classroom. Students are provided critical and analytical thinking exercises in order to facilitate the study of behavior and mental processes. Students are also provided the tools necessary to conduct and use research.
During their senior year, students in the Psychology program are required to complete a thesis, even though the degree issued is an undergraduate degree. The thesis required is the equivalent of a master's thesis and is designed to prepare students for careers in both the private and public sectors as well as for graduate school. The program includes courses on the methods and techniques of research so that students gain the fundamentals that will lead them to create publishable research. Seniors who are able to complete their senior thesis a semester before graduation attend and present their projects at professional conferences as well.
In addition to classroom learning, Wilberforce sponsors regular lectures and presentations from experts in the field. Faculty is comprised of highly-qualified individuals who are also experts in their field and are committed to helping students achieve their goals. Faculty members have published both nationally and internationally.
Wilberforce University continues to offer high quality education to students as they have done since they were established more than 150 years ago. The university offers courses in an online format so that working adults who have work, family or social obligations that prevent them from attending traditional classes are able to reach their higher education goals. The online format offered by Wilberforce University provides the flexibility that many adults need to advance in their current career or to move into a new career.
<!- mfunc search_btn -> <!- /mfunc search_btn ->