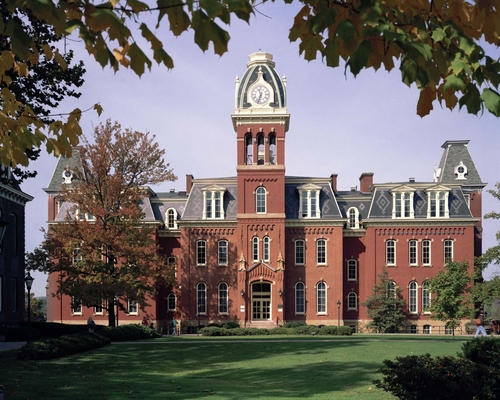 The history of West Virginia University dates back to the late 19th century. Founded in 1867, it opened for classes a few months later under the name the Agricultural College of West Virginia. During its early years, students spent most of their time in buildings that were once part of two separate campuses that prepared male and female students for college. Major expansion during the 1960s led to the campus splitting in half, with half its students taking courses on one side of a major highway and half its students on the other side. It made headlines again when it became one of the first colleges in the state to offer online classes and degrees.
Rankings of the university vary from publication to publication. Though Forbes ranked it low at 360 on its list of best schools, Washington Monthly ranked it much higher at 83 on its own list. A U.S. News and World Report listing of the top schools in America found WVU ranked at 170. WVU also received high rankings for both its healthcare and education programs. Though the university has a total population of nearly 30,000 students, it also has a population of more than 5,000 graduate and doctoral students, many of whom take classes online.
West Virginia University Accreditation Details
West Virginia University continually strives to better its performance and in turn better the lives of its students. As one of the first colleges in West Virginia to receive accreditation, the college informs its students of any changes to that accreditation. It initially obtained accreditation from the Higher Learning Commission, which is one of the top organizations of its type in the country. The HLC performed a thorough inspection on the campus and looked at how the college operated its online program before awarding accreditation. Many of the top programs on campus and online also have accreditation. The education programs it offers have accreditation from the National Council for Accreditation of Teacher Education.
The Sports and Exercise Psychology, which prepares students for working as coaches and with athletes, has accreditation from the National Association of Sport and Physical Education. The NASPE only grants accreditation to those programs that thoroughly prepare students for their future careers and offer a wide range of courses that provide students with a solid foundation. This type of accreditation shows that West Virginia University gives students the right experiences and that its students have a higher than average chance of going forward with their studies or gaining employment after graduating.
<!- mfunc search_btn -> <!- /mfunc search_btn ->
West Virginia University Application Requirements
Both online and offline graduate students must meet the minimum requirements for acceptance before gaining admission to West Virginia University. All students entering a masters program must have an undergraduate degree and submit a transcript that shows the courses they took and the overall grade point average they received. WVU requires that all graduate students have a minimum GPA of 2.75 in all their courses. Those with a lower GPA may gain acceptance if they have a higher GPA in their psychology classes.
The Sports and Exercise Psychology program is a joint program offered through the university's College of Physical Activity and Sports Science. Students who successfully complete the program will earn both a Master of Science in Sport Psychology and a doctoral degree in Kinesiology. Students entering the program must take the GRE and score in or above the 50th and 60th percentiles in both the quantitative reasoning and analytical writing sections. Students must also write a minimum one page letter that explains their reasoning for enrolling in the program and three professional letters of recommendation. WVU is one of the few colleges that requires an interview as part of the admission process, but students living far from campus can complete this interview over the phone.
Tuition and Financial Aid
The College Board ranked West Virginia University as one of the most affordable schools in the country for both in state and out of state students. All students taking graduate level courses online will pay fees relating to their specific programs. WVU allows each college and department on its campus to set its own tuition rates. Students will pay the same rate per credit hour for all of their classes. Even if they take courses from another department that charges less, they'll pay the same rate as the one established by their department. Sports psychology students living in the state will pay around $360 per class. Students living outside of West Virginia pay just over $1,100 per class. WVU also charges other fees that leaves students paying around $4,500 if they live in state each semester or close to $11,000 if they live out of state.
West Virginia University offers a number of ways for students to pay for their tuition and other fees. All students must fill out the FAFSA, which is available online. Also known as the Free Application for Federal Student Aid, this application asks students questions about their income and their parents income. Their answers determine if they qualify for federal grants or loans.
Online Degree Available
Though West Virginia does offer a Master of Science in Sports Psychology, this is part of a combined or joint degree from the College of Physical Activity and Sports Sciences. Students graduate with an Master of Science and a Ph.D in Kinesiology. This is the only program of its type in the state and one of the only programs in the country that is available online. Students entering the program must have a bachelor's degree in health or social sciences.
The unique program consists of a counseling component that teaches students how to counsel and assist professional and amateur athletes and a kinesiology Ph.D degree that gives them a better and more thorough understanding of the human body and how it works. Students must complete both areas of the program to earn the two degrees, but students may have the option of leaving the program after completing the counseling and psychology requirements.
Some of the sports and exercise psychology courses found in this program include:
Exercise and Health Psychology
Psychological Aspects of Sport Injury
Counseling College Athletes
Online students must also complete a thesis that examines a topic in sports psychology and offers an in-depth examination of that topic. Only West Virginia University offers this option for online students.
<!- mfunc search_btn -> <!- /mfunc search_btn ->