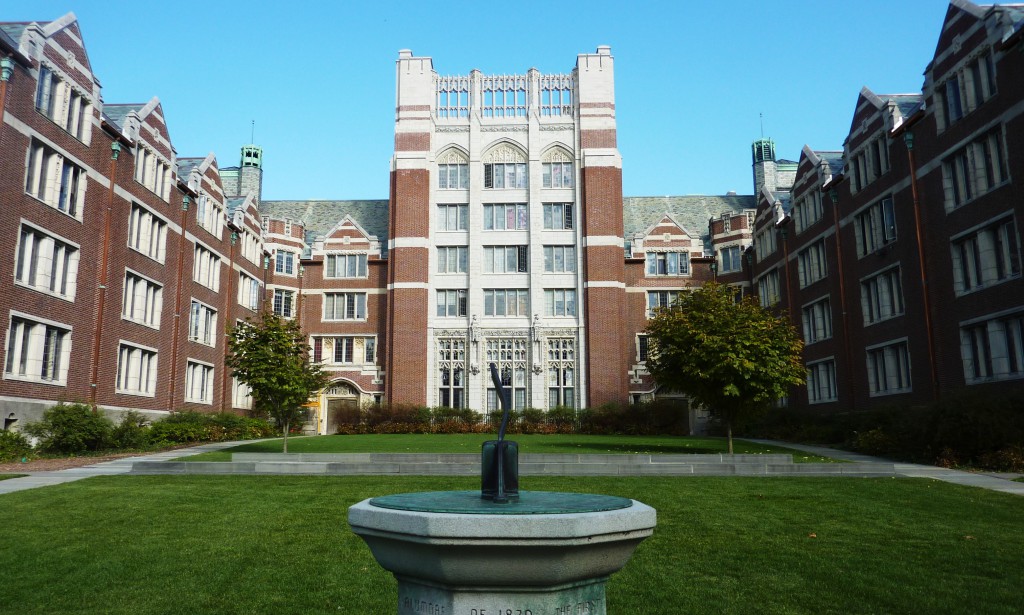 Wellesley College is a private women's liberal arts school that began in 1870. It is a member of the "Seven Sisters Colleges" and is ranked by the U.S. News and World Report as # 4 of National Liberal Arts Colleges. The school is very selective, selecting only 29 percent of applicants. Wellesley College allows its students to cross-register between MIT, Babson, Brandeis and Olin College and also among other small colleges. With a student-to faculty ratio of 8:1, the interaction between instructors and students is encouraged. The school was created to "prepare women for great conflict, for vast reforms in social life." Wellesley places great value on student interaction; students hold positions on the school board, help select new faculty members and interact in other ways that help shape school policy. Half of the school juniors take advantage of the opportunity to study abroad. The perspective on student involvement and wide variety of courses results in a high graduation rate: more than 80 percent of Wellesley students graduate within four years. The school has less than 2500 students and is located in picturesque New England. Although only women are accepted in the baccalaureate degree programs, and there are no graduate-level degrees offered through the school, men and women may apply for the post-baccalaureate programs which are non-degree and non-certificate studies intended to prepare students for graduate study at other institutions or for career changes.
Wellesley College Accreditation Details
Wellesley College is accredited by the Commission of Higher Education, New England Association of Colleges and Schools.
Wellesley College Application Requirements
First year students applying to Wellesley must decide upon one of four offered options for enrollment: Early Decision, which is a binding contract with an application deadline of November first, Early Evaluation, Regular Decision and Accelerated Decision, which is a program for juniors applying to the school. First year applicants must complete a "Common Application." This is a free form available online or through the school. Along with this completed form, students must submit their high school transcripts and any other documents requested by the school. Next, students should register for standardized tests including the SAT Reasoning Tests and the ACT with Writing. The third step is to apply for financial aid through the FAFSA and college resources. Finally, students must submit two essays: one a 250 to 650-word essay on subjects selected from a special list and the other a Welle4sley-specific personal essay. Students who are applying for the post-baccalaureate programs must hold a baccalaureate degree. They should complete the application available online and then submit it along with the other required documents and the $50 admission fee. Other documents include letters of recommendation and a college transcript as well as a mid-term report if they are currently enrolled in classes.
<!- mfunc search_btn -> <!- /mfunc search_btn ->
Tuition and Financial Aid
The annual tuition for a resident student is $46,500. This amount does not include room, meal plans and fees. In addition to this, there is an additional $286 in fees, $7,362 for a dormitory room and $7142 for a meal plan. That brings the cost for a year at Wellesley to $61,340. Besides that amount, students are automatically enrolled in the school insurance program which has an annual premium of $2,909.50. Students who provide proof of adequate insurance can waive this fee. The cost of books and personal expenses should be figured into the cost as well.
Although most students at Wellesley live on campus, those who do not will pay $46,500 in tuition and then add pertinent fees and personal costs. The costs for study-abroad opportunities are addi9tional fees dependent up-on the program followed.
Most students at Wellesley receive some type of financial aid, and in the 2013-2014 school term the average ano0unt of aid was $40,000. Application for student financial aid begins with completing the FAFSA. This free government form computes the amount your family is expected to contribute to your education, an amount determined by their combined income, and then subtracts that amount from the cost of education at your school of choice. The resulting figure is your financial need. The form then pre-qualifies you for government grants such as the Pell Grant and other assistance based upon extreme need.
After receiving your FAFSA-reported awards, you must apply for scholarships and grants. Wellesley is a highly-endowed school and offers many grants and scholarships. In addition, individuals and corporations offer scholarships that often require students to meet special criteria such as being of a certain ethnicity or applying to certain programs. In addition to scholarships and grants, you may take out loans to finance your education. There are loans available through the school as well as government loans and student loans from lending institutions. These loans carry little or no interest if paid back within a specified time.
Wellesley's Tuition Management System also allows for monthly payments on the cost of your education. The school has a written contract that guarantees tuition will not change over a continuous four-year period from the date of enrollment.
Online Degree Programs
There are several fine programs at Wellesley, including the psychology major. This degree requires students to complete 9.25 units including statistics, research methodology, areas of psychology including social, personality, developmental psychology, clinical and others, in additio0n to research methods and an internship or an independent study. The degree, however, is not offered online. Wellesley's online offerings are limited at this point to specialized courses offered to adult learners beyond baccalaureate level. The school currently collaborates with two other colleges to offer a program of free online courses that result in no credit or certification. The program, known as edX, or WellesleyX, is intended to assist adult learners in upgrading their skills and knowledge base so that they may improve their employment prospects or simply add to their own learning satisfaction. If you want a quality education from an institution that shelters you from learning distractions, guides you through all requisites and then points you on to other learning opportunities, Wellesley College may be the school for you.
<!- mfunc search_btn -> <!- /mfunc search_btn ->