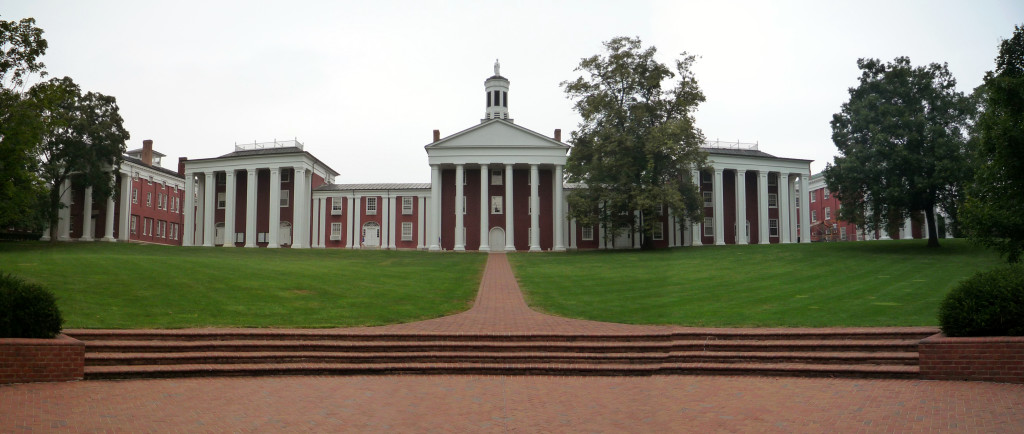 Washington and Lee University is a private university in Virginia that emphasizes the importance of a liberal arts education. Originally established in 1749 as Augusta Academy, it became one of the first schools in the nation that admitted students of color. The campus later became Liberty Hall Academy in 1776, Washington Academy in 1796 and Washington College in 1813. General Robert E. Less took over the position of president of the college following the Civil War, and the work he did on campus led to the school later becoming Washington and Lee University to highlight both Lee and the Washington family. One of the changes Lee made was the establishment of an honors system that the campus still uses today.
The university has a large campus in Virginia and is home to several buildings that are on the National Register of Historic Places and buildings that have national landmark status. Roughly 2,000 students attend classes at Washington and Lee University, including around 300 students who take classes through its law school. Forbes ranked W&L as the 21st best college in the nation, and it ranked on global lists produced by U.S. News and World Report and Washington Monthly. Princeton Review also ranked the university high on its lists of professors, academic experiences and professors who make themselves accessible to their students.
Accreditation Details
Students looking for information relating to the accreditation of Washington and Lee University will find that it has both program and primary accreditation. Primary accreditation gives the university the right to give students who complete the minimum requirements established a college degree. It received this type of accreditation from the Southern Association of Colleges and Schools Commission on Colleges. Program accreditation is a special type of accreditation granted to professional level programs by specialty organizations. Some of the specialty accreditation that W&L has comes from organizations, including:
Association to Advance Collegiate Schools of Business
Accrediting Council on Education in Journalism and Mass Communications
Association of American Law Schools
American Chemical Society
American Bar Association
Teacher Education Accreditation Council
Virginia Department of Education
<!- mfunc search_btn -> <!- /mfunc search_btn ->
Application Requirements
The number of students applying at W&L increases each year, and the university saw its acceptance rate drop dramatically as it became more selective with its admissions policies. It prides itself on accepting students who demonstrate a wide range of skills and those who are more well rounded. Students who have multiple extracurricular activities on their records, do volunteer work and have high grades have a better chance of receiving an acceptance letter. W&L uses the Common Application, which is a type of online application system used by multiple colleges across the country. This lets students complete an application and submit the finished paperwork to multiple schools at the same time.
The Common Application requires that each student create an account with a user name and password. They will then answer multiple questions relating to their backgrounds, studies, hobbies and interests. After finishing the application, students will need to submit three official documents from their high schools. One is an official transcript, one is a school report and the last is a recommendation letter from a guidance counselor. W&L also requires that students take and submit scores from the SAT or from the ACT that includes a writing section. Students must also arrange for at least two teachers to write and send in letters of recommendation. Applicants will also need to send in a mid-term progress report and copies of their final grades at the end of the year.
Tuition and Financial Aid
Tuition at William & Lee University equals more than $63,000 every year. Those who live off campus and take classes online are only responsible for paying for their tuition and miscellaneous fees. One year of tuition at W&L comes out to a little over $45,000 a year. The cost of textbooks, supplies and fees can add an extra $2,000 or more to the costs that students face. As the university is so expensive, it established different programs that help students attend the university. All students should complete the scholarship application that is part of the Common Application when they apply to the university. Their responses to the questions on that application will help the university determine if they qualify for any of the available scholarships. These scholarships can give students a few hundred dollars or pay the entire cost of their tuition.
Students attending the W&L online program may have limited financial aid available to them, which is why they will want to submit the FAFSA. This lets them demonstrate the amount of aid they need and find out how much aid they will receive in the form of grants and loans. Online students may qualify for both unsubsidized and subsidized student loans. W&L also offers payment plan that lets students make smaller payments throughout the school year to pay off their tuition and fees.
Online Degrees Offered
Psychology
When Washington and Lee University established its psychology program, it wanted to help students take all the courses they wanted and complete their degrees in four years or less. Required courses that are part of this program are available in the fall, winter and spring semesters every year. Students can also choose between earning a Bachelor of Arts or Bachelor of Science in Psychology. The main difference between the two programs is that the BS program focuses more heavily on science and research. Students will learn more about the clinical side of psychology and how professionals research topics in this field.
Students entering the BA program will take 42 credit hours of required courses, while those enrolling in the BS program must take up to 50 credits of required courses. All students must take some classes on research and statistics. Other courses cover topics like abnormal psychology, social psychology, the impact of drugs on human behavior and human development. BS students must also take a senior thesis course in the last year of the program. This course lets them complete a research or writing project under the guidance of a professor working in the psychology department. Both psychology programs at Washington and Lee University emphasize the importance of research and clinical study.
<!- mfunc search_btn -> <!- /mfunc search_btn ->