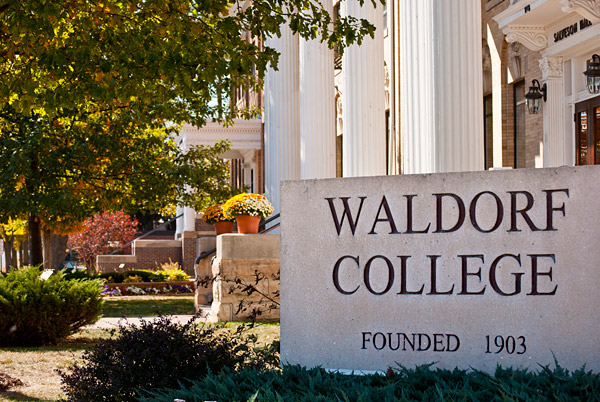 Established in 1903 as a Christian institution to serve north central Iowa, Waldorf College reaches out to 21st-century adult learners with the same commitment to high quality, individualized education through residential or distance learning formats. Initially a junior college, Waldorf developed a liberal arts emphasis for curricular studies that formed the basis for transitioning into a full college offering baccalaureate degrees. In 2010, the college began offering accredited online degrees and broadened its appeal to those seeking flexible, affordable associate, bachelor's or master's degree options especially in popular fields like psychology. Regardless of format, studies prepare graduates with career competencies through rigorous academics, applied learning experiences and foundations for strong ethical standards as professionals working in a culturally diverse workforce.
Waldorf College: Accreditation Details
Waldorf holds regional accreditation from the Higher Learning Commission of the North Central Association of Colleges and Schools as well as licensure by the Iowa College Student Aid Commission. Its accreditation for online programs adheres to federal and state standards governing distance learning degrees. Waldorf pursues authorization or exemption for online education per guidelines in each U.S. state or territory. Waldorf also seeks to align its online degree programs with accrediting protocols developed by industry experts across the country.
Waldorf College: Application Requirements
Waldorf reviews and considers prior academic experience and credits, training applicable to potential degree emphasis, and relevant professional credentials for entrance into residential and online programs. Applicants begin the process by submitting an online application with the appropriate documentation:
Secondary education transcripts from high school or equivalent programs for new undergraduates
Transcripts for completed post-secondary credits for transfer students
College transcripts noting degree completion for master's candidates
Proof of English proficiency for international students
Professional licenses, certifications or military transcripts if applicable
Verified ACT or SAT scores for residential students only
<!- mfunc search_btn -> <!- /mfunc search_btn ->
Waldorf College: Tuition and Financial Aid
Waldorf's commitment to accessible education provides applicants keeps costs low compared to institutional peers. Basic per-credit-hour rates are $275 for undergraduate courses and $350 for graduate ones. Variations can apply depending on specific programs especially at the master's level. Tuition assistance exists for all students regardless of degree level or format. Active duty military personnel can attend master's programs for $250 per credit to keep within Department of Defense caps for military tuition assistance. Members of the Waldorf College Learning Partners programs can receive a 10 percent tuition discount for online programs or a $500 first-year scholarship for residential programs. Additionally, Waldorf provides all textbooks for free based on documentation of successful course completion. Prospective Waldorf students can apply for the following financial assistance opportunities:
Federal Student Aid, known as FAFSA
Federal work study program
Federal Supplemental Educational Opportunity Grant
Federal Pell grants
Federal Stafford or Perkins loans
Federal PLUS parent or graduate loans
Tuition Assistance for active duty personnel
Veterans Affairs benefits program
GoArmyEd program
Direct lending programs
State sponsored grants or scholarships
Waldorf Book Grant
Waldorf Learning Partner Tuition Discount Program
Waldorf Learning Partner Scholarship
Hero Behind the Hero Scholarship for military and public safety personnel
Learn Together Scholarship for family members concurrently in online and residential programs
Online Psychology Degree at Waldorf College
Psychology programs nationwide are some of the most sought after by students who want a degree that can take them in many directions. Undergraduate psychology degrees offer versatile options for ground-level careers in service-oriented vocations that rely on understanding human nature and exhibiting strong competencies in communication, human resource management, mediation and conflict resolution. Psychology degree graduates can find competitive employment as assistants, technicians or consultants in mental health facilities, the justice system, mentoring and counseling programs, schools, business and industry, retail, marketing or research. Graduates also possess the foundational studies necessary to pursue master's degrees leading to licensing credentials as clinical psychologists, educational psychologists, business and industrial psychologists or private counseling practitioners.
To this end, Waldorf provides a unique, 120-credit Bachelor of Applied Science in Psychology with options to concentrate in sport management, healthcare management, occupational safety and health, communications, fire science, or criminal justice. The four-year curriculum covers 30 credits of general education requirements, 30 credits in fundamental courses for the major, 48 credits of professional electives, and 12 credits in the area of concentration. This comprehensive study plan incorporates the goals of a liberal arts education into the psychology major by providing students with opportunities to:
Become competent in knowledge and skills related to the practice of psychology
Think critically and reason analytically
Demonstrate a broad range of interpersonal skills
Use ethical and moral principles to govern professional behavior
Core and professional studies focus on foundations related to:
History, traditional theories and leading practices of psychology
Traditional and trending research methods
Psychological assessments and APA writing formats
Development of the mind and thought patterns
Judgment and decision making
Attitudes, persuasion, and abnormal behavior
Cognition and learning
Physiology and health
Perception and sensation
Social and environmental influences on the mind and behavior
Multiculturalism, racism and prejudice
Personality theories
Gender and relationships
Industrial and organizational psychology
Meanwhile, concentration courses provide in-depth studies that align with industry practices in chosen specialty areas. Sport management courses look at the sociology of sport, sport administration, sport legal liability and risk management in sport. Healthcare management requires classes in healthcare management principles, issues and trends in the field, healthcare law, and financial management of healthcare organizations. Occupational safety and health studies include fundamentals of OSH, environmental impacts on health and safety, industrial hygiene, fire prevention, hazardous materials, ergonomics, and accident investigations. Communications delves into graphic and digital core competencies, mass communications in society, reporting and journalism, and visual theory. Fire science emphasizes fire protection and prevention, fire and emergency services, fire and human behavior, and community risk management protocols. Finally, criminal justice explores the foundations of criminal justice, criminology, law enforcement theories and practices, and development of and trending practices in corrections programs.
Waldorf has taken care to highlight the service and communication aspects of these concentrations that correlate to expected competencies for effective professional psychology careers. If earning a personalized degree to work in a human services field describes your career ambitions, then a Bachelor of Applied Science in Psychology from Waldorf College offers a variety of ways to pursue that goal.
<!- mfunc search_btn -> <!- /mfunc search_btn ->