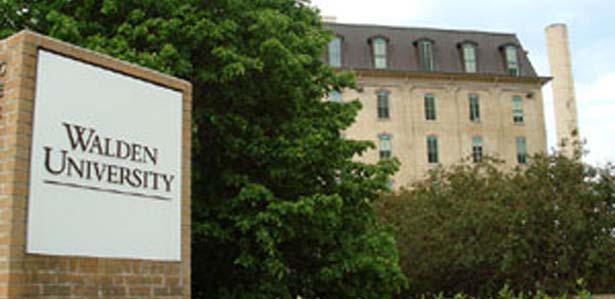 Forty-five years ago, Walden University began investing in the education of adult learners by providing accessible education opportunities to earn post-secondary degrees through distance learning formats. The accredited university's academic programs accommodate students pursuing undergraduate, graduate and professional degrees designed to prepare graduates to meet personal career goals along with the demands of 21st-century jobs. Career choices are available in over 80 majors and more than 370 specialization areas. Students can pursue degrees in trending professions such as public health, administration, criminal justice, information technology, psychology, counseling, social work, and health care among others. By using online instructional technology, Walden's degree programs reach students in each U.S. state and around the globe in more than 150 countries. Student-centered instruction revolves around rigorous academics and cohort learning activities that promote practical application of knowledge and skills. Walton's academic headquarters are based in Minneapolis, Minnesota. It is part of Laureate International Universities, which supports higher educational institutions around the globe to provide innovative degree opportunities to people from all backgrounds.
Walden University: Accreditation Details
Walden has held accreditation from the North Central Association of Colleges and Schools under the Higher Learning Commission since 1990 to confer undergraduate, graduate and post-graduate degrees. Walden also holds accreditation for specialized programs from the following professional organizations:
National Council for Accreditation of Teacher Education
Commission on Collegiate Nursing Education
Accreditation Council for Business Schools and Programs
Council for Accreditation of Counseling and Related Educational Programs
Accreditation Board of Engineering and Technology
Project Management Institute Global Accreditation Center
Walden University: Application Requirements
Interested applicants to Walden's programs work with an enrollment adviser to determine eligibility and admission requirements based on individual degree goals. Revolving start dates ensure that programs are available year-round. Enrollment status is based on previous educational and work history, applicable test scores, and domestic or international residency. Since Walden University is geared towards adults learners, applicants must be at least 24 years of age to apply to bachelor's programs or between 21-23 years of age if transferring in with at least 12 credit hours towards a degree. Enrollment requires submitting one or more of these:
A completed online application
Official high school transcripts, college transcripts or GED certification
Documentation of military service for active duty personnel or veterans
Documentation of employment history via a work resume
Verified test scores if requested by specific programs such as SAT, ACT or GRE
Proof of English proficiency for international students
Verification of a bachelor's degree for master's programs
Verification of a bachelor's or master's degree for doctoral programs
A written, professional goals statement for master's or doctoral programs
Documentation of three years relevant academic or professional experience for doctoral programs
<!- mfunc search_btn -> <!- /mfunc search_btn ->
Walden University: Tuition and Financial Aid
Tuition costs vary by degree and program at Walden. Often, incentives may be offered to assist enrollment in a program. Here is an example of what a student might pay for tuition to earn a psychology degree at three different levels:
For a Bachelor of Science in Psychology, tuition would be $320 per quarter hour with an incentive of six weeks free if enrollment occurs by a certain date.
For a Master of Science in Psychology, tuition would be $490 per quarter hour with an incentive of $3,000 for a Civil Service Change-Maker Grant if enrolled by a prescribed date.
For a Ph.D in Psychology, tuition would be $495 per quarter hour with an $5,000 grant as an incentive to start by a particular date.
To determine tuition costs, prospective students should check Walden's program websites or contact a Walden enrollment adviser. Walden programs also assess a $120 technology for each enrollment period. To defray expenses, eligible Walden students can apply for a number of financial aid opportunities:
Federal Work Study Programs
Federal Student Aid Program, called FAFSA
Federal TEACH or Pell Grants
Federal Supplemental Educational Opportunity Grant
Federal Perkins or Stafford loans
Federal PLUS Graduate or Parent loans
State grants where attendees reside
Military and Veterans Benefits Program
Higher Education Professional Development Program
Walden University Degree Level Scholarships
Walden University Scholarships for Current Attendees
Walden University Scholarships for International Students
Walden University Program Scholarships
Walden University Fellowships for Educational Leadership, Research for Social Change, or Distance Education Research
Walden University Family Savings Plan
Walden Alumni Tuition Savings Program
Accelerate into Master's Option
Online Degrees Available at Waldon University
Walden online degrees offer numerous specialization options. This allows students to personalize basic degrees in one of several areas to emphasize personal career goals. This is especially relevant in certain fields like psychology where so many different services are in demand across communities and institutions. Walden's Bachelor of Science in Psychology, for example, can be concentrated in one of 10 different areas of practice such as Child and Adolescent Development. The degree can be rounded out by completing a coordinating minor from a field outside the major.
Program components for all bachelor's degrees in psychology would share the same core university requirements covering general education content and foundational content in the major but diverge with regard to concentration coursework. In the case of the B.S. in Psychology with a Concentration in Child and Adolescent Development, students would complete the following 181-quarter credit curriculum:
46 quarter credits of general education courses
35 quarter credits of core content in psychology foundations
35 quarter credits of courses in Child and Adolescent Development studies
20 quarter credits of approved psychology electives
45 quarter credits of approved general or coordinating electives
Foundational and concentration studies for this program would cover these topics:
Psychology as a natural and social science
Personality theories
Cross-cultural perspectives of psychology
Analyzing and presenting data
Psychological methods of inquiry
Childhood and adolescent development
Influences of society on behavior
Learning theories
Guidance and motivation principles for children and adolescents
Issues and trends affecting psychology in children and adolescents
Walden's online degree programs compare favorable to those from peer institutions with regard to scope and rigor of academic content taught by faculty with reputable careers in their respective fields as researchers, scholars and professionals. As a result, students who earn cutting-edge degrees from Walden University can expect the same competitive employment options and career advancements afforded to students from traditional on-campus programs.
<!- mfunc search_btn -> <!- /mfunc search_btn ->