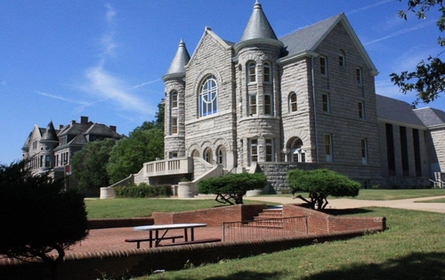 Shortly after Richmond fell to the Union Army in 1865, the American Baptist Home Mission Society arrived in the former Confederate capital as teachers and missionaries. They began holding classes for former slaves in two of the city's missions and, by November of that year, established the Richmond Theological School for Freedmen. The end of the Civil War and the establishment of the 13th Amendment officially abolished slavery, but the new school faced many issues in its early years. It was clear that the newly freed population lacked training, opportunities and literacy.
The American Baptist Home Society proposed a national theological institute that would provide education primarily for African-Americans who wished to enter the Baptist ministry. It was not long before the mission expanded to offer preparatory, high school and college courses to both men and women. Although some branches of the new mission thrived, creating one in Richmond took much longer. The city had been devastated by the Civil War and many in the city were adamantly opposed to what the school was trying to accomplish.
In 1867, Dr. Nathaniel Colver, a strong abolitionist, arrived to take over the classes at the new institution. During a chance meeting with Mrs. Mary Ann Lumpkin, he was able to rent land and buildings known as "Lumpkins Jail," an area where Robert, Mrs. Lumpkin's husband, used as a holding pen for slaves. The support of local black ministers were crucial to the success of the school and Dr. Colver taught grammar, arithmetic, geography, spelling and reading for six hours each day until 1868 in buildings that still had bars on the windows and whipping posts were used as lecterns for the professors.
The school was incorporated by the Virginia General Assembly as the Richmond Institute in 1876 and a Board of Trustees appointed. In 1883, a college for African-American women was established by Joseph C. Hartshom of Rhode Island in memory of his wife, Rachel. The curriculum was modeled after Wellesley College and the first classes convened in the Ebenezer Baptist Church until they could move to a campus on the corner of Lombardy & Leigh Street. After the establishment of the new women's college, Richmond Institute became a strictly theological college and reestablished itself as Richmond Theological Seminary.
In 1899, the Wayland Seminary and Richmond Theological Seminary merged to form Virginia Union University. Today, Virginia Union University is a premier liberal arts institution of higher education and a center for educational excellence.
Virginia Union University Accreditation Details
Virginia Union University is accredited by the Commission on Colleges of the Southern Association of Colleges and Schools. Accreditation indicates that the programs offered at the university meet or exceed the high standards of the accrediting agency. In addition, the school also holds the following program accreditations:
Association of Collegiate Business Schools
Association of Theological Schools
Commission on Accrediting of the Association of Theological Schools
Council on Social Work Education
National Council for Accreditation of Teacher Education
<!- mfunc search_btn -> <!- /mfunc search_btn ->
Virginia Union University Application Requirements
Incoming freshmen must complete an online application and pay the applicable fee. Students must have a cumulative high school grade point average of 2.3 or higher. Students must provide official SAT or ACT scores as well as official high school and college transcripts if students took college-level courses while in high school. Two recommendation letters and a personal statement must also be submitted.
Students who have earned college credit after high school must complete the application and supply a confidential request form from all colleges attended. Students must have a cumulative GPA of 2.0 or higher and official transcripts must be provided from any college or university attended as well as high school transcripts or GED scores. Students may also need to provide official SAT or ACT transcripts.
Students who wish to enter graduate programs at Virginia Union University should contact an admissions counselor to learn what admissions materials are required.
Virginia Union University Tuition and Fees
Full-time tuition is $7,215 per semester at Virginia Union University while part-time tuition is $447 per credit hour. Master's degree tuition is $13,000 per year while doctorate tuition is $15,000 per year. Financial aid is available and students must complete the Free Application for Federal Student Aid (FAFSA) in order to be eligible. Financial aid is offered on a first-come, first-served basis so it is important to submit the FAFSA as soon as possible.
Virginia Union University Online Degree(s) Available
Psychology
The Psychology program at Virginia Union University creates a firm foundation in the theory, research and practice of psychology. Students develop a sense of personal worth as they develop an understanding of psychology in others. Students are able to demonstrate knowledge of psychology and behavioral science concepts. Graduates have the ability to pursue advanced education in psychology or related disciplines or to enter into employment in the psychology field. Students are able to apply principles of psychology to themselves, to individuals and to groups in an effort to promote mental health.
Courses necessary to achieve the Psychology degree include:
Freshman Composition
Mathematics
Natural Science
Historical Studies
Fine Arts
Foreign Language
African-American Heritage
Personal Wellness
Computer Science
Social Science
General Psychology I and II
Research Methods I and II
Careers in Psychology
Developmental Psychology
Adolescent Development
Adult Development and Aging
Clinical – Counseling Psychology
Abnormal Psychology
Theory and Practice I and II
Psychological Assessment
Experimental Psychology
Biopsychology
Advanced Statistics for Psychology
Computer Use in Social Science Research
Social Psychology
Learning and Cognition
History and Systems of Psychology
Upon completion of the program, students are qualified to obtain entry-level positions in public and private institutions who have a need for psychology professionals. In addition, students are prepared to enter graduate-level programs in order to advance their knowledge and career opportunities in the field of psychology.
Virginia Union University began with a mission to provide higher education to a population who had been denied learning. Their mission continues to be providing high-quality advanced education to those who have a desire to learn and who are willing to enter rigorous programs in order to advance their careers in their chosen field. The school offers flexible schedules and formats that allow working adults to achieve their higher education goals.
<!- mfunc search_btn -> <!- /mfunc search_btn ->