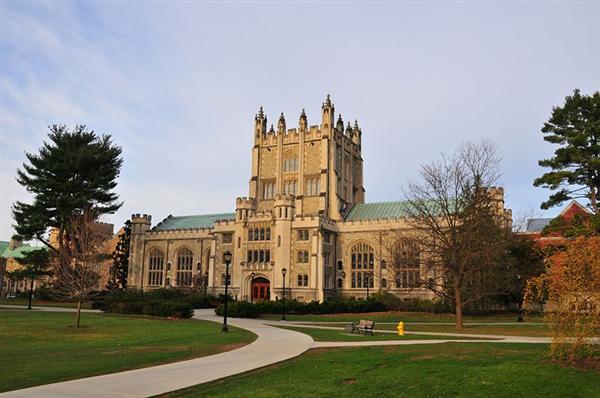 Vassar College is one of a handful of colleges scattered across the country that originally opened as a college for women. When it opened in 1861, it went by the name of Vassar Female College, but it later changed its name to Vassar College because it wanted to reflect its commitment to all types of students. Founded as one of the Seven Sisters, Vassar had a close connection with prominent Ivy League schools and quickly developed a strong reputation as being one of the best female colleges in the nation. Though the college admitted some male students in its later years, it didn't official make its campus coeducational until 1969.
Though not an Ivy League school, Vassar is just as selective as some of those more elite schools. Less than 23% of all students who apply each year receive acceptance to the college. Forbes placed the college on its list of top schools in the United States at number 28, but the college also ranks highly in terms of liberal arts schools in the nation. Washington Monthly ranked the school as the 28th best U.S. liberal arts school, and U.S. News and World Report ranked it higher at number 12. Vassar works hard to help students after graduation with a number of networking events and a strong career development office that helps students write resumes, craft cover letters and search for jobs.
Accreditation Details
One of the best ways for students to check on the reputation of a school is with a look at its accreditation. The United States Department of Education now limits where students can attend school and get financial aid. The Department of Education does not let students get loans, grants or other financial aid unless they attend an accredited college or university. Vassar College has accreditation from the Middle States Association of Colleges and Schools. The MSACS does an accreditation check on each school once every 10 years or more often, and Vassar had no problem retaining its accreditation during each of those checks.
Vassar College wants its current and future students to feel completely confident with its accreditation, which is why it established its own review committee. That committee meets regularly to discuss what problems the MSACS might find during an upcoming check. It then works with the college to make the necessary changes before the checks occur. Students can also check with individual departments on campus regarding any type of specialty accreditation that might be available.
<!- mfunc search_btn -> <!- /mfunc search_btn ->
Application Requirements
Vassar College wants a diverse group of students on its campus, which is why it looks at more than just grade point averages and test scores. The college continually strives to find students who will bring something new and different to the school. It uses a weighted system that weighs different aspects of a student to find those who score highly across a range of requirements, including grades, test scores, volunteer work and hobbies. Vassar also promises that no student will ever receive a rejection because he or she cannot afford the tuition charged by the school. Students can apply for early decision, which lets them know in the winter if they were accepted, or for regular admission.
All students must complete the Common Application, which lets them apply for admission to Vassar and other colleges at the same time. Though the college charges a $70 application fee, it offers a waiver to those who cannot afford that fee. Other requirements for those applying for freshmen admission include evaluations from several of their teachers, standardized test scores and a mid-term progress report that shows the grades students have in each of their classes. Students applying for arts programs will also need to submit a portfolio of their work. Vassar encourages students to take advance classes or honors courses before applying.
Tuition and Financial Aid
The total cost of taking classes and living on the Vassar campus is more than $60,000 a year. While those who only take classes online can save on some costs, they will still find that tuition costs more than $55,500 a year. Vassar wants potential students to know that it offers financial aid packages to all its students. Unlike other schools that require students showcase their financial need, Vassar awards packages based on merit and other factors. More than 60% of all students receive some type of financial aid, and packages range in size from around $1,000 to more than $60,000 a year. Some of its scholarships actually follow students, letting them renew their scholarships each year.
Those living on campus typically receive a package that includes at least one grant, loan and a scholarship. Students can also apply for jobs on campus to earn additional income. Online students can apply for the same loans, grants and scholarships through both the college and the government, but they will need to complete the FAFSA. Though grants, scholarships and loans are money that students can use for all their expenses, loans are the only type of financial aid that students must pay back later.
Online Degrees
Psychology
Vassar College began offering psychology classes during the 19th century when the field of study was still in its infancy. Those courses were available through its philosophy department, but the college later created its own psychology department in the early 1900s. The college divides its courses into three separate areas: introductory, intermediate and advanced classes. Students take introductory courses first, which teach them the basics of the brain and how and why people behave in various ways. Intermediate classes focus on more specialized topics and include classes like evolutionary psychology, learning and behavior, the psychology of sport and early childhood education.
Advanced topics include seminars that let students learn more in the classroom before writing papers and conducting research on their own. The college offers seminars on personality, clinical psychology and other topics. Vassar also requires that its psychology students take a research course during their senior year that teaches them advanced research methods before taking a thesis class and writing a thesis or conducting a research project or experiment. Psychology students at Vassar College can also earn course credit doing an internship, conducting some type of field work or completing an independent study project.
<!- mfunc search_btn -> <!- /mfunc search_btn ->