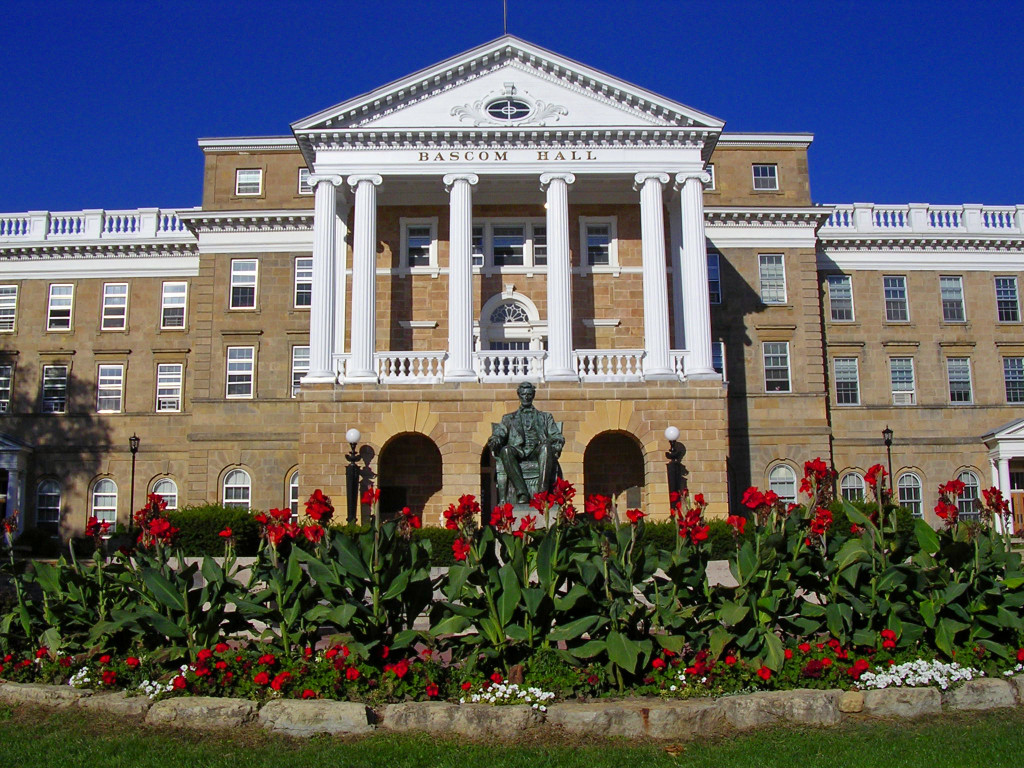 The history of the University of Wisconsin – Madison dates back to 1848, which was the same year Wisconsin officially became a state. When the college first opened, it had fewer than 20 students and operated out of an existing female school in Madison. The university grew rapidly under the guidance of one of its early presidents, Charles Van Hise. Van Hise developed an educational method called the Wisconsin Idea, which focused on interactive and hands on learning in combination with classroom experiences. Now known as UW, UW-Madison, UWM, Madison and Wisconsin, it is the flagship campus in the University of Wisconsin School System and has a strong reputation for its research programs.
UWM has a total population of more than 43,000 students, which includes nearly 12,000 graduate and PhD students taking classes online and on campus. Four major publications ranked the university as one of the nation's best. Both Washington Monthly and ARWU listed the university within the to 20 best colleges in the country, while Forbes listed in at number 70 and U.S. News and World Report ranked the school the 47th best in the country. UWM also has several global rankings as well. ARWU, Times and QS all ranked the university as one of the world's top 50 colleges.
Accreditation Details
UWM understands the importance of accreditation. Students cannot receive any form of federal student aid unless they attend a college with accreditation approved by the United States Department of Education. That department maintains a large and active listing that allows students to look up information about any college in the country, find out if it currently has accreditation, determine when the university comes up for an accreditation renewal and see if any problems exist. Students can also check with UWM directly, which lists its accreditation right on its website.
One thing students need to consider is that there is a difference between general accreditation and specialty or program accreditation. General accreditation is a type of accreditation that lets the school offer various programs to students. It shows that the university does an excellent job of helping students plan and prepare for the future. UWM has general accreditation from the Higher Learning Commission, which is one of the largest organizations of its kind. The university agrees to renew its accreditation every 10 years and will go through the renewal process in 2018, 2028 and every 10 years after. UWM also has program accreditation for some of the specialty degree programs it offers students.
<!- mfunc search_btn -> <!- /mfunc search_btn ->
Application Requirements
The University of Wisconsin – Madison designed its online application to make things easier for prospective students. Students have the chance to start and pause their applications anytime they need. They create an account with the website, which includes a valid email address or a pin code and a password. This lets students fill out part of the application and come back later to add more details to their applications. The university no longer accepts any type of paper documentation, which means that students will need to submit everything online or electronically. Those taking the GRE or another upper level test prior to applying for graduate school can submit their scores electronically.
Those applying for graduate school must also submit an updated and current resume, a statement of purpose that explains their reasons for studying at a higher level and answers to a questionnaire. This questionnaire is only mandatory for students entering one of the educational programs and asks them questions about the work and experiences they have outside of their studies. Students should also request that any college or university they attended send official transcripts to UWM. After submitting the necessary work and finishing the application, students can check back to see their status and the final decision of the university.
Tuition and Financial Aid
As a public university, UWM offers several different tuition rates. Those living in Wisconsin pay around $800 per credit hour, but out of state students pay around $1,600 per credit hour. The university offers a discounted rate for residents of Minnesota, which drops the price to just over $1,100 per credit hour. Most graduate students take between six and nine credit hours of classes each semester. Students should keep in mind that they are responsible for any additional costs, including fees, room and board and transportation to internships and other off campus experiences. The university offers some exemptions for students who cannot afford to pay those fees.
The University of Wisconsin – Madison offers some financial aid for graduate and PhD students. Students can apply for positions working as teaching, project or research assistants and receive a stipend that covers their tuition and some of their other costs. The university encourages students to contact the head of the department they apply for immediately after receiving acceptance to find out what opportunities are available to them. Students can also complete the Free Application for Federal Student Aid to see if they qualify for federal student loans in the form of unsubsidized student loans and grants.
Online Degree(s) Offered
Ph.D in Educational Psychology
U.S. News and World Report ranked UWM as the best graduate school in the country and specifically focused on the educational psychology program. Though the university offers both an MS and a Ph.D program, students entering the PhD program are evenly split between those who studied on campus before and those who graduated with a graduate degree from another university. The program focuses on four key areas: school psychology, statistics, cognitive science and human development. Students entering the program must show a transcript that demonstrates they did undergraduate and graduate work in each of those four areas or agree to take lower level classes before entering the program.
Students must take a number of courses on research and statistics to gain a strong understanding of psychology methods before working in the field. The university offers several seminar and special topics classes too that allow students to focus their studies on specific areas they might not cover in their required courses. Graduates of the program may work in public and private schools, in curriculum development, for major school districts or in a variety of other areas. The University of Wisconsin – Madison encourages its educational psychology students to complete internships and learning opportunities in the field as well.
<!- mfunc search_btn -> <!- /mfunc search_btn ->