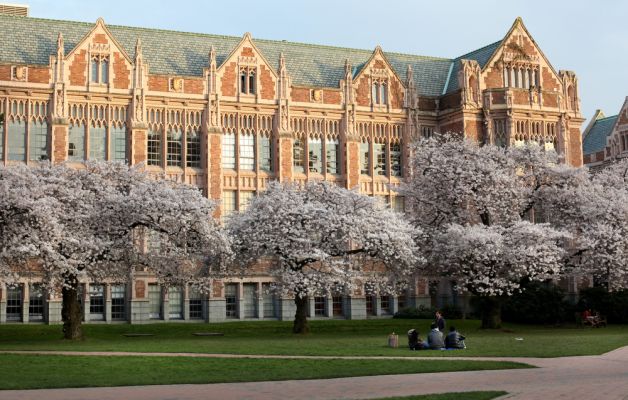 The University of Washington is one of the most lauded and distinguished public institutions in the world. Each year it serves the educational needs of approximately 54,000 students who learn under the instruction of some of the finest educators found anywhere. Through its 16 colleges in excess of 12,000 undergraduate, graduate and doctoral degrees are earned annually. Known for the quality of its research projects, the University of Washington attracts the best and brightest students as well as superior faculty members.
The quest to establish a reputable college in the area began even before Washington achieved statehood. It started in 1854 when Seattle's leaders began agitating for a university to be established in their city. The legislature eventually agreed, and the people of Seattle began looking for an appropriate site in 1861. Several of Seattle's leading families donated the necessary acreage, enabling the Territorial University of Washington to be established in November of that year. The school struggled for several years, closing down more than once when there weren't enough students or funds ran out. Nonetheless, a female student was the first to be graduated from the school in 1876 with a Bachelor of Science degree.
Seattle and the university began growing quickly after statehood was granted to Washington in 1889. The school would be relocated a few years later, and its growth became exponential. Additional campuses were established at Bothel and Tacoma. As the university grew so did its reputation. Today's institution has far exceeded the vision of the pioneer citizens who established it.
University of Washington Accreditation Details
UW is accredited by the Northwest Commission on Colleges and Universities, a credential which is renewed every seven years. Additionally, the University of Washington is part of the Association of American Universities. The College of Education has also been accredited by the Office of the Superintendent of Public Instruction, the Association of School Psychologists and the American Psychological Association.
University of Washington Application Requirements
Admission to the online graduate degree program at the College of Education requires completion of the GRE General Test. Students must also provide transcripts from each college or university which they previously attended or through which they earned a degree. A two to five page Statement of Purpose must be submitted. The Statement defines the applicant's goals, their relevant experience and the plans they hope to accomplish. They must also address why they believe the program they're applying to meets their specific needs. Prospective students must also supply two letters of recommendation and a resume. Certain degree programs may also require writing samples and interviews with faculty members. Students must also complete an online application form and submit a nonrefundable application fee.
<!- mfunc search_btn -> <!- /mfunc search_btn ->
Tuition and Financial Aid
Students who are Washington residents and attend the program full time will pay slightly more than $5,400 per quarter for tuition. Non-residents may pay as much as $9,700 per quarter. UW estimates that graduate students should also expect other costs of between $9,000 and $20,000 per nine month period during enrollment. These additional costs cover things like books, living expenses and transportation.
Students may apply for financial aid by filling out and filing the Free Application for Federal Student Aid, or FAFSA. UW's Office of Student Financial Aid can assist with this process. The Graduate School maintains a calendar that tracks available fellowships and assistantships that can help pay for educational expenses. Minority students may receive assistance from the Graduate Opportunity and Minority Achievement Program. The University also maintains an Office of Merit Scholarships, Fellowships and Awards that can help students locate financial assistance in the form of grants, scholarships and more.
Online Degrees Available
The College of Education at the University of Washington is committed to developing an informed and active citizenry by preparing graduates to work as teachers in every discipline and in every part of the world. To achieve this goal the College has developed close working relationships with public schools that are dealing with poverty and where cultural diversity sometimes presents challenges to the student body. U.S. News and World Report ranks the College of Education as number six in the U.S. and the university as number two among all public institutions. Earning a graduate degree here is a distinction that will be recognized by potential employers anywhere in the world.
Recognizing that traditional classroom education isn't always realistic for all learners, the College of Education has developed curriculum for a Master of Education in Special Education graduate degree that can be earned online. Fulfilling the requirements of this program enables graduates to find employment in an increasingly competitive and in demand field. Schools, intervention programs and other learning facilities require the assistance of board certified special education teachers, and this program provides the ideal preparation for stepping into this role.
Students hoping to complete this online master's degree program choose a specialization in applied behavior analysis. Successful completion of all credits qualifies the graduate to take the Behavior Analyst Certification Board exam, leading to the designation Board Certified Behavior Analyst, or BCBA. The Board has fully reviewed and approved all coursework in the degree program, ensuring that valuable credentials are being earned throughout the process.
Students may complete the coursework in one year by taking two courses each for four quarters. Alternatively, students may elect to take just one course per quarter, stretching out the time required to two years. If they choose, students may extend their learning by an additional year so that they earn the Master's Degree in Special Education.
The BACB approved coursework includes classes that introduce teaching concepts for students with moderate to severe disabilities. Students will also learn about behavioral management in classrooms, research methods, ethical considerations and how to approach inclusive instruction among other subjects.
In addition to completing the required coursework students must complete 750 hours of supervised practicum. This is part of the requirement for becoming board certified, and UW offers students the opportunity to complete the practicum under the supervision of its faculty. Students may also fulfill this requirement through their employer if they are already working as a teacher.
Students who complete this online program of the University of Washington's College of Education will be very well prepared to enter a professional field that transforms the lives of students.
<!- mfunc search_btn -> <!- /mfunc search_btn ->