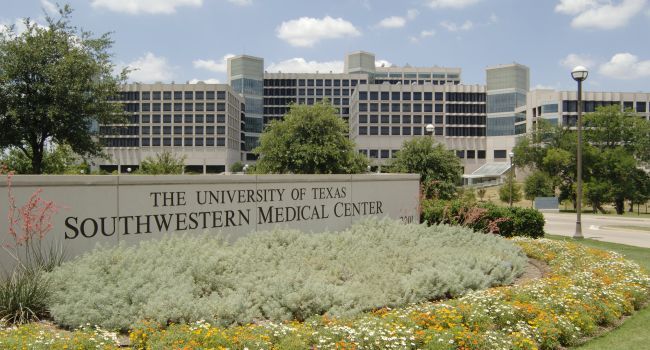 In the years prior to World War II, a group of Dallas citizens formed the Southwestern Medical Association in an effort to encourage medical education and research in the area. At the time, Baylor University had the only medical school in Dallas and, when it was decided to move the school to Houston, the citizens created Southwestern Medical College. The college began humbly in abandoned wartime barracks that held classrooms, a small library, a few laboratories and an animal facility.
After the war, a medical school was created at the University of Texas. Volunteers from the Southwestern Medical Center assisted in the creation of the new school as they already had some systems in place. In 1949, the school became Southwestern Medical School of the University of Texas where it was established in the old buildings used by Southwestern. In 1954, the college moved to its present location on Harry Hines Boulevard, next to Parkland Memorial Hospital.
UT Southwestern ranks in the top 25 percent in research and primary care, according to U.S. News & World Report. It is one of only two dozen schools to attain that level in both categories.
Beginning in 2015, students are provided curriculum taught in three distinct periods – pre-clerkship, clerkship and post-clerkship – over their four years of education. The first 18 months are spent building knowledge in basic and clinical sciences, followed by 48 weeks designed to provide exploration into clinical fields. Students undergo rotations in internal medicine, surgery, pediatrics, obstetrics and gynecology, psychiatry, neurology and family medicine. During their fourth year, students participate in a sub-internship while also completing electives that focus on the students' chosen field of study.
University of Texas Southwestern Medical Center Accreditation Details
The University of Texas Southwestern Medical Center is accredited by the Commission on Colleges and Schools of the Southern Association of Colleges and Schools. Accreditation indicates that the college meets or exceeds standards set forth by the accrediting agency confirming that students are receiving the highest level of education.
University of Texas Southwestern Medical Center Application Requirements
Each department of the University of Texas Southwestern Medical Center has their own requirements for admission. To apply to the Graduate School at UT Southwestern Medical, complete the online application and submit transcripts from all colleges and universities attended. Students must provide official GRE examination scores and three letters of recommendation. To apply to the Medical School, students must complete the online application that applies to the program they wish to enter and must submit to a personal interview. Each program in the School of Health Professions has their own application requirements as well. Students are encouraged to speak to an admissions counselor before applying.
<!- mfunc search_btn -> <!- /mfunc search_btn ->
University of Texas Southwestern Medical Center Tuition and Financial Aid
Tuition at the University of Texas Southwestern Medical Center is $26,200 per year for Texas residents and $78,600 per year for non-residents. Financial aid is available through the Office of Financial Aid. Students must be accepted for admission or enrolled in good standing and must be making satisfactory academic progress in order to qualify for financial aid. Aid is available through federal and institutional student loans as well as gift aid. Students must complete the Free Application for Federal Student Aid (FAFSA) in order to qualify.
University of Texas Southwestern Medical Center
Clinical Psychology Ph.D. Program
University of Texas Southwestern Medical Center offers a doctorate program in Clinical Psychology that is accredited by the American Psychological Association. The program prepares students to serve as researchers as well as clinicians. The program reflects clinician-researcher models of training in order to prepare students for the practice of clinical psychology. Students are provided extensive research training that allows them to pursue more clinically-oriented careers with the skills to effectively evaluate scientific materials. Courses required for the program include:
Advanced Statistics
Advanced Abnormal Psychology and Lab
Clinical Methods I & II
Personality Theories and Dynamics
Applied Cognitive Neuroscience
Developmental Psychology
Health Psychology
Research Design & Multivariate
Theories and Techniques of Individual Psychotherapy
Evidenced Based Therapies
Cultural Diversity
Basics of Neuroanatomy
Fundamentals of Clinical Management
Clinical Neuropsychology
History and Systems of Psychology
Theories and Methods of Cognitive-Behavioral Theory
Professional Ethics and Issues
Psychopharmacology
Psychodynamic Psychotherapy
Psychometric Theory
Social Psychology
Theories and Methods of Consultation, Supervision and Program Development
Research in Psychology
Developmental Psychopathology
Lifespan Development
In addition, students must complete practicums and internships in psychology as well as complete and defend a dissertation related to psychology.
In order to apply for the Clinical Psychology Ph.D., students must complete an online application which is available beginning September 1 of each year. Students must also provide official transcripts from all colleges or universities attended. Applications must be submitted by December 1 of each year. Students are not required to submit GRE scores. The program is only offered on a full-time basis and the university provides financial support in the form of a stipend in the beginning of the second year. However, there is no guarantee of funding each year. Tuition for full-time students who are Texas residents is $8,221.60 and for non-residents $22,701.60 per year. There are an additional $1,220 in university fees added to tuition each year.
Students may join the Graduate Student Organization which promotes the welfare of graduate students by addressing advocacy, professional and social student needs. The group serves as a liaison between graduate students and administration. In addition, they offer competitive travel scholarships and organize the annual GSO Poster Session. The group holds many social and volunteer service activities to facilitate interaction among graduate students. The group meets the second Tuesday of each month at 12:30 PM in the Graduate School Lecture Hall.
Students who want to further their career in psychology or who want to move into a more clinical or research-driven career related to psychology could benefit from the Ph.D. program at the University of Texas Southwestern Medical Center. Students are even provided career planning services through the University of Texas Southwestern Medical Center's Career Development Office.
<!- mfunc search_btn -> <!- /mfunc search_btn ->