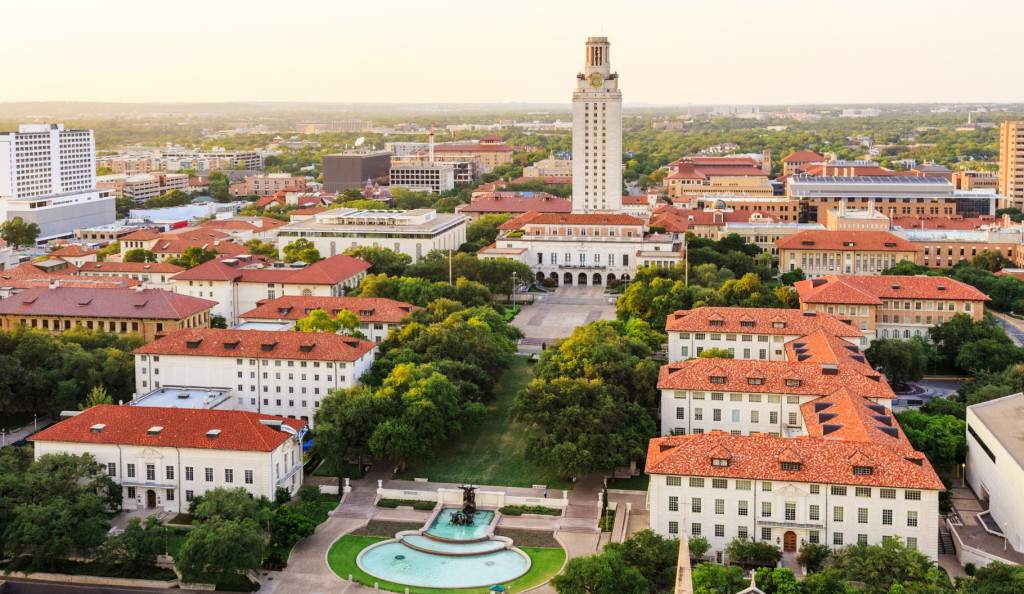 The University of Texas School System is both the largest and oldest school system in the state of Texas. Its flagship campus is the University of Texas at Austin, which students often refer to as UT Austin. Though established in 1883, several notable groups previously attempted to form a college of higher learning in the region, including the Mexican government and the first settlers who moved there after Texas became a state. The university grew significantly during the late 19th and early 20th centuries after several prominent locals donated both money and land to the university. The university has a total population of more than 50,000 students today, which includes more than 38,000 undergraduate students and more than 12,000 graduate students.
UT Austin ranks quite highly both on the national and global level. Forbes ranked the university as the 76th best college in the country, and it ranked at number 53 and number 20 on similar lists created by U.S. News & World Report and Washington Monthly. QS ranked UT Austin as the 79th best university around the world, and both Times and ARWU ranked it within the top 30 best colleges on the global level. U.S. News & World Report also ranked the university as the seventh best public university in the United States.
University of Texas at Austin Accreditation Details
UT Austin has accreditation from the Commission on Colleges of the Southwest Association of Colleges and Schools. The Commission on Colleges, also known as the COC, is a national organization that oversees regional branches like the SACS across the country. Many students give little thought to what accreditation means or even if the college they choose has accreditation. Accreditation ensures that students get the most out of their future education. These organizations look at dozens of factors to determine if the school does its best, including the ratio of professors to students, the percentage of students who graduate and the past experience and education of professors working on campus.
Accreditation isn't a one time thing either. Each college will need to apply for renewal at least once every ten years, which lets the accrediting agency come back and review the school again. If the college doesn't meet the minimum requirements for accreditation, it will have a certain period of time to fix any problems found. UT Austin is one of many schools that has general accreditation for its online and on campus programs and specialty accreditation for some of its specific programs. The Department of Educational Psychology has accreditation from the American Psychological Association.
<!- mfunc search_btn -> <!- /mfunc search_btn ->
University of Texas at Austin Application Requirements
The requirements for students applying to UT Austin vary based on whether they apply for undergraduate or graduate admissions. Undergraduate students include recent high school graduates, transfer students and international students. All incoming students will need to complete the online application and pay a $75 application fee, which increases to $90 for international students. Students may also apply for a fee waiver. They must also complete and submit answers to two essay questions, high school transcripts, test scores from the ACT or SAT and a student information form. Any student who took college classes and wants to transfer credits will need to submit a transcript from that college.
Admission to any of its graduate programs requires that students have a bachelor's degree and submit scores from the GRE or a similar test. They must also submit an official transcript that shows the student received a minimum grade point average of 3.0 on a 4.0 scale in classes relating to the field of study. UT Austin charges an application fee of $65 for graduate students. After submitting all the required information, professors working in the program will go over the application and determine if the student is a good fit and if the student will receive an acceptance letter.
Tuition and Financial Aid
The cost of attending UT Austin depends on whether students enter as a graduate or undergraduate student and which department or field they enter. Students studying an educational field will find that tuition starts at a flat rate of around $4,900 per semester for students who live in Texas and rises to around $17,000 a semester for those who live out of state. The tuition that graduate students pay depends on the number of credit hours they take each semester. Tuition rates start at around $1,100 per credit hour for Texas residents and rises to around $1,600 for graduate students who do not live in Texas.
Many students worry how they can afford the cost of college or graduate studies. Any students with financial worries should complete the Free Application for Student Financial Aid. Their answers determine the type and amount of aid they will receive. Most students qualify for unsubsidized student loans that charge interest as they complete their studies. Unsubsidized loans are available to both undergraduate and graduate students. Students may also qualify for subsidized loans that do not carry interest charges until they complete or leave college. Students can also look in to alternative loans, grants and scholarships.
Online Degrees Available
The Department of Educational Psychology is part of the College of Education at UT Austin. It focuses on preparing students for working in educational and psychological fields later. The Counselor Education program is one of its more popular programs and is open to students who have an undergraduate degree in education or one of the social sciences. The program requires a thesis that students write during their last year in the program. Those with a graduate degree may apply for admission to the School Psychology doctoral program, which culminates in a Ph.D. Students typically spend three or more years working in the field to gain more experience at the same time that they work on a doctoral project and complete their advanced studies.
UT Austin offers several of its educational psychology programs through its online campus. This allows students to live and work in any city across the country and gain more experience at the local level. Students can submit information regarding internships and student teaching experiences that they do to earn course credit through the program. The University of Texas at Austin also offers graduate and doctoral programs in quantitative methods, program evaluation and human development, culture & learning sciences.
<!- mfunc search_btn -> <!- /mfunc search_btn ->