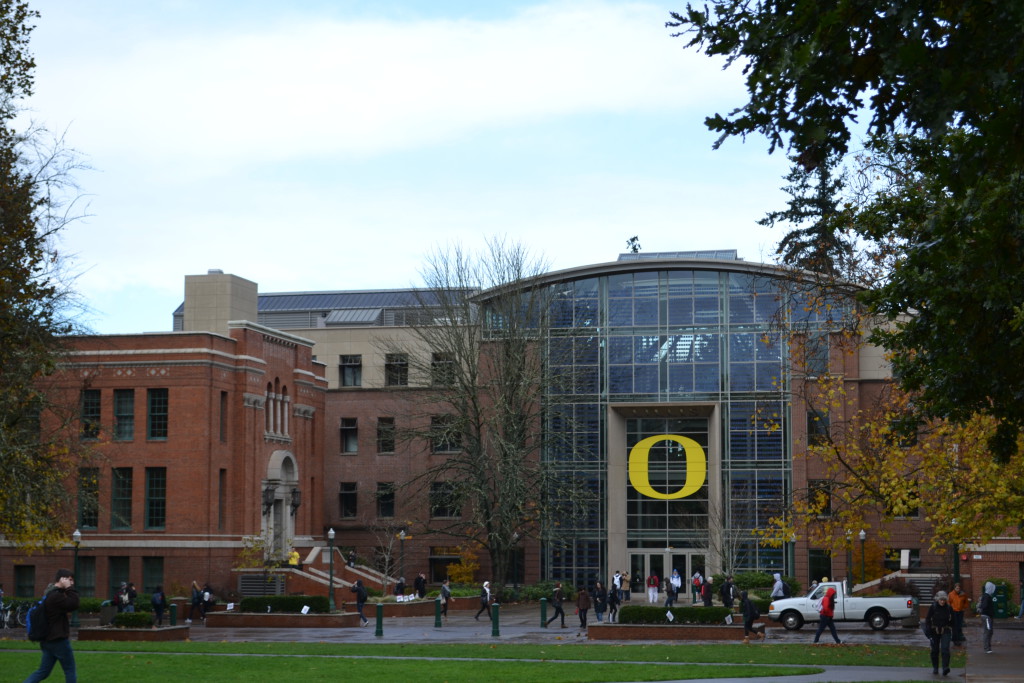 The University of Oregon, located in Eugene, Oregon, was established in 1872 by the Oregon State Legislature. It opened its doors four years later and saw its first five graduates cross the platform in 1878. At the time of its founding, the university boasted only a single building – Deady Hall. Its campus has since expanded and is now home to many notable sites including Hayward Field – the location of the 2008 Olympic Track and Field Trials. The University of Oregon is particularly well-known for its athletic programs. Its close relationship with Nike has led some to label it "Nike University." Oregon University's research programs have also received wide acclaim.
Accreditation Details
The University of Oregon is accredited by the Northwest Commission on Colleges and Universities. Its Ph.D program in school psychology is also accredited by the American Psychological Association.
Application Requirements
In order to apply for a program at the University of Oregon, prospective students must meet the following requirements:
Must have graduated from a standard (or accredited) high school.
Must have earned a grade greater than a c- in 15 college prep classes, including 4 years of English, 3-years of mathematics, 3 years of science 3-years of social studies and 2 years of a second language.
Must submit official high school transcripts.
Must submit ACT or SAT scores
Must submit an application essay
May include an explanation of personal circumstances
<!- mfunc search_btn -> <!- /mfunc search_btn ->
Tuition and Financial Aid
Tuition and fees for a 21 credit semester at the University of Oregon total 3,639.75 a semester for undergraduate residents and 8,280.75 for out-of-state undergraduates. Graduate tuition for residents is 5,857.75, while graduate tuition for out-of-state students totals 7,969.75 a semester.
There are several financial aid options available to University of Oregon students. Pathway Oregon ensures that Pell eligible students who maintain a GPA of 3.40 or higher have their entire tuition and all of their fees paid for. Students or prospective students with GPAs 3.0 or higher can also apply for the Diversity Excellence Scholarship, which awards $6,500 to undergraduate students and $9,000 of graduate students who contribute to the cultural awareness of the university. Students may apply for the general university scholarship as well. This scholarship $2,000 – $3,300 to students whose GPAs are 3.5 0 or above. It is non-renewable. The College of Education, which offers the University of Oregon's PhD program in School Psychology also has its own scholarship program. Donors provide students in this department awards. from $1,500–$7,000. Last year, donors gave a total of $440,000 to scholarship applicants. Graduate students may also apply for the college's teaching fellow positions.
Online Degree(s) Available
Ph.D in School Psychology
The University of Oregon offers an online Ph.D in School Psychology. This program prepares students to make an impact in education and psychology locally, state-wide and nationally. It emphasizes the importance of prevention and intervention. The program includes scientist-practioner programs, which interlink different systems and disciplines. Students who successfully complete the program will be prepared to qualify for the state board of psychology examiner's licensure, which will enable them to become professional psychologists. They are also automatically eligible to take the he Nationally Certified School Psychologist (N.C.S.P.) examination.
Required courses for students enrolled in this program may take include: Theories of Learning and Instruction, History of Psychology, Individual Differences in Behavior, Human Development, Psychopathology, Biological Aspects of Behavior, Cognitive Aspects of Behavior, Social Aspects of Behavior, Measurement and Assessment, and Statistics and Research Design. Students are also required to complete a minimum of 12 credits and 480 clock hours of practicum experiences, including two credits and 80 clock hours of field studies, nine credits and 360 clock hours minimum of integrated practicum and one credit and 40 clock hours of Community Agency Practicum. Students are also asked to complete a minimum of nine credits and 1,500 clock hours of internship experience. Those who choose to pursue the University of Oregon's School Psychology program through distance learning may also choose to take courses such as Psychopathology, Psychoactive Drugs, Psych of Gender and Biopsychology.
The psychology courses offered through distance learning at the University of Oregon offer unique creativity and interest. In Biopsychology, for instance, Professors J. Lewis and I. Yavorska treat the brain as a three pound piece of meat and compare it to a dinner steak before leading students in a journey through the brain's structure and makeup. Although the courses in this program are largely online, they remain uniquely engaging. Students are still required to take part in field work and practice, which keeps them engaged in the deeply personal nature of their work, yet at the same time, allows them a greater degree of freedom and comfort than traditional classes might.
One of the benefits of pursuing an online Ph.D in School Psychology from the University of Oregon is that while students can take courses from the comfort of their own homes – or from any location that offers Internet access – they can still be sure that their university is legitimately accredited. Students who enroll in this program have a great deal of flexibility and can take classes when it is convenient for them to do so. This allows students who are working to continue their educations without losing work hours. Students who are caregivers can also benefit by taking this program, because it allows them to study without taking attention away from those they care for. The University of Oregon's low tuition rates and generous financial aid options also make it an economical choice.
The university's reputation for excellent research is particularly beneficial to students pursuing degrees in psychology – a field in which research is critical to diagnoses and understanding. The University of Oregon may also be attractive to prospective students because of its high retention rate (86%) and its significant acceptance rate (73.9%). Psychology students may be particularly attracted to the University of Oregon, because it ranks #26 in US News and World Report's Best Grad Schools in the field of Clinical Psychology.
<!- mfunc search_btn -> <!- /mfunc search_btn ->