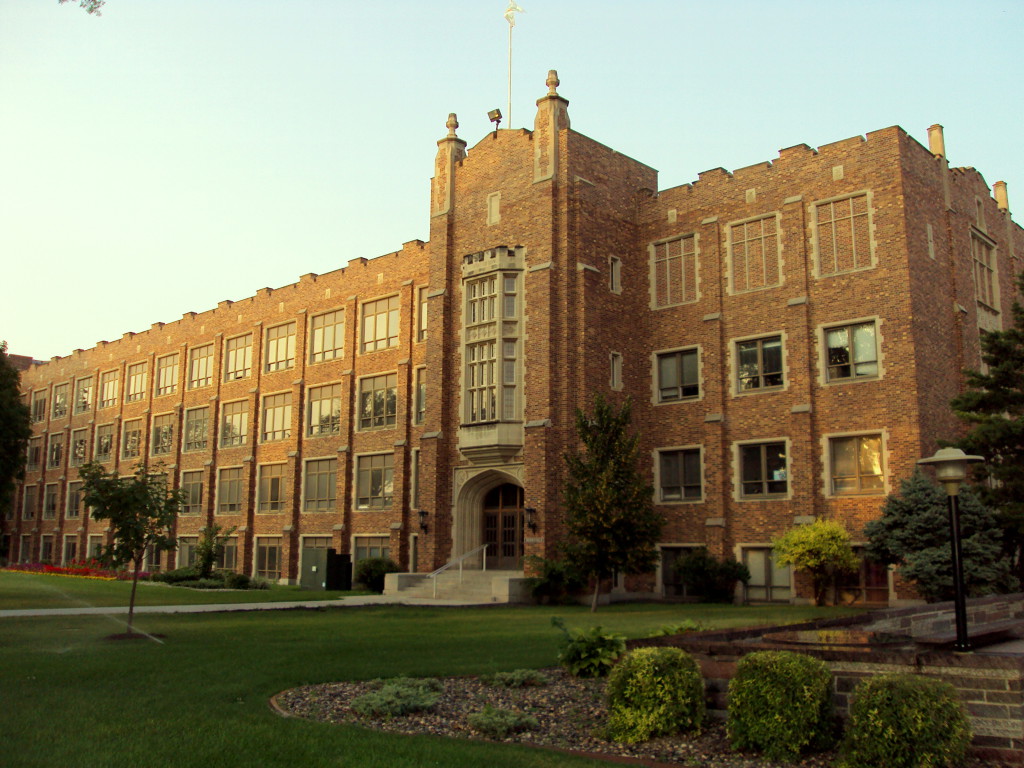 The University of North Dakota was founded in 1883, six years before North Dakota obtained statehood. Unlike many institutions of higher learning created west of the Mississippi River, the school did not begin as an agricultural or teacher's college. It was established as a College of Arts & Sciences, although a Normal School for the education of teachers was included.
George H. Walsh, a Grand Forks native, submitted a bill to the Territorial Legislature of Dakota Territory requesting that a university be located in Grand Forks. The first building, Old Main, housed all the classrooms, offices, dorm rooms and library used for students. The campus consisted of only a few acres of property in the 1880s with the school surrounded by farms and fields. The campus was located nearly two miles outside of the city and students who lived off campus had to take a train or a horse and carriage bus, which was known as "Black Maria," from downtown to attend classes.
As the university grew, more buildings were constructed and a trolley system added to connect the campus with the downtown area. IN 1918, the university was one of the hardest-hit institution in the country when a flu epidemic killed more than 1,400 people in North Dakota alone. That same year, classes were cancelled so the campus could become an army base for soldiers during World War I.
During the Great Depression, free housing was provided on campus to students who were willing to perform manual labor. The housing provided were railroad cabooses that housed eight male students each. The housing was labeled "Camp Depression," and those that lived there were not provided meals. Instead, they had to rely on free leftovers. The community responded, however, and many of the young men who lived in Camp Depression were provided meals by residents of Grand Forks.
The GI Bill swelled enrollment after World War II and larger housing had to be constructed along with many new academic buildings. In April 1997, abundant snowfall and extreme temperatures in the area caused the Red River Flood, forcing the evacuation of thousands of people when the Red River crested at 54 feet in Grand Forks, causing floodwater inland. Classes for the University of North Dakota were cancelled for the remainder of the school year.
University of North Dakota is the oldest and largest university in the state with nearly 15,000 students enrolled in over 225 programs. Students who attend the University of North Dakota come from all 50 states and over 60 countries.
University of North Dakota Accreditation Details
The University of North Dakota is accredited by the Higher Learning Commission of the North Central Association. In addition, specific programs at the school have been accredited by the following agencies:
AACSB International – The Association to Advance Collegiate Schools of Business
Accreditation Association for Ambulatory Health Care
Accreditation Board for Engineering & Technology
Accreditation Council for Continuing Medical Education
Accreditation Council for Graduate Medical Education
Accreditation Council for Occupational Therapy Education
Accreditation Review Commission on Education for the Physician Assistant
American Bar Association (Section of Legal Education and Admissions to the Bar)
American Music Therapy Association
American Psychological Association
Association for Assessment and Accreditation of Laboratory Animal Care
Association of Technology, Management, and Applied Engineering
Aviation Accreditation Board International
Commission on Accreditation for Dietetics Education
Commission on Accreditation in Physical Therapy Education
Commission on Accreditation of Allied Adult Health Education Programs – Accreditation
Review Committee for Cytotechnology
Commission on Accreditation of Athletic Training Education
Commission on Collegiate Nursing Education
Committee on Professional Training & American Chemical Society
Computing Accreditation Commission (CAC) of the Accreditation Board for Engineering and Technology
Council on Academic Accreditation in Audiology & Speech-Language Pathology
Council on Accreditation of Nurse Anesthesia Educational Programs
Council on Social Work Education
Liaison Committee on Medical Education (LCME) of the American Medical Association & Association of American Medical Colleges
National Accrediting Agency for Clinical Laboratory Science
National Association of Schools of Art & Design
National Association of Schools of Music
National Association of Schools of Public Affairs and Administration
National Association of Schools of Theatre
National Council for Accreditation of Teacher Education
The Association for the Accreditation of Human Research Protection Programs
<!- mfunc search_btn -> <!- /mfunc search_btn ->
University of North Dakota Application Requirements
Students who wish to apply as freshmen and who have no previous college credits must complete an application and submit an official high school transcript. Admission is based on high school GPA, ACT or SAT scores and successful completion of required high school core courses. Anyone over the age of 25 is not required to submit SAT or ACT test scores. The following requirements indicate the minimum GPA and SAT/ACT test scores necessary for admission:
3.50 to 4.00 – 18 ACT/870 SAT reading and math
3.00 to 3.49 – 19 ACT/910 SAT reading and math
2.75 to 2.99 – 20 ACT/950 SAT reading and math
2.50 to 2.74 – 21 ACT/990 SAT reading and math
Students who have completed college courses at another college or university must submit official college transcripts. Students who have completed 24 or more transferrable credits must have a minimum of 2.0 cumulative GPA and be in good standing at the previous colleges attended. Students with less than 24 transferrable credits must meet the GPA requirements as well as the incoming freshman requirements.
Students who wish to enter a graduate program at the University of North Dakota must have a four-year bachelor's degree from a recognized college or university. Students must have a minimum of 20 semester credits of undergraduate work and a cumulative GPA of 2.75 for all undergraduate work or a 3.00 for their junior/senior years of undergraduate work. Students who wish to undertake a doctorate program must have a master's degree from an accredited institution in the field of their proposed doctorate study and a GPA of 3.00 or above in all graduate work.
Various programs may have additional admission requirements so student are urged to discuss acceptance at the University of North Dakota with an admissions counselor.
University of North Dakota Tuition and Financial Aid
Undergraduate tuition is $322.54 per credit hour for North Dakota residents and $767.05 for non-residents. The university offers a Minnesota reciprocity program that allows Minnesota residents to attend at a reduced rate of $354.48 per credit hour. Graduate tuition for North Dakota residents is $342.72 per credit hour while Minnesota residents are charged $420.04 per credit hour and non-residents $820.93 per credit hour. Financial aid is available in the form of loans, grants and scholarships. Students must complete the Free Application for Student Financial Aid (FAFSA) in order to qualify for financial assistance.
University of North Dakota Online Degrees Available
Master's Degree in Forensic Psychology
The Master's Degree in Forensic Psychology takes two or more years to complete and is a 34 credit hour program. The program is offered online with recorded lectures. There is one on-campus visit required. Students pay in-state tuition regardless of where they live and the program has been named the second most innovative graduate psychology program by Bestpsychologydegrees.com.
Students develop a knowledge of advanced psychological concepts and theories as well as advanced analytical, statistical and evaluation skills. Students learn the communication skills necessary to function in the forensic setting and an in-depth knowledge of the legal system in order to understand the role forensic psychologists play. Students are able to conduct focus groups and assist lawyers in trial preparation as well as jury selection. Courses provide the tools necessary to select and utilize the most appropriate instruments for forensic assessment and evaluation. Students will be qualified to testify as an expert witness and provide various agencies with research-based program evaluations. Graduates have assisted courts and state agencies in such areas as child custody, sexual harassment, injury assessment and malingering.
For those interested in pursuing a career as a forensic psychologist, the online master's degree in forensic psychology at the University of North Dakota provides quality education with a flexible format that allows working adults to achieve their higher education goals.
<!- mfunc search_btn -> <!- /mfunc search_btn ->