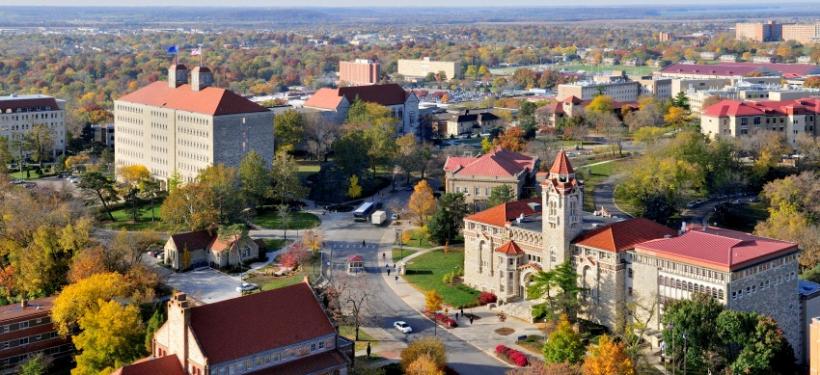 The University of Kansas was founded in 1866 by a group of abolitionists who settled in the area. The school hosts five campuses in Lawrence, Kansas City, Wichita, Salina and Overland Park, Kansas. The school offers 13 schools and over 360 different degree programs. The university is proud of the education it provides in the fields of special education, rural medicine, nursing and social welfare. The school is a multicultural school and hosts students from 50 states and 105 different countries. With a focus on academic excellence, the University of Kansas has produced 26 Rhodes Scholars. Prominent alumni include James Naismith, the founder of basketball and the scientist who discovered vitamin A and D for the first time.
Accreditation Details
The University of Kansas has been awarded accreditation by the Higher Learning Commission of the North Central Association of Colleges and Schools.
Application Requirements
Students who wish to apply as incoming freshmen will be required to submit an online application and a $30 application fee. They are also required to submit their high school grades and any standardized test scores. Finally, students will be required to submit a list of their senior year courses.
Students wishing to embark on a graduate program at the University of Kansas are required to hold an undergraduate degree with a GPA of at least 3.0. To apply for admission into their graduate program, students must fulfill both the university general entry requirements as well as the requirements for their individual programs. Students must also complete an online application form. They must also submit letters of recommendation as part of their application. They must also submit their official transcripts and pay a $65 application fee.
<!- mfunc search_btn -> <!- /mfunc search_btn ->
Tuition and Financial Aid
Undergraduate students who are residents of the state of Kansas can expect to pay $9,123 per year in tuition. This is the estimated cost of tuition for liberal arts and sciences. This is not inclusive of campus fees, living costs or books.
Graduate students who are interested in a degree in liberal arts and sciences will be required to pay an estimated $6,772 per academic year if they are residents of the state of Kansas. Students pursuing a graduate degree in education will pay $7,248. This estimate includes tuition but not fees, lodging, books or other costs associated with attending a university.
The University of Kansas accepts the following forms of payment and financial aid:
FAFSA
Loans
Scholarships
Grants
Online Degrees Available
Ph.D. in School Psychology
The doctoral program in school psychology is designed for those who are interested in expanding their practical and theoretical backgrounds in their subject to a deeper research level. This program is designed to hone each applicant's research skills as well as their teaching skills. The program has a focus on the scientific aspect of school psychology. The department believes that both the practical goals of school psychology and the science behind school psychology are mutually complementary.
During this program, students will be required to demonstrate both foundational and new skills in the field. Students will be required to be versatile, and they will be tested in skills across four areas. The first area is the concentration of professional school psychology. The second area includes the basic foundations of psychology as a discipline. The third area is research and data analysis skills. The final area requires students to demonstrate a grounded appreciation for diversity on both an individual and cultural scale.
Students accepted into this program will be required to move through four years of full-time university study. After this is complete, each student will complete a year-long internship in the field of professional psychology.
In addition to the university-wide accreditation, this doctoral program has the added benefit of being accredited by the American Psychological Association. It also has the approval of the National Association of School Psychologists, the Kansas State Department of Education, and the National Council for the Accreditation of Teacher Education.
The learning outcomes of this program will be unique to both the individual and the faculty supervisor that they choose to work with. However, there are three goals that are unique to this program. The first goal of the program is the desire to produce students who have a strong understanding of general psychology. The second goal is to produce students who are interested in and value scientific inquiry and research. The third goal of the program is to produce sound school psychologists who can make a difference in the lives of both their students and their students' families.
To reach their goal of producing informed scientists and psychology practitioners, the program has set out seven objectives of learning that are further broken down into areas of competency. These seven objectives include:
1. Psychological Foundation
The school believes that it is imperative that each student have a broad and general psychological foundation to do the most good in the field upon graduation.
2. Research Design, Statistics, Measurement
To become an effective scientist and researcher, it is imperative that students are given the opportunity to design their own research proposals, plans and experiments. All research must be measured quantitatively and qualitatively. Students will also carry out learning in measurement and statistics to aid in their research design and interpretation, an important aspect of the psychology field.
3. Consultation
Students should have the ability to be clinically competent.
4. Assessment
Students should be able to assess the needs of both their clients and their programs.
5. Counseling
As practitioners, students should be competent in counseling. This includes the theoretical issues of counseling as well as the practical methods.
6. Ethics
Students should be able to identify ethical issues in counseling as well as the legal and professional issues that they will inevitably encounter throughout their careers.
7. Diversity
Understanding diverse cultures and ways of life, as well as individual diversity, is an important part of counseling. Students should be able to show competency and knowledge regarding this important field.
The University of Kansas provides a thorough education in School Psychology that is designed to create informed practitioners as well as dedicated scientists.
<!- mfunc search_btn -> <!- /mfunc search_btn ->