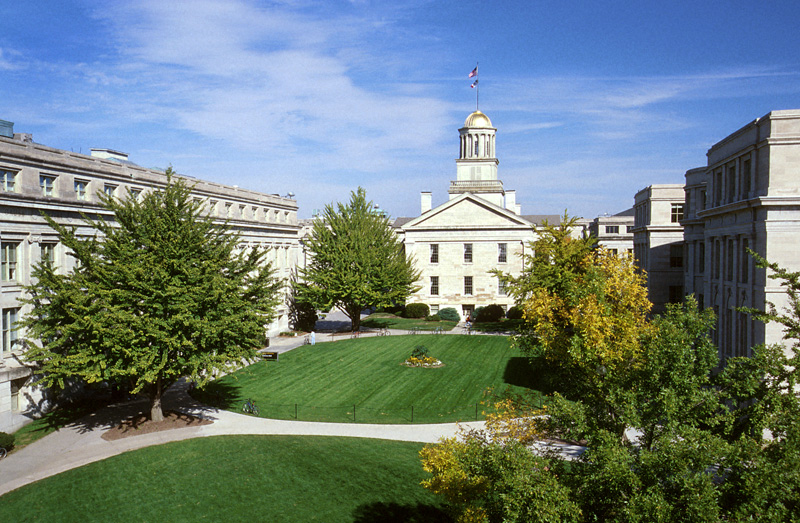 The University of Iowa ranks as the oldest college in Iowa. Founded in 1847, it is the flagship campus in the UI School System and sits on a gorgeous campus that covers more than 1,700 sprawling acres. Fewer than 100 students enrolled in classes during its first year, but that number quickly doubled and tripled. UI also gained a strong reputation during its early years for the high number of female students it admitted. Many schools in the state and the Midwest did not allow females to take classes or limited the classes they could take, but UI gave those students more opportunities and options. The university made a name for itself in more recent years after partnering with the EPA to reduce the amount of waste and the energy consumption of the school.
The University of Iowa ranks on both global and national lists. Washington Monthly and Forbes both ranked the college within its top 200 colleges in the nation, while ARWU and U.S. News and World Report ranked the university within their top 100 lists. ARWU, Times and QS all ranked UI as one of the top 200 colleges around the world. Its pharmacy, law and design programs also rank highly in terms of national rankings.
Accreditation Details
Most people wouldn't buy a new car or make any other important life decision without first doing a little research, but many students enroll in college classes without doing their research. They place a higher emphasis on the type of classes they can take, the type of clubs and activities available on campus and even what the dorm rooms look like. Students should always look carefully at the accreditation of a college before they enroll. The United States Department has an online database that allows students to look at details regarding the accreditation of different campuses and when each campus comes up for renewal.
The University of Iowa first gained accreditation in 1913 after applying for accreditation from the North Central Association of Colleges and Schools. Though the NCACS does require that all colleges apply for renewal, UI has never had any problems going through this renewal process and renewed its accreditation during every review. As part of the Big 10 Conference, the campus developed partnerships with a number of other organizations, including the Association of American Universities. Those partnerships require that the school not discriminate on the basis of race, gender or other factors when determining which students receive acceptance to the university.
<!- mfunc search_btn -> <!- /mfunc search_btn ->
Application Requirements
Like many colleges, the University of Iowa has different requirements in place for graduate and undergraduate students. Undergraduate students must fill out the online application, send in a high school transcript and submit other information as needed. Graduate students will also complete the same online application but must submit proof that they had a minimum grade point average of 3.0 on a traditional 4.0 scale. Those with a lower GPA may receive acceptance on a conditional basis, which means the students will need to take some lower level classes to increase their grades before taking advanced classes in their program of choice.
All graduate students must show that they attended and graduated from an accredited college or university and have a bachelor's degree. Those applying to one of the Ph.D programs will need to have both an undergraduate and graduate degree. They must also show that the school(s) they attended had accreditation and that they completed some type of thesis or final project. The University of Iowa offers several different Ph.D psychology programs. Students applying for a space in one of these programs must also complete a writing sample, submit a statement that explains what they want to do in the future and send in three letters of recommendation.
Tuition and Financial Aid
The cost that students pay for one of the Ph.D programs at the University of Iowa depends on whether they lived in the state before enrolling or out of state. Tuition for Iowa residents is around $11,000, but the cost rises to more than $28,000 for residents of other states. This amount includes the cost of taking nine credit hours of classes during the fall and spring semesters on campus. UI estimates that students will spend an average of $1,200 on books and supplies and another $15,000 on living expenses. Living expenses include a room on campus, food and entertainment costs.
Students worried that they cannot pay the full cost of attending the university can complete the FAFSA and get a little help. The government takes this form, also known as the Free Application for Federal Student Aid, and decides if the student qualifies for money and how much they will receive. The university will also receive a copy and use the information listed to determine if the student qualifies for any of the work study opportunities or scholarships it has available. Students may also receive assistance in the form of subsidized loans, unsubsidized loans, grants and loans designed for their parents.
Online Degrees Available
Ph.D in Psychological and Quantitative Foundations
The University of Iowa is one of the only colleges in the country that offers a Ph.D in Psychological and Quantitative Foundations with a focus in School Psychology program. Specifically designed for students who want to study school psychology, the program teaches students the foundations of educating others while using the principles of psychology. Many of its graduates used the research skills they developed in the program to work in areas of teaching preparation, curriculum development and in laboratory settings. UI offers different work programs for PhD students enrolled in this program that allow them to teach undergraduate students or work on research projects to cover the cost of their tuition.
The university requires that all students complete work in four key areas, including scientific psychology, the methodology behind practice, assessment and research methods. Prior to finishing the program, students must complete 900 hours or more of work in the field. UI will work with students to place them in local schools and other settings. Students must keep track of the work they did, and they turn in logbooks that show their work. Supervisors will evaluate students and pass that information back to the university. The University of Iowa may also allow students to gain some additional research experience as well.
<!- mfunc search_btn -> <!- /mfunc search_btn ->