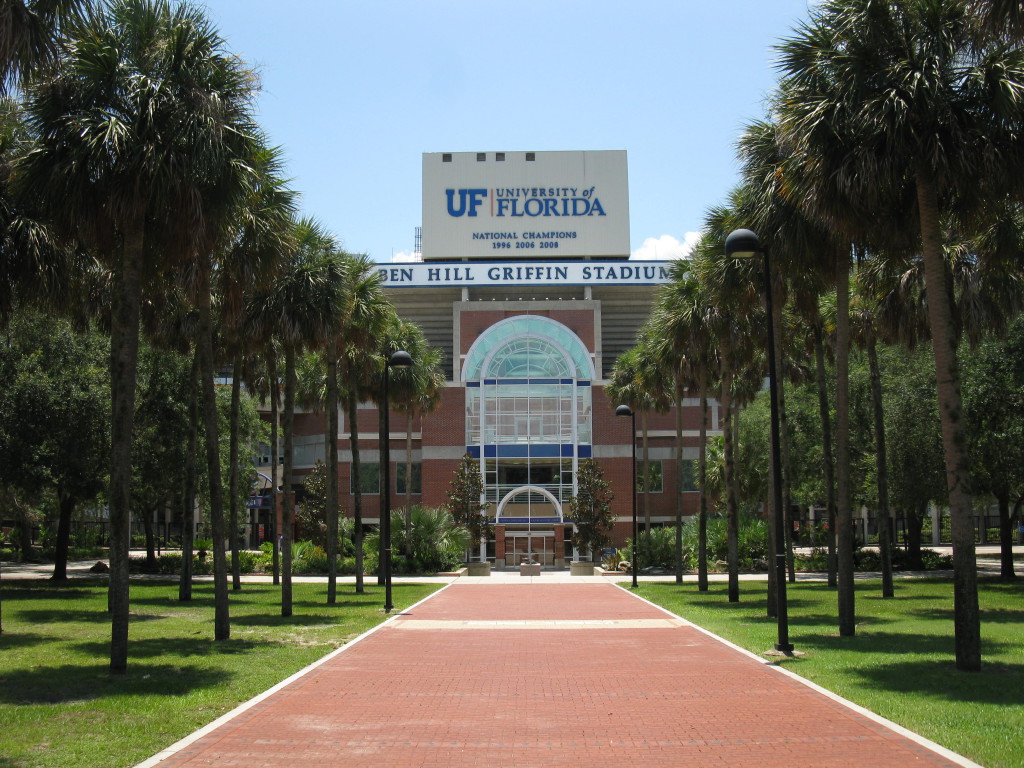 From humble beginnings as a small seminary in 1853, the University of Florida has become one of the most academically diverse and comprehensive universities in the nation. Membership in the Association of American Universities secures UF a position as one of the top 62 public and private institutions in North America. The College of Education within UF has consistently been ranked by the U.S. News and World Report as the number one education college in Florida and public education college in the Southeast U.S.
University of Florida Accreditation Details
The University of Florida is fully accredited by the Southern Association of Colleges and Schools Commission on Colleges (SACSCOC), the regional body for degree-granting institutions of higher education in the Southern states. The College of Education is also accredited by the National Council for Accreditation of Teacher Education for both courses offered on-campus and online.
University of Florida Application Requirements
As all of the College of Education's online programs are at the graduate degree levels, students seeking one of the degrees would adhere to the graduate requirements for admission. For admissions at the graduate level, a minimum GPA of 3.0 must be attained on the student's undergraduate degree coursework, made up of courses taken beyond the initial 60 credit hours. In addition, the student must submit scores on the GRE, which are evaluated holistically with all other criteria, so that the combined scores may vary according to the specific graduate program being sought.
Additional requirements for graduate degrees from this particular college include three letters of recommendation from university faculty and a written statement of purpose for seeking a particular degree. In some cases, mainly at the doctoral level, a resume and proof of a teaching certificate may also be required.
<!- mfunc search_btn -> <!- /mfunc search_btn ->
Tuition and Financial Aid
Graduate level tuition at the University of Florida starts at a base of $304.32 per credit hour, a figure that does not include supplies, lab fees, housing, or other extras. Financial aid is available throughout the University of Florida in the forms of grants, scholarships, loans, and part-time employment. Students are encouraged to fill out and submit the Free Application for Federal Student Aid (FAFSA) in a timely manner, as well as to explore other opportunities for scholarships and aid that may be available through private organizations and the state of Florida Department of Education. Financial aid may be granted regardless of whether a student is enrolled on-campus or strictly online.
Online Degrees Offered
Within the College of Education, the majority of degrees offered are at a master's level and above, and the online programs are exclusively graduate level degree programs, offering a master's degree, a doctoral degree, or in some cases, both. Degree areas include Educational Leadership, Higher Education Administration, several options under Curriculum and Instruction, Reading, and Special Education.
Educational Leadership
The Educational Leadership field offers degrees at both the master's level and a doctoral degree. The master's degree is designed for students seeking to enter public school administration and leads to Florida Principal Certification. The Ph.D is a degree in Educational Administration and may prepare students for positions that include district leadership as well as public school administration.
In the field of Higher Education Administration, students may seek a Ph.D. This degree is designed for students who wish to become part of the administration of a community college, four-year college, or university.
Curriculum and Instruction
The Curriculum and Instruction division of UF's College of Education offers degrees at the master's, Specialist, and doctoral levels for Educational Technology, Teacher Leadership for School Improvement, and Curriculum, Teaching and Teacher Education. A student in the Educational Technology program would likely seek to work in curriculum development, technological developments both within the classroom and within the district, instructional designers, or even instructors in contexts that are not limited to public school classrooms but can instead include military and government assignments.
Teacher Leadership for School Improvement
The Teacher Leadership for School Improvement is an online program that offers either a master's or specialist degree and is designed specifically for full-time, working teachers in the K-12 classroom environment. The goal of this program is to enhance already successful practices used by teachers in the classroom and provide more research and best practices as tools to help more effectively meet the needs of the students and communities served by these teachers.
Curriculum, Teaching and Teacher Education
The Curriculum, Teaching and Teacher Education degree is strictly offered as a Ph.D and is designed to prepare students to become the professors that educate our future teachers. The online version of this degree is designed for current educators who are looking to become practitioner scholars. The program is open to only 20 cohorts per year, is offered entirely online but with periodic face-to-face meetings required on the UF campus, and a prescribed course of study is followed.
Master's in Education in Reading
The Master's in Education in Reading: Language and Literacy is designed for already practicing teachers who want to improve their instruction and their students' learning experience by implementing new methods of decoding and deeper access to meaning within texts across subjects and curriculums. The program is entirely online and allows for collaboration and consulting with other educators through an online forum. Material learned is designed to be put into practice immediately.
Special Education: Teach Well Online Academy
Special Education: Teach Well Online Academy degrees include a master's and a specialist program. Again designed for working teachers, these programs are designed for both the teacher currently certified and teaching in a special education capacity and the teacher who teaches either at the elementary level or a specific subject area at middle or high school levels and would like to be able to better serve students with special needs within an inclusive environment.
Regardless of which direction or degree level you choose, online courses in education at UF are offered through one of the best ranked education colleges in the U.S. UF graduates can be found in all 50 states and around the world, lending credence to the claim that the Gator Nation is indeed everywhere. Consider one of the online degree programs offered through the College of Education at the University of Florida and join the Gator Nation for yourself.
<!- mfunc search_btn -> <!- /mfunc search_btn ->