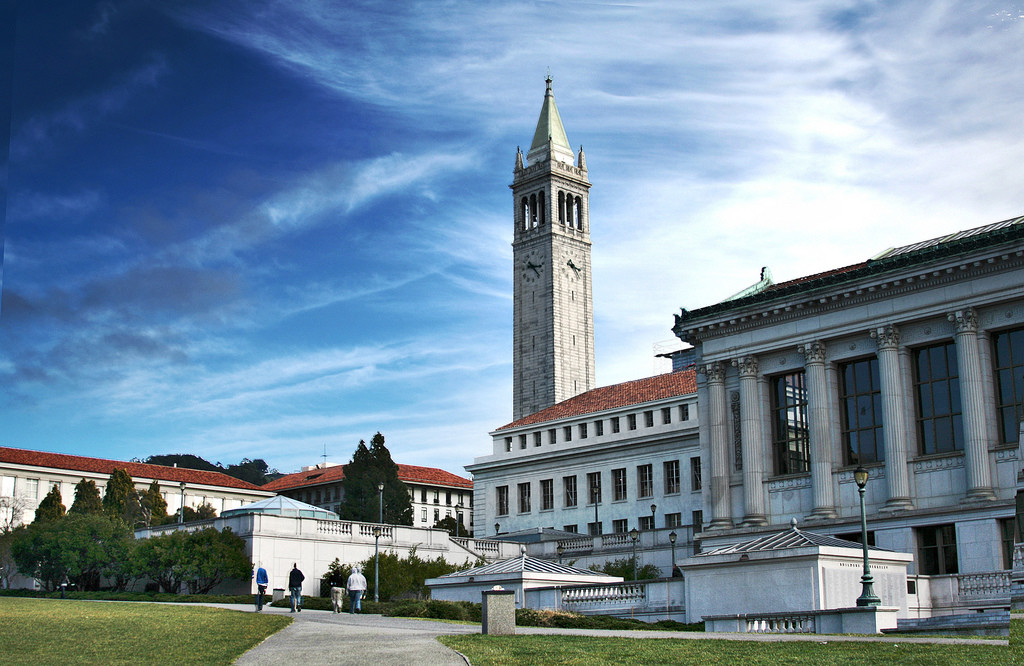 The University of California, Berkeley is the largest campus in the University of California school system. Better known as UC Berkeley or more simply Berkeley, the university gained a strong reputation during the 1960s and 1970s due to its connection to the women's lib and civil rights movements. Though the university considers 1868 as its founding date, a smaller college once stood on the same land but merged with another campus due to financial problems. The university now consists of 15 different departments or colleges, including schools devoted to journalism, business, public policy, education and law.
While not officially an Ivy League school, UC Berkeley does have a selective admissions policy. Fewer than 18 percent of students who apply will receive acceptance to the university. Its selective nature and other factors helped the university become one of the top in the country and in the world. Forbes and U.S. News and World Report listed UC Berkeley within the top 40 or 30 American colleges, and both Washington Monthly and ARWU listed the campus as one of the top four colleges in the country. According to ARWU, QS and Times, UC Berkeley also has a global ranking as high as number four.
University of California, Berkeley Accreditation Details
Guidance counselors working in high schools today often encourage students to look at various factors when selecting a college or university without teaching them about accreditation or even what the term means. Accreditation is essentially a type of approval given to a college by a regional or national organization. Many schools have accreditation from a regional agency that receives its own approval from a national organization. The best schools often have some type of general accreditation as well as specialty accreditation for specific programs like medicine, psychology, sports and education.
The Western Association of Schools and Colleges originally granted accreditation to the University of California, Berkeley in 1949 and continued awarding the campus accreditation during each renewal phase throughout the university's history. With more than 300 individual degree programs available on campus and online, the university also has some specialty accreditation. The American Psychological Association and American Bar Association are just a few of the organizations that offer specialty accreditation to those programs. UC Berkeley also spends some time each year preparing for upcoming reviews. The university established its own peer review group to examine and identify potential problems before those organizations begin their reviews.
<!- mfunc search_btn -> <!- /mfunc search_btn ->
University of California, Berkeley Application Requirements
UC Berkeley is home to one of the most competitive graduate schools in the nation. Students can begin filling out and submitting applications up to one year before classes start. The university requires that all graduate students have a bachelor's degree, a grade point average of 3.0 or higher and experience in the field they want to study. Experience can come in the form of a complex senior project, fieldwork, volunteer work or advanced studies. Students can send in an unofficial transcript as part of an application. UC Berkeley only requires an official transcript after a student receives acceptance to the university.
Other requirements include an official GRE score. The General Records Examination is a standardized test similar to the SAT or ACT but designed for students who have some college experience. Students typically take this test during their junior or senior year of college. Students must also arrange for professors, supervisors and others familiar with their work to write letters of recommendation and send those letters to the school. Berkeley requires three letters of recommendation for graduate students. Students must also pay a $90 application fee when submitting the application. Those who cannot afford the fee can request a fee waiver.
Tuition and Financial Aid
UC Berkeley charges students tuition rates based on where they live and/or when they moved to California. New residents refer to students who moved to California for school and continuing resident refers to students who currently live in the state. Students who live out of state pay one rate during their first year of studies and a slightly lower rate for each additional year they remain in the program. Tuition rates start at around $8,000 for California students to a few hundred dollars more for students living outside of California. Those who live out of state will typically pay around $15,000 per semester.
The most common types of financial aid available to students are loans and grants, but students won't know what they qualify for until they submit the Free Application for Student Financial Aid. The FAFSA uses the responses they made to determine the level of financial help they need to attend college. Unsubsidized loans charge interest on the loans while students are in school, while the government does not charge interest on subsidized loans until students leave or finish school. Some students also qualify for one or more grants. Grants do not carry any interest and students do not pay back the money later.
Online Degrees Available Through the Graduate School of Education's Department of Cognition and Development
The Graduate School of Education is one of the oldest departments in the UC Berkeley's graduate school. Though the university offers several different psychological and educational programs, one of the programs it offers that combines elements of both fields is a degree in Cognition and Development, which is available as both a graduate degree and a doctoral degree. Students may also enroll in a joint program that lets them complete both degrees together. Students can choose a degree that specializes in mathematics and science, math, science and technology education, human development and education, special education or school psychology.
Cognition and Development students research and learn more about the ways in which the brain functions and how the brain forms connections when exposed to different stimuli. Special education majors focus more on how to teach and work with students suffering from developmental delays and similar issues, while school psychology majors put more emphasis on working with larger groups of students and helping individual students recover from bullying and other problems. Approximately 16 different professors work full time in the program, and many of those professors serve as advisers to help students decide on thesis topics and register for classes. The University of California, Berkeley is one of the only colleges in the country that offers this type of degree.
<!- mfunc search_btn -> <!- /mfunc search_btn ->