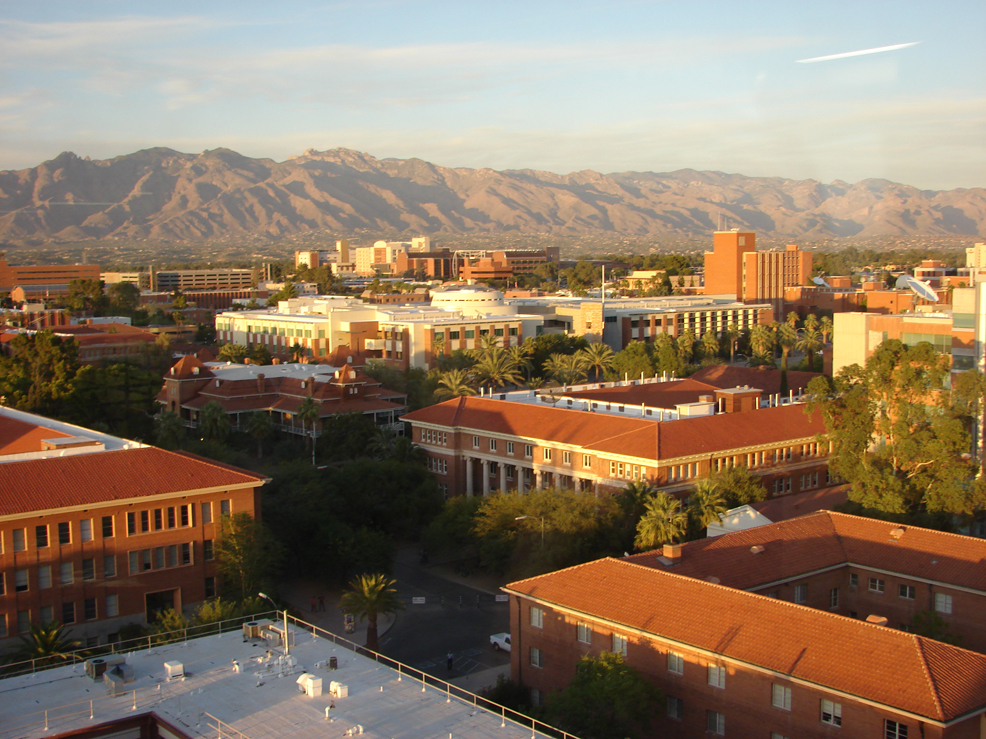 Tucson was not exactly thrilled when they were chosen as the location of the first university in the Arizona territory in 1885. They were vying to be the state capital or to be the location of an asylum for the insane. Instead, the legislature named Prescott as the capital and gave the asylum to Phoenix. One condition stipulated by the legislature was that the people of Pima County had to donate 40 acres for the school. No one offered land and Jacob S. Mansfield, a member of the new Board of Regents, took a walk into the desert to pick out land for the university. The land was owned by two professional gamblers, E.B. Gifford and Ben C. Parker, as well as a saloon keeper, W.S. "Billy" Read." The men were initially unwilling to give the land to the college, but, in 1886, a deed was filed giving the land to the university. The groundbreaking for Old Main was held on October 27, 1887.
By the time construction was complete, however, the opinions of Tucson residents had changed. In fact, all of Tucson celebrated when the University of Arizona opened its doors in 1891. However, because there were no high schools in the area, only six of the 32 students who enrolled the first year were admitted to the freshman class. The remaining students were required to attend a specially established prep school and it took another 17 years before the number of students at the university outnumbered the students at the prep school, which remained in place for 23 years.
Students often rode cows and ponies to school, tying them to the hitching post at Old Main. Running on the balcony of Old Main cost a student ten demerits and, in 1892, the dean asked the Board of Regents to ban the use of firearms on campus. If a student was not doing well, the entire faculty met to discuss it and the student's parents were called in for a conference.
In 1938, the main building on campus, Old Main, was declared unsafe. There were proposals and arguments to tear the building down. In 1942, the United States Navy awarded a contract to repair the building for use as the wartime Naval Indoctrination School. During World War II, more than 11,000 men trained at the university with the largest group, 10,000, in the Naval Training School.
After the war, the G.I. Bill resulted in a flood of young men and women attending universities and colleges throughout the country. Many of the servicemen who remembered the warmth of Tucson came "home" to the area, many bringing wives and children. Many of these families lived in federally provided Quonset huts, meant to be temporary housing. The huts remained on campus for 38 years.
Today, the University of Arizona in Tucson ranks in the top five American Indian and Hispanic graduates among United States public health schools. There were ten University of Arizona graduate programs ranked in the 2013 Top Ten in U.S. News and World Report. The university is in the top 25 producers of Fulbright award winners in the United States. The College of Science is ranked first among observational, theoretical and space astronomy programs and the college has the number one mineral database in the world.
<!- mfunc search_btn -> <!- /mfunc search_btn ->
Accreditation Details
The University of Arizona is accredited by the North Central Association of Colleges and Schools. In addition, certain programs are accredited by the following agencies and organizations:
Accreditation Association for Ambulatory Health Care
Accreditation Board for Engineering and Technology
Accreditation Council for Continuing Medical Education
Accreditation Council for Graduate Medical Education
American Assembly of Collegiate Schools of Business
American Association of Poison Control Centers
American Association of Veterinary Laboratory Diagnosticians
American Chemical Society
American Council on Pharmaceutical Education
American Dietetic Association
American Library Association
American Planning Association
American Library Association
American Society of Health-System Pharmacists for Residency Accreditation
American Society of Landscape Architects
American Speech-Language-Hearing Association
Association for the Assessment and Accreditation of Laboratory Animal Care International
Association for the Education and Rehabilitation of the Blind and Visually Impaired
Association of American Law Schools and American Bar Association
Commission on Collegiate Nursing Education
Commission on Rehabilitation Education
Council on Academic Accreditation in Audiology and Speech-Language Pathology
Council for Education of the Deaf
Council on Education for Public Health
Council on Education in Journalism and Mass Communications
Council on Rehabilitation Education
International Association of Counseling Services
International Association for Management Education
Liaison Committee on Medical Education
National Accrediting Agency for Clinical Laboratory Sciences
National Architectural Accrediting Board
National Association of Schools of Art & Design
National Association of Schools of Dance
National Association of Schools of Music
National Association of Schools of Public Affairs and Administration
National Association of Schools of Theatre
National Council for Accreditation of Teacher Education
National Oceanic and Atmospheric Administration National Weather Service
Planning Accreditation Board
Society for Range Management
Application Requirements
Incoming freshman must complete the official University of Arizona official admission application and have their official high school transcript sent to the university. Students must also submit their SAT and/or ACT scores. Some colleges and programs require additional application information so students are encouraged to speak to an admissions counselor before registering. Transfer students must complete the official application and submit official copies of transcripts from all colleges and universities attended.
Tuition and Financial Aid
Tuition for full-time students who are Arizona residents is $11,400 per year and for non-residents it is $32,600 per year. Online tuition is $11,800 per year for both residents and non-residents. Graduate tuition for Arizona residents is $12,000 per year and for non-residents is $32,400 per year.
Financial aid is available in the form of scholarships, grants, loans and federal work study. In addition, the University of Arizona accepts the Montgomery GI Bill, tuition assistance and scholarships for members of the military. They also accept employer-provided tuition payments for students whose employer offers tuition benefits.
Online Degree(s) Available
Ph.D in School Psychology
The doctoral program in School Psychology is designed to prepare students as leaders in school psychology and related disciplines. Graduates are prepared to enter research, scholarship or practice environments. Students learn to apply psychological principles to improve the outcomes for students. Students receive a wide range of training and are provided with many research opportunities to improve their competence in the area of school psychology. Students are qualified for credentialing nationally as a certified school psychologist as well as a licensed psychologist in Arizona.
The University of Arizona offers a wide range of programs that provide outstanding opportunities for learning. Their online programs offer flexible schedules that allow students to continue their education while meeting their work, family and school obligations.
<!- mfunc search_btn -> <!- /mfunc search_btn ->