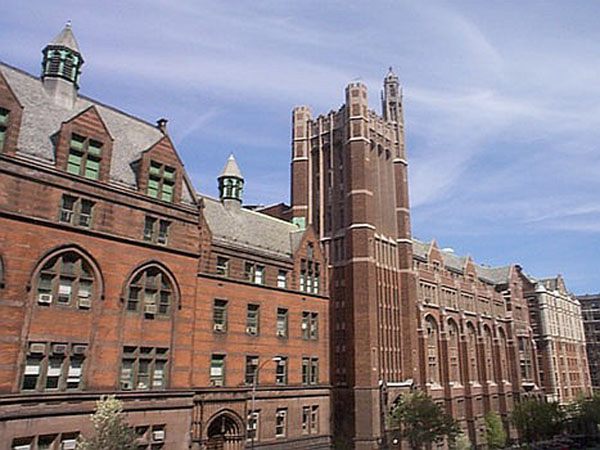 Teachers College, Columbia University celebrated its 125th anniversary in 2013 and holds the distinction of being the oldest and largest graduate school of education in the United States. It began as the brainchild of philanthropist Grace Hoadley Dodge and philosopher Nicholas Murray Butler, who were dedicated to improving educational opportunities for disadvantaged children in New York City. Their blending of humanitarianism with scientific approaches to human development led to the founding of a school where professional teachers could learn compassionate yet effective methods of instruction. In 1898, TC became affiliated with Columbia University and since then, has grown to offer innovative master's, doctoral and professional degrees across such diverse fields as education, nursing, urban affairs, nutrition, health, psychology, social sciences, policy, art, law, and leadership among others. TC's latest venture has been the inauguration of online graduate studies to tap into 21st-century trends of professionals who desire accessible higher-degree programs that advance their knowledge and careers. Teachers College, Columbia University ranks at No. 7 for best education schools according to U.S. News & World Report.
Teachers College, Columbia University: Accreditation Details
Teachers College holds regional accreditation by the Middle States Commission on Higher Education to confer master's, doctoral and professional degrees earned through traditional or online programs. It also adheres to regulations for colleges and universities under the guidance of the New York State Education Department. TC also has program accreditation from these organizations:
Accreditation Council for Education in Nutrition and Dietetics
American Psychological Association
American Speech-Language-Hearing Association
Association for Behavior Analysis International
Council on Education of the Deaf
National Council for Accreditation of Teacher Education
Teachers College, Columbia University: Application Requirements
Graduate admissions to TC require submission of information pertaining to specific areas of study. Applicants are encouraged to contact the office of admissions for clarification if needed. These components are required for consideration:
A statement of purpose that outlines academic and professional background, graduate school plans, professional goals, reasons for degree choice, and why the candidate is a good program fit
A comprehensive resume including work history, educational background and academic pursuits
Official undergraduate or graduate degree transcripts from accredited institutions
Letter of recommendation and academic writing sample.
Verified GRE test scores for all applicants and for international students, verified English Proficiency Exam scores from the TOEFL or IELTS
A $65 or $35 non-refundable fee respectively for new or returning applicants
<!- mfunc search_btn -> <!- /mfunc search_btn ->
Teachers College, Columbia University: Tuition and Financial Aid
Tuition rates of $1,454 per credit apply to master's and doctoral candidates alike and there is no rate change between residents or non-residents. A separate college fee of $428 per semester also applies for all students. Full-time schedules accommodate a minimum of 12 credits per semester. To offset costs for graduate studies, the following financial aid opportunities are available for eligible students:
Federal Student Aid, called FAFSA
Federal Pell and TEACH Grants
Federal Supplemental Educational Opportunity Grant
Federal PLUS Graduate Loans
William D. Ford Federal Direct Loan Program
Federal Stafford or Perkins Loans (subsidized and unsubsidized government loans)
Federal Loans for International Students
Federal Work Study Program
Military Tuition Assistance (active duty personnel)
Veterans Affairs Benefits Program
Organization Tuition Assistance (employer sponsored programs)
New York State Scholarships
Teachers College Endowed Scholarships, Grants or Fellowships
Teachers College Work Study Assistantships
The Department of Health and Behavioral Sciences – Online Master's in Diabetes Education and Management
In conjunction with TC Online, the Department of Health and Behavioral Sciences offers a completely online Master of Science in Diabetes Education and Management. The program's focus is to equip care managers, clinicians and those working with high-risk populations for diabetes to develop greater understanding about the condition and its effects on daily quality of life and longevity. Since this is such an important health undertaking, Teachers College, Columbia University decided to make this degree affordable, accessible and relevant to 21st-century caregivers and healthcare professionals seeking to personalize their careers. Degree goals and outcomes include:
Improving knowledge, skills and competencies to effectively treat diabetics
Learning trending diagnostic assessments, treatments and therapies to increase patient wellness
Improving understanding about and teaching patients to implement self-care management plans
Approaching diabetes from a holistic perspective to consider its physical, mental, and emotional effects on patients
Advocating for diabetes awareness and programs at local, state and national levels
The curriculum spans 36 credits covering in-depth studies and an integrative project from a interdisciplinary perspective. Courses come from Teachers College programs in Adult Learning and Leadership, Exercise Science, Health Education, Human Development Nursing Education and Nutrition Education. Completion time varies as candidates can participate in the program full- or part-time depending on work and personal obligations. Full-time enrollment includes three semesters including a summer session enabling candidates to complete the degree in about 18 months. Part-time students are encouraged to take at least six credits per semester and can anticipate finishing in six semesters, or about two years.
The online curriculum takes advantage of an interactive platform where students can log on to post responses to discussion questions posed by fellow students and professors. Assignments, tests and other work are also completed and turned in online. Independent studies include graduate level reading and writing requirements to prepare for assessments. Cohort activities provide supplemental learning experiences. Curricular studies investigate the following theories, practices and topics:
Diabetes prevention and control
Pathophysiology of diabetes and its complications
Healthy lifestyle behaviors
Behavioral strategies to change diet, exercise and lifestyle habits
Diabetic assessments and therapeutic interventions
Self-management programs and their follow-through
Diabetes prevalence in multicultural populations
Cross-cultural perspectives on health and wellness
Communication with health providers
Social, emotional and relational aspects contributing to health
Nutritional facts, fallacies and trends
Importance of exercise to diabetic control
Cognition and learning
Developmental psychology across the lifespan
Research methods in health and behavior
Earning an online graduate degree can help advance many career goals. For healthcare professionals dedicated to promoting diabetes awareness and reducing its health effects, the Department of Health and Behavioral Sciences at Teachers College, Columbia University now offers a program to consider.
<!- mfunc search_btn -> <!- /mfunc search_btn ->