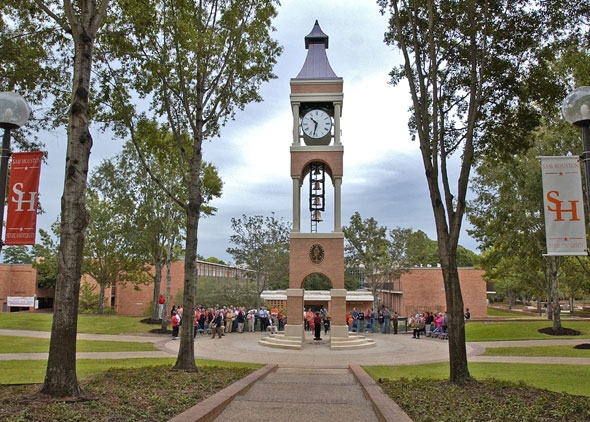 Sam Houston State was founded in 1879 and is one of the oldest public colleges in Texas. The school is not far north of Houston and is located in the city of Huntsville. The university was once a school for teachers, but it expanded its offerings in the early 20th century to become the large university it is today.
With more than 20,000 students attending classes at Sam Houston State, the school has gained a reputation for the quality of its programs in areas like mathematics, banking, and criminal justice. Today, students enrolled at the university are divided into seven colleges based upon their degree.
Overall, the university offers 78 undergraduate degree programs, 54 master's degree programs, and six doctoral programs including clinical psychology. The school has a vibrant community of alumni and counts over 110,000 living alumni around the world.
Sam Houston State Accreditation Details
The Southern Association of Colleges and Schools accredits Sam Houston State to award degrees at the bachelor's, master's, and doctoral levels, and several of the university's programs and departments are also accredited by various organizations and commissions. Attending an accredited school helps students qualify for federal student aid from the Department of Education.
Within the College of Humanities and Social Sciences, the doctoral program in Clinical Psychology is accredited by the American Psychological Association. Additionally, the Specialists degree in School Psychology has received approval from the National Association of School Psychologists.
Sam Houston State Application Requirements
Sam Houston State provides students of every background the opportunity to apply including future high school graduates, online students, veterans, and graduate students. Each applicant must submit traditional application materials like an application fee, the official school application, transcripts, and standardized test scores.
For incoming freshman, application materials are as follows:
Online application
Application fee of $45.00
High school transcripts
ACT and SAT scores
Various programs offered at SHSU may require additional materials during the application process. Additionally, requirements may vary for students considering a transfer to Sam Houston State from another college and students applying as international students. Sam Houston State University is also considered a Military Friendly School and offers students access to the Veterans Resource Center for help making the shift to university life.
<!- mfunc search_btn -> <!- /mfunc search_btn ->
Tuition and Financial Aid
Undergraduate tuition and fees at Sam Houston State vary depending on whether the student is a resident of Texas or a non-resident. For a resident of Texas, SHSU estimates the approximate cost of attendance at $9804.60 per semester. For a non-resident, SHSU estimates the approximate cost of attendance at $15,358.50 per semester.
The difference in cost is based upon higher tuition for out-of-state students. Other costs like the meal plan, residence hall costs, and books are identical for Texas residents and non-resident students.
For graduate study, the total estimated cost for an in-state student taking 12 credits is $4,685.00 per semester. A non-resident graduate student may expect to pay around $9,365.00 for 12 credits per semester.
As an accredited university, Sam Houston State offers its students a variety of options for financial aid and scholarships including loans through the federal government's Department of Education, scholarships through the university, and private loans from various lenders. Many students must rely on a variety of types of financial aid when they attend college. Financial aid for psychology students at Sam Houston State University may include:
Federal student loans
Grants
Private student loans
Scholarships
Work study
A scholarship is available through the Department of Psychology and Philosophy for psychology students and is called the John D. Symonds Scholarship.
SHSU advises all students to fill out the Free Application for Federal Student Aid, as well as get in touch with the school's financial aid department to discuss options. It's important to begin searching for funding options well in advance of attending school since some scholarships and grants are limited and have early deadlines.
The Psychology Program at Sam Houston State
SHSU offers a Bachelor of Science in Psychology, as well as several graduate-level degrees like an M.A. in Clinical Psychology and an M.A. in General Psychology. Students may also elect to enroll in the Graduate Certificate in General Psychology program or the Specialist in School Psychology option. The school also offers a Ph.D. In Clinical Psychology and a minor in psychology for students enrolled in other degree programs.
The Bachelor of Science in Psychology is a program that covers four "blocks" within psychology that include the following:
Experimental
Personality-Social-Development
Clinical-Adjustment
Related Courses
To graduate with a Bachelor of Science in Psychology, students must complete 120 total credit hours that include degree-specific requirements in psychology and core curriculum classes in areas like communication, mathematics, and physical sciences.
Students who are interested in graduate school at SHSU have many options like the Graduate Certificate in General Psychology. This program requires that students complete 18 hours of classes and is often used by individuals looking for career advancement or advanced careers in their present industry.
The university also offers M.A. programs in clinical psychology and general psychology. Students may choose a thesis or non-thesis track for clinical psychology and must complete a master's thesis for study of general psychology. The final option for study at SHSU is the Clinical Psychology Doctoral Program, which is designed to offer broad and general clinical training.
Doctoral students will take part in advanced training that takes place during internships, postdoctoral fellowships, and various employment sites. Some of the locations where students have obtained internships include the Arkansas State Hospital, Eastern Virginia Medical Center, and the Wyoming State Hospital.
While enrolled at SHSU, students may also choose to take part in The Psychology Club, or Psi Chi, which may prove valuable for students looking to build a healthy network of peers while enrolled in college. Psi Chi is the National Honor Society in Psychology and was founded in 1929. Students are eligible for membership when they reach their second semester as a sophomore.
SHSU describes its psychology program as diverse, and the number of different degrees offered by the school certainly demonstrates that variety. The school suggests a graduate degree in psychology is helpful but that there are many jobs available to students who obtain a bachelor's degree.
Students interested in attending a respected and active college psychology program in Texas would do well to consider Sam Houston State University.
<!- mfunc search_btn -> <!- /mfunc search_btn ->