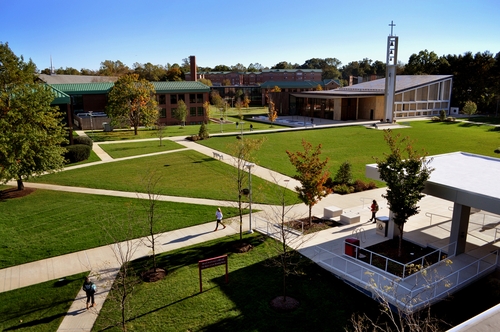 Among the many decisions that high school students must make regarding where they go to college is whether they attend a private or a public university. Though private schools are generally more expensive, many students appreciate the smaller class sizes and the sense of community those schools offer. Sacred Heart University hopes that students taking its online classes experience that same sense of community.
Founded in 1963, Sacred Heart Community opened as one of the most affordable private Catholic colleges in the country. Its founder wanted students of all backgrounds to get a good education without spending a lot of money. The college opened with less than 200 students and no residence halls on campus. Its original students lived near campus and commuted to school. Sacred Heart didn't add dormitories until the 1990s, which was also the same time period in which it developed its online program. The university now has seven campus, including two overseas campuses. Online students can attend any of those campuses, study abroad for a semester or more or complete the entire program online. Sacred Heart also has a strong reputation regarding its graduates. More than half of its students finish their studies with a total grade point average of 3.0 or higher.
Sacred Heart University Accreditation Details
Though Sacred Heart University is fairly new in terms of its founding, it received accreditation fairly early on. The founder of the university wanted an affordable school that encouraged students to study the Catholic faith, and while the population of the university increased over the years, many of its students still come from Catholic backgrounds. The New England Association of Colleges and Schools performed a full inspection on the university and found that it met the requirements needed for accreditation. The NEACS looked at how many students completed their studies, the number of students who gained employment after graduation, the backgrounds of professors teaching in each department and a wide range of other factors before making its final decision. It also returns to the campus on a regular basis to ensure the university continues meeting or exceeding its standards.
Though the psychology degree programs offered by the university do not have accreditation from any organizations, several of its other programs do. Its social work, physical therapy, nursing and athletic training degrees all have accreditation from top organizations in the country. Those curious about the accreditation process, when the university's accreditation will come up for renewal or other factors can contact Sacred Heart admissions counselors for more information.
<!- mfunc search_btn -> <!- /mfunc search_btn ->
Sacred Heart University Application Requirements
Sacred Heart encourages all students interested in its online or campus programs to meet with an admissions counselor. The counselor can answer any questions that students might have, walk them through the process of applying and ensure that they complete all the required steps. As the admissions form is available online, students can fill out and submit the application in less than one hour. The form asks basic questions about their backgrounds and studies, including the courses they took and their overall grade point averages. After submitting the form, students can pay the associated application fee and send the university any required documents, including official transcripts and ACT or SAT scores. Those hoping to take classes online will need to submit the same information and complete the same application.
Sacred Heart also accepts students who attended another college or university in the past. Those students will need to send official transcripts to the university that shows the grades they received and the full name of each course they took. Sacred Heart can then determine which credits will transfer to the program. Online students entering a graduate level program may also need to take and submit scores from a standardized test like the General Records Examination.
Tuition and Financial Aid
Sacred Heart estimates the tuition costs for full time students taking classes on campus at just over $18,000 a semester, which includes up to 18 credit hours of classes. After factoring in the cost of room, board, health insurance and fees, students may spend close to $40,000 each year they study on campus. Studying online drops the price significantly. Online courses range in price for $530 to around $650 per credit hour. The rate varies based on whether students take specialized courses or if they enroll in graduate or undergraduate classes.
Online students may face other costs as well, including paying for a new commuter, a place to live or paying out of pocket for health insurance. Most online students qualify for some type of financial assistance but will need to fill out the Free Application for Student Financial Aid to find out how much they will receive. Full time students can borrow thousands of dollars every year from the government in the form of subsidized and unsubsidized loans, and the government also provides some applicants with grants. Students can also find out if they qualify for any scholarships based on their interests, backgrounds and hobbies after Sacred Heart receives a copy of and processes the FAFSA application.
Online Degrees Available
Sacred Heart gives students multiple options when it comes to finishing a psychology degree. Its general psychology program is a good all around program that prepares students for attending graduate school and may qualify them for working in certain entry level jobs. It covers many different topics in psychology, including childhood and adult development, human sexuality, personality and abnormal psychology. Students may also decide to focus on one specific aspect of psychology and enroll in the industrial-organizational psychology or community psychology program. The community psychology program prepares students for the specific duties associated with working with larger groups and populations. Students may work in community health centers, in substance abuse clinics or for the state or federal government.
The industrial-organizational psychology program requires that students take 12 credit hours of course specifically designed to complete a certificate in IO psychology. These individuals work for companies, offices and in government settings. They help employees function better, identify potential issues and develop ergonomic office furniture and supplies. All psychology students earn six credit hours for the work they do on a capstone project during their senior years. Though students pick their own topics, they work closely with an advisor while completing the project. Sacred Heart University is one of the only schools that has a capstone requirement for online students.
<!- mfunc search_btn -> <!- /mfunc search_btn ->