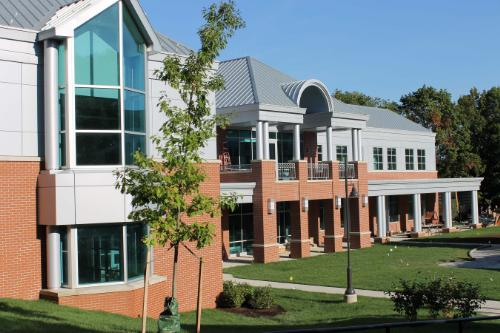 Though Robert Morris University now offers a variety of degrees and programs, it didn't start out as a liberal arts school. When it first opened in the 1920s, it served as an accounting program that trained accountants and offered a handful of business programs. As the school didn't have a dedicated campus, students met in buildings in downtown Pittsburgh. It wasn't until the 1960s that the school finally acquired some land and a few buildings, which became its new and current campus. Now located just outside of Pittsburgh, the university has more than 200 acres of land available for use by its students.
RMU is a private university, which means that is is more selective with who it admits. Though the university has an acceptance rate of around 80 percent, those admitted to the university typically have high test scores and higher grade point average than their peers. The university now has five separate colleges that approximately 80 different degrees. Students also have the option of taking online classes to finish any of the degrees the school offers. While most students come from in and around Pittsburgh, the number of online students living outside the city is fairly high. Nearly 20 percent of online students live outside of Pennsylvania.
Robert Morris University Accreditation Details
Students don't often understand the importance of accreditation or even what the term means. Organizations responsible for granting accreditation only give that honor to colleges and universities that provide the best resources and opportunities for students. The process usually requires a combination of meetings held on campus with research into the school's current history and future plans. Those organizations also perform regular inspections on campus and meet with representatives from the school to determine whether it should keep its accreditation. Some schools may find themselves placed on conditional status until they make certain changes.
Robert Morris University is proud of the fact that its campus never once received conditional status from an accrediting organization. The Illinois Board of Higher Education granted the school the right to award nine different types of degrees at the associate's, bachelor's, master's and doctoral levels, including degrees in accounting, business administration and professional studies. It also received general accreditation for all its programs from the Higher Learning Commission and the North Central Association of Colleges and Schools. The HLC was one of the first organizations to grant RMU accreditation, and the HLC renewed its accreditation every 10 years since it first received approval.
<!- mfunc search_btn -> <!- /mfunc search_btn ->
Robert Morris University Application Requirements
Like many universities, RMU switched to an online application process. This cut down on the amount of waste produced by the university and its potential students and allows students to find out if the school granted them acceptance faster. After applying for admission, filling out the form and submitting the $20 application fee, students can send in documents to verify the information they submitted on that form. Incoming freshmen will need to submit standardized test scores and official transcripts. RUM gives priority acceptance to students who have a GPA of 3.0 or higher and those who scored above 22 on the ACT or higher than 1000 on the math and critical reading portions of the SAT. Students entering any of the online programs will need to submit the same information.
Those transferring to RMU from an accredited college or university must submit a transcript and show that he or she has a minimum GPA of 2.0 and complete a form that shows all the schools they attended prior to starting at RMU. The university encourages students with questions to contact an admissions counselor on campus via the phone or email. The counselor can help them ensure they provide all the necessary forms.
Tuition and Financial Aid
As a private university, tuition at Robert Morris is typically higher than the tuition charged by public schools. The cost for online students is $695 per credit, and as most courses are worth three credit hours or more, students typically pay around $2,000 for each class they take. Tuition rates charged on campus are higher at $820 per credit, which equates to more than $12,000 a semester. Students living on campus must also purchase a meal plan and pay for a private or shared room in one of the residence halls. Robert Morris recommends that all students complete the FAFSA to see if they qualify for any financial assistance.
The federal government increased the amount of financial aid available to students in recent years. The amount that students can get varies based on their income or their parents' income, the financial need they have and whether they are new students or further along in their studies. Students can borrow money that does not come due until six months after they graduate, but they may also qualify for grants that do not require repayment. Parental loans and private students loans are other ways students can pay for college. Those living on campus may qualify for work study programs, and scholarships are available to many students too.
Online Bachelor of Science in Psychology
Two different prominent websites ranked the Bachelor of Science in Psychology online program at RMU one of the best in the United States. TheBestSchools.org chose it as one of the top 20 online psychology programs, and SuperScholar's named it one of the best undergraduate online psychology programs. Graduates of the program received advanced degrees in social, experimental and other types of psychology. Former students now work for government agencies, in private practices and for major medical centers across the country.
RMU Online removes the residency requirement found in other programs and gives students the freedom to take courses anywhere they go. Students living on campus have the option of completing internships, and RMU offers the same thing for its online students. Those students can find internships on their own, contact their advisers and work out an agreement to gain course credit for working in facilities in their own cities and states. Online students will also take the same general education courses on science, math, statistics, English and research methods as offline students take, and they'll even complete their seminar courses online. With an online psychology degree from Robert Morris University, students can attend graduate school or find work in the field.
<!- mfunc search_btn -> <!- /mfunc search_btn ->