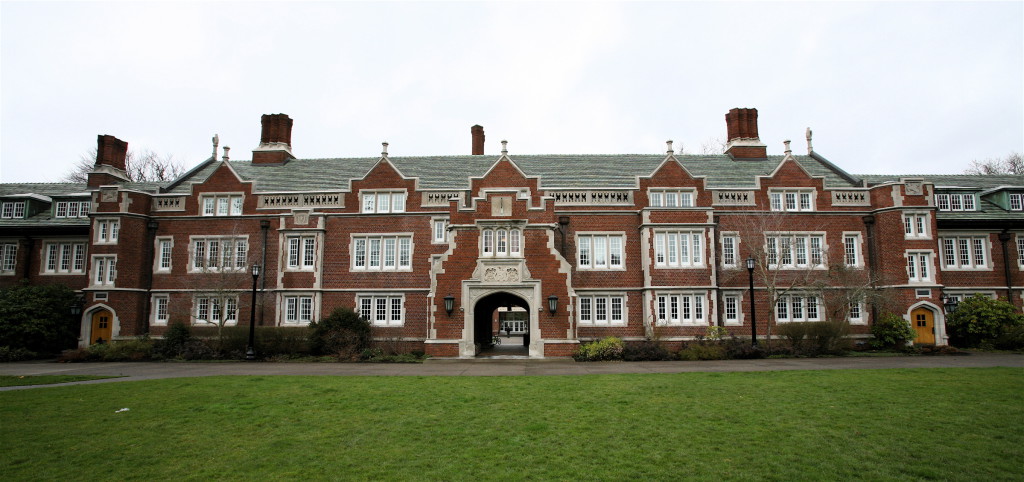 In the late 1880s, a young minister in Portland, Oregon, Thomas Lamb Eliot, shared his dream of creating a college in the growing town with his friend, Simeon Reed. Reed, one of the founders of the Oregon Steam Navigation Company, never forgot his friend's dream and, in his will, he bequeathed an endowment designed to establish an institute of higher learning in Portland. The creation of the college was left to Reed's widow, Amanda, who worked tirelessly to fulfill his wishes. However, she died before her efforts could come to fruition and it took years to unravel the confusing terms of her husband's will.
In 1908, the pieces finally came together and Reed College was established as a liberal arts college. William Trufant Foster, the first president of the young school, recruited a young faculty from around the country in order to create an intellectual institution based on academic freedom. The average age of the faculty was only 30 years old and, from the beginning, were outspoken pacifists. Reed was one of the first colleges in the country to adopt general education core curriculums and quickly became one of the most prominent liberal arts colleges in the Northwest.
Reed has been the center of controversy several times in its history. The most notable event occurred in 1954 when three faculty members, Stanley Moore, Lloyd Reynolds and Leonard Marsak, were investigated by the House Un-American Activities Committee for alleged Communist activity. This investigation sparked national debate over academic freedom. After the intensification of the Cold War, Reed repositioned itself by leveraging the historically strong reputation the college had by modernizing the campus and strengthening resources.
Another controversy erupted in the 1960s when financial resources were challenged. President Paul Bragdon brought the college back into fiscal balance and increased its endowments. During that time, many colleges were questioning the need for core curriuculm, yet Reed held steadfast to their belief that a core curriculum at institutes of higher education were not only important, they were necessary.
Reed College has been named the best academic experience by the Princeton Review. However, controversy rose again when Reed refused to participate in the U.S. News & World Report's Best Colleges rankings. Reed claimed that the publication used questionable methodology, even though Reed had been ranked in the top ten liberal arts colleges. The decision to remove themselves from the rankings was anchored in the college's pursuit of intellectual freedom and academic rigor, confirming the college's dedication to being a model of independent leadership.
In the early 21st century, Reed College began restoring the canyon that bisects the campus. The college spent $2 million restoring Crystal Springs Creek in conjunction with the City of Portland and other agencies. The goal is to reconnect the Willamette River to one of the city's remaining historical waterways in order to create long-term survival rates for fish populations that are native to Oregon.
Today, there are almost 1,400 students enrolled at Reed, studying in more than 40 majors and programs.
Reed College Accreditation Details
Reed College is accredited by the Northwest Commission on Colleges and Universities. Accreditation indicates that Reed offers students the highest level of education available and that they continue to improve their programs so that students are provided excellence in education. Programs within the college may also hold accreditation from agencies within the industry the program serves.
<!- mfunc search_btn -> <!- /mfunc search_btn ->
Reed College Application Requirements
Both first-year and transfer applicants must submit the Common Application as well as the Reed Writing Supplement. There is no application fee. All applicants must provide SAT or ACT scores as well as official high school and college transcripts. Students must submit transcripts from all colleges or universities attended.
Students who have attended one or more terms, earned 24 semester hours or received financial aid at another institute of higher learning are considered transfer students. They must submit a college report from the most recent college attended as well as two letters of recommendation. One of the letters must be an academic letter.
In order to apply for graduate studies at Reed College, students must have a bachelor's degree or higher from an accredited college or university. Students should contact an admissions counselor before applying to determine what requirements are necessary for acceptance into the graduate programs.
Reed College Tuition and Financial Aid
Tuition at Reed College is $49,640 per year for full-time students. At least 50 percent of the students attending Reed receive financial aid and the average financial aid package is $44,147. The average debt for a student graduating from the college is $19,151. Students must complete the Free Application for Federal Student Aid (FAFSA) as well as the College Scholarship Service Profile. Aid is available in the form of grants, scholarships, loans and college work-study.
Reed College Online Degree(s) Available
Psychology
The Psychology program at Reed College emphasizes methods in the study of behavioral processes. Students are provided information on the science of mind, behavior and relationships. The program includes hands-on research projects and students are provided many opportunities to grow as they read and critique research articles, write and present materials orally. Courses required as part of the degree include:
Psychology I and II
Legal System and Psychology
Neuroscience of Consciousness
Socialization of the Child
Neuroscience of Music
Evolutionary Psychology
Cultural Psychology
Psychology of Language Acquisition
Group Processes
Psychology of Addictions
Social Psychology
Motivation in Educational Contexts
Comparative Cognition
Behavioral Neuroscience
Cognitive Neuroscience
Neuropsychology
Thinking
Research Design and Data Analysis
Psychology and Law
Psychopathology
Interpersonal Perception
Developmental Psychology
Cognitive Processes
Primate Cognition
Learning
Functional Variability
Sensation and Perception
History and Systems of Psychology
Psycholinguistics
Learning and Comparative Research
Attention and Consciousness Research
The Social Self
Behavioral Neuroscience Research
Advanced Topics in Neuropharmacology
Psycholinguistic Research: Bilingualism
Clinical Psychology
A thesis and an internship are also required as part of the program.
Reed College has a long history of academic excellence and requiring students to think freely, question authority and develop opinions based on facts. Independent study classes are available, although most programs still require students to attend traditional classrooms. For working adults, however, the ability to take some classes through independent study may allow them enough flexibility to achieve their higher education goals while still meeting their family, work and social obligations.
<!- mfunc search_btn -> <!- /mfunc search_btn ->