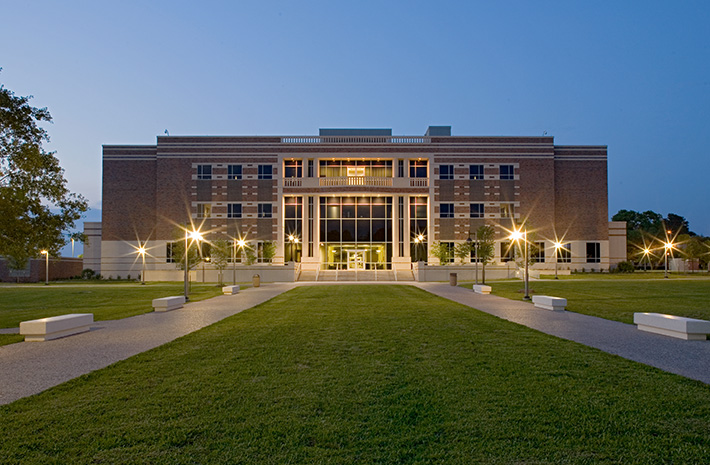 Having started in 1876 as the first state-supported African American college, Prairie View A&M University is Texas' second-oldest higher-educational institution. This historic legacy still guides its provision of quality educational programs for all citizens leading to relevant careers that bring success for its graduates and support the community. In that regard, Prairie View A&M enrolls over 8,000 domestic and international students in undergraduate, graduate and post-graduate programs. One of the school's hallmarks surrounds its flexible degree options through a variety of learning formats from traditional class settings to distance learning, online courses. Online learning especially benefits those who desire to earn a degree by scheduling classes around existing work schedules or who are looking to advance within their careers through graduate coursework. This format also taps into technology skills essential for 21st-century careers by utilizing video conferencing, podcasts, and live-streaming events to disseminate instructional materials and encourage group participation. Prairie View A&M ranks at No. 37 on U.S. News & World Reports listings for Historically Black Colleges and Universities.
Prairie View A&M University: Accreditation Details
PVAMU holds regional accreditation to confer bachelor's, master's, doctoral and professional degrees from the Southern Association of Colleges and Schools Commission on Colleges. It also holds program accreditation from several organizations that oversee curricular studies based on industry and professional standards. Among these are the following accrediting groups:
National Council for Accreditation of Teacher Education
Accreditation Board for Engineering and Technology
Association to Advance Collegiate Schools of Business International
Division of Standards and Accreditation Council on Social Work Education
Prairie View A&M University: Application Requirements
Students at PVAMU come from diverse domestic and international backgrounds. Some are first-time college prospects while others are returning to complete degrees or earn advanced ones. The application process involves several components that apply to all applicants:
Complete a State of Texas Common Application online
Provide official transcripts from high school, GED or college programs
Submit SAT, ACT, GRE or other standardized test scores as requested by major or student status
Send a non-refundable $25.00 processing fee for domestic students and $50.00 for international applicants
Admission requirements for first-time students include possessing a GPA of 2.50 or better on a 4.0 scale for completed high school diplomas. Transfer admissions require a 2.00 cumulative GPA with at least 15 transferable college-level credits or their equivalents. Additionally, international students need to submit proof of English proficiency as measured on standardized tests like the TOEFL or documentation from English as Second Language programs. Finally, graduate requirements vary by degree and request such things as a relevant work resume, written essay or professional recommendations for admission to certain programs.
<!- mfunc search_btn -> <!- /mfunc search_btn ->
Prairie View A&M University: Tuition and Financial Aid
Prairie View A&M University believes in accessible education for all qualified applicants. Tuition and fees combine in the per credit cost, which varies by degree level and residential status as compared here:
$643 and $748 estimated per credit for residential undergraduates and graduates respectively
$1,478 and $1,588 estimated per credit for non-residential undergraduates and graduates respectively
Additional items such as books, required class materials, room and board, or transportation fees should be budgeted into total costs. To offset academic and related educational expenses, PVAMU participates in these federal, state and university financial assistance programs:
Federal Student Aid Program known as FAFSA
Federal Supplemental Educational Opportunity Grant
Federal Pell or TEACH Grants
Federal Work Study Programs
Federal PLUS Graduate or Parent loans
Federal Stafford or Perkins loans
College Access Loan Program
Texas Application for State Financial Aid
The TEXAS Grant
Texas Public Education Grant
Texas B-On-Time Loan
PVAMU Work Study Program
PVAMU General Scholarship
PVAMU Departmental Scholarships
United Negro College Fund Scholarship
Olshan Foundation Solutions Healthy Home Scholarship
The Nelson Firm Scholarship
Exemptions and Waiver Program
Prairie View A&M University: Online Master's in Juvenile Justice
PVAMU offers a variety of popular degree programs from a multidisciplinary perspective to broaden professional competencies across career platforms. An example is the online Master of Science in Juvenile Justice, which is overseen by the College of Juvenile Justice and Psychology. Candidates earning this degree correlate information from psychology, criminology, sociology, economics, administration, research science, behavioral science and statistics to develop professional skills and knowledge required for becoming advanced practitioners working with youth in the justice system. A scientific, research-based approach to the distance-learning curriculum allows candidates to explore the causes and effects of juvenile crime and delinquency in society through interactive lessons and cohort activities. Additionally, graduates completing this degree have the academic foundations to continue with doctoral studies in criminal justice, juvenile justice or forensic psychology programs.
The MS in Juvenile Justice is especially attractive for those currently working in some capacity with juvenile offenders. The online format rotates classes on a schedule that allows professionals to access content at convenient times. Candidates can enter a 36-credit, thesis or non-thesis track. The non-thesis track is designed to be completed in one year's time for candidates enrolled on a full-time basis. Curricular studies involve completion of core courses in Foundations of Juvenile Justice, Delinquency Theories, Research Methods and Applied Statistics. Candidates then complete a series of electives that allow them to personalize their degree by choosing from among the following content:
Foundations of Criminal and Juvenile Justice Systems
Societal Influences on Juvenile Justice Programs
Substance Abuse
Domestic and Family Violence
Impact of Economics on Juvenile Crime
Community Building and Juvenile Crime Prevention
Conflict Mediation and Resolution Strategies
Behavioral Counseling
Juvenile Justice Management for Organizations
Professional Ethics in the Juvenile Justice System
No matter the career choice, graduates from Prairie View A&M University online programs learn to employ excellent critical thinking skills, effectively communicate verbally and in writing, and become team leaders in their work environment. These attributes can result in acquiring competitive employment that leads to career advancement opportunities across all industry platforms. For those interested in leading youth on the right path for success in life, earning a Master of Science in Juvenile Justice from Prairie View A&M University can be a rewarding career choice.
<!- mfunc search_btn -> <!- /mfunc search_btn ->