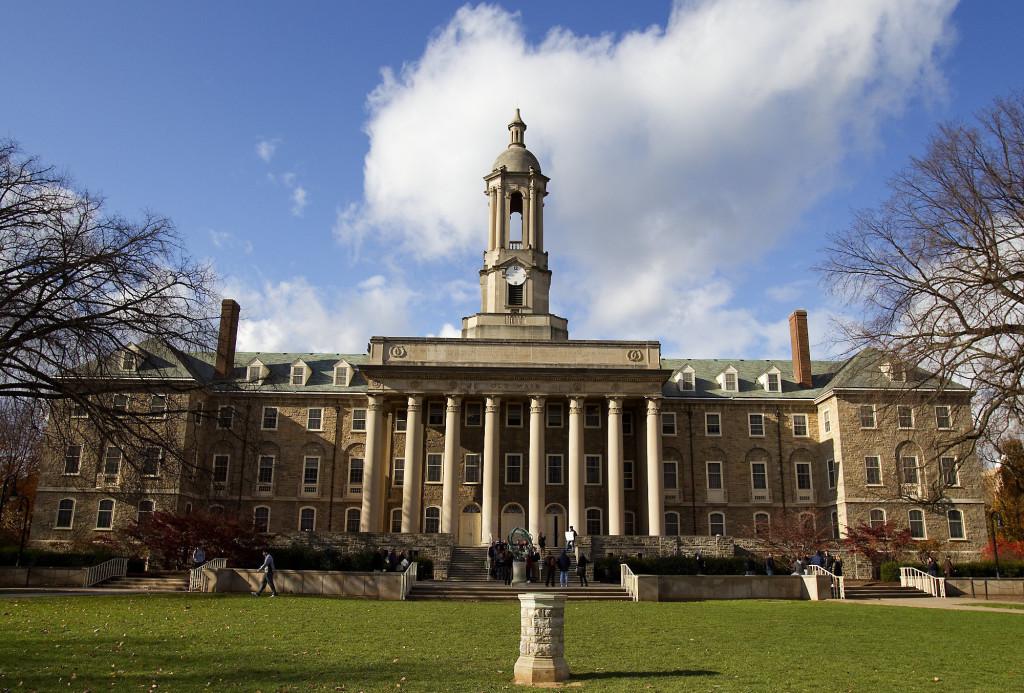 Initially founded in 1855 as Farmers' High School, Pennsylvania State University has evolved dramatically into an elite comprehensive flagship public land-grant, sea-grant, and space-grant research institution. Based on a main sprawling 5,448-acre urban campus in "Happy Valley," Penn State has 19 Commonwealth campuses, five special-mission campuses, and a World Campus available from anywhere with Internet access. PSU enrolls a grand total of over 98,000 students in its more than 160 majors. Pennsylvania State University is considered one of America's largest colleges and a "Public Ivy" thanks to its academic rigor.
With a long-standing reputation for excellence, Penn State is currently ranked as the 48th best university, 14th top public school, and 2nd best college for veterans nationwide by the U.S. News and World Report. In particular, PSU is acclaimed for hosting the 36th best education school and 4th top online graduate education degrees. On a global scale, Penn State is honored by the Times Higher Education for being the 58th best world university. For two consecutive years, PSU ranked #10 in the United States for international students by the Institute of International Education "Open Doors" report.
Pennsylvania State University Accreditation Details
Pennsylvania State University is formally accredited as a whole by the Middle States Commission on Higher Education (MSCHE), which is one of the six accrediting agencies recognized by the U.S. Department of Education. Furthermore, PSU has gone the extra step to achieve more than 30 discipline-specific accreditations for its academic departments. For instance, the College of Education is approved by the National Council for Accreditation of Teacher Education (NCATE). Counseling degrees are specifically accredited by the Council for the Accreditation of Counseling and Related Educational Programs (CACREP). All education programs are also given the stamp of approval by the Pennsylvania Department of Education.
Pennsylvania State University Application Requirements
Since Penn State has a selective acceptance rate of 55.5 percent, you'll need to meet the university's admissions criteria to successfully enroll. Graduate students wishing to attain one of the online education degrees must already hold a baccalaureate or equivalent tertiary degree from a regionally accredited institution. All applicants to the College of Education are expected to have a minimum cumulative GPA of 3.0. Having valid teacher licensure and prior classroom experience is also preferential. International students must submit official TOEFL results showing a score of 550 or higher for English proficiency.
Before the designated deadlines, interested students must submit the Graduate School application to Pennsylvania State University with the following attachments:
Official transcripts from every college attended
Graduate Record Examination (GRE) test score
A current resume or curriculum vitae
Three reference forms
A one to two-page statement addressing future teaching objectives
The non-refundable $65 application fee
<!- mfunc search_btn -> <!- /mfunc search_btn ->
Tuition and Financial Aid
Graduate students attending PSU must afford in-state tuition of $9,664 or out-of-state tuition of $19,034 per full-time semester. However, the Penn State World Campus calculates tuition a bit differently for its online programs. Graduates enrolling in a Master of Education program online can expect to pay $784 per credit hour. If you're taking 12 or more credits per semester, there's a flat rate tuition of $9,408 each semester regardless of your residence. Online students in the World Campus also must cover an information technology fee that ranges from $252 for full-time students to $189 for part-time students each semester.
For help paying these expenses, Pennsylvania State University automatically considers new students for receiving financial aid after their FAFSA form is filed. The World Campus offers a deferred payment plan for paying semester tuition in installments over three months. Graduate students can depend on Stafford loans, Perkins loans, Graduate PLUS loans, and alternative private loans, but borrowing should be cautious to avoid debt. Certain students may qualify for employer reimbursement or military benefits. Financially needy students should apply for the Pell Grant, FSEOG Grant, TEACH Grant, or Pennsylvania State Grant. Online students at Penn State also have access to several scholarships for free tuition money. First-time or returning students could receive the World Campus Student Fund Scholarship, Jeanne M. Curtis Memorial Award, Fletcher Navy Student Scholarship, Brugger Scholarship, and more.
Online Degrees Available
Since being launched in 1998, Penn State's World Campus has grown to provide accessible learning through over 120 online bachelor's, master's, doctoral, and certificate programs. Online degrees feature the same academically challenging courses within an asynchronous, flexible format for optimal convenience. As a pioneer in online learning, Penn State offers career-focused curricula delivered by highly respected faculty. In the College of Education, busy working teachers can choose to earn an online:
M.Ed. in Special Education
Teachers enrolling in the Online M.Ed. in Special Education at Pennsylvania State University are trained with evidence-based practices to support students with special needs. The 33-credit online program offers teachers the opportunity to specialize in Academic and Behavioral Supports, Applied Behavior Analysis, or Autism. Those who select the BACB-approved course sequence for ABA will be qualified to become Board Certified Behavior Analysts. Although the program doesn't lead to certification, it's advantageous for renewal and advancement.
M.Ed. in Curriculum and Instruction
Following a dynamic 30-credit course plan, the M.Ed. in Curriculum and Instruction is delivered fully online through the PSU World Campus to help teachers advance their knowledge of teaching for obtaining teacher leadership roles. The program offers five emphasis areas in Children's Literature, STEM Education, Elementary Education, Curriculum and Supervision, or Theory and Practice in English, Social Studies, and World Languages. While studying in a virtual classroom, certified educators equip themselves for today's diverse, changing schools.
M.Ed. in Educational Leadership
As an Act 48-approved provider, Penn State has created an Online M.Ed. in Educational Leadership program to prepare current teachers for motivating fellow teachers and orchestrating positive school reform in upper-level positions. The 30-credit distance program gives the option to follow the Teacher Leader or School Leader with or without principal certification. Teachers can expect to delve deeper into topics on school improvement, instructional supervision, staff development, curriculum design, educational technology, principalship, and school management before a capstone internship.
Other top-notch online education degrees at Pennsylvania State University include the M.Ed. in Adult Education, M.P.S. in Art Education, M.Ed. in Earth Sciences, M.Ed. in Higher Education, and M.Ed. in Learning Design and Technology.
<!- mfunc search_btn -> <!- /mfunc search_btn ->