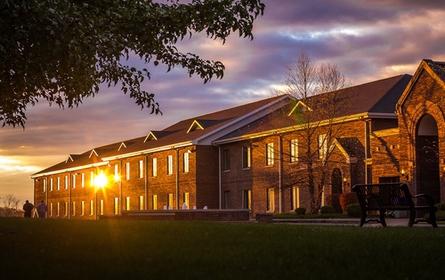 Ohio Valley University is a private school affiliated with the Church of Christ. It was founded in 1958 by alumni of Harding University. Nearly 87 percent of classes have twenty or fewer students and, with a student-to-faculty ratio of 9:1, there is a lot of interaction between students and their teachers. In fact, only 500 students enroll each year. The school is tied for the #176 of Best Online Graduate Education Programs in the U.S. News and World Report rankings. Ohio Valley University has four colleges and eight schools. The college include: College of Arts and Science; Biblical Studies and Behavioral Science; College of Business and the College of Education. In addition, students have the opportunity to gain a global perspective by studying abroad. Current programs are offered in London, Paris, Florence, Venice, Rome, Athens and Jerusalem. There is a robust athletics program; this is a Division Two NCAA school.
Ohio Valley University Accreditation Details
Higher Learning Commission North Central Association
West Virginia State Board of Education
International Assembly of Collegiate Business Education
Ohio Valley University Application Requirements
You can apply online to this school through the appropriate portal; undergraduate, international, Graduate School or the Special Education Institute. You will need two letters of reference, one academic and one personal. The personal recommendation cannot come from a family member. To submit the letters, you give your sources a link to an online submission tool. You will have your ACT or SAT testing agency send your scores to Ohio Valley University. Your official high school transcript should be sent by your secondary school as well. A release/request form is available on the college website. You must also send payment for your dormitory deposit and your $20 application fee with your application. Applicants must have a cumulative high school GPA of 2.5, a minimum ACT score of 18 or a SAT composite of 1290. Students may also apply for the Early Admission Program. This allows high school students to be admitted to the university before they matriculate. There is a special online application form for this program, a $75 per credit hour fee and students must have a 2.8 GPA upon admission.
<!- mfunc search_btn -> <!- /mfunc search_btn ->
Tuition and Financial Aid
The average tuition for an undergraduate student at Ohio Valley University is $9,020 a semester. Room and board, along with fees and other charges bring the total to $13,530 per semester or $27,060 per year. Graduate tuition is $380 per credit hour. Those costs do not include books and other materials. If you find you will have difficulty paying for your education, you can apply for financial aid. The first step is to complete the FAFSA form. The federal government uses information on this form to calculate the amount you and your family can be expected to contribute to your education. This amount, subtracted from the actual cost of attending Ohio Valley University, will result in your financial need.
The FAFSA program automatically qualifies you for any federal grants, loans or work-study for which you qualify. You will receive the results, along with your award amounts, in an Award Letter that you will receive in approximately two weeks. Once you have those amounts, you can begin applying for other grants and scholarships. Ohio Valley's Academic Plus One scholarship tool allows you to use your ACT or SAT score, multiplied by your high school GPA as a qualifier for levels of aid. You may be eligible for amounts from $2,500 to a full ride. You then choose one other scholarship that is not an academic award. You might, for instance, qualify for an athletic scholarship, a Board of Trustees award, the Express Performing Group Scholarship, a "Niche"Scholarship or the Wood and Washington County Scholarship, among others. That is what is meant by "Academic Plus One."
After selecting your second scholarship, you can go on to investigate what other financial aid might be available to you. There are scholarships offered to Bible students, aid sponsored by corporations and by service organizations. If you have exhausted your grant and scholarship options, you may consider student loans. These are special loans offered to students or their parents by lending institutions at low interest and with repayment deferred until sometime after graduation. Another resource is a work-study program. If your FAFSA qualified you for the program, you can work a modified schedule, adjusted around your classes. Regular loans are not a great choice since you would probably have to begin making payment while you were still studying.
Ohio Valley University, in an effort to keep students from being buried under student debt, has a program through which they assist you in paying back your loans once you have graduated. You must be employed at least 30 hours a week, earning less than $36,000, to be eligible. There is a range of eligible salaries and, depending on where your salary falls, you may get partial help or, if your salary is below the minimum on the scale, you would receive total reimbursement.
Online Degrees Available
The only online degree available from Ohio Valley University at this time is a Master's in Curriculum and Instruction. The school does offer many exciting majors through its colleges. One of these, psychology, is found in the College of Biblical Studies and Behavioral Sciences. There are also school counselling degrees through the education department. Psychology majors can choose either a Bachelor of Arts in Psychology or a Bachelor of Science. The BS degree tends more toward research. Both degrees require Introduction to Psychology. After that, there are 12 courses, compiling 36 credit hours, divided into five groupings. The courses offered vary according to which tack you are pursuing but, generally, the groups are: Data Analysis in Psychology and Research Methods in Psychology; Core; Advanced, including advanced sequential, in which the first class is a pre-requisite for the second; Electives and Experiential Courses such as internships.
Although many of the courses are the same, the differences in the programs derives from the more science-oriented classes in the B.S. degree. There are also seven available minors in the psychology programs: General Psychology; Clinical Psychology; Developmental Psychology; Organization and Performance Psychology; Social Psychology and Personality; Biological Bases of Behavior and Psychological Research. These courses, with the liberal arts education courses required of all students, makes up the BS or the BA in Psychology degrees at Ohio Valley University.
<!- mfunc search_btn -> <!- /mfunc search_btn ->