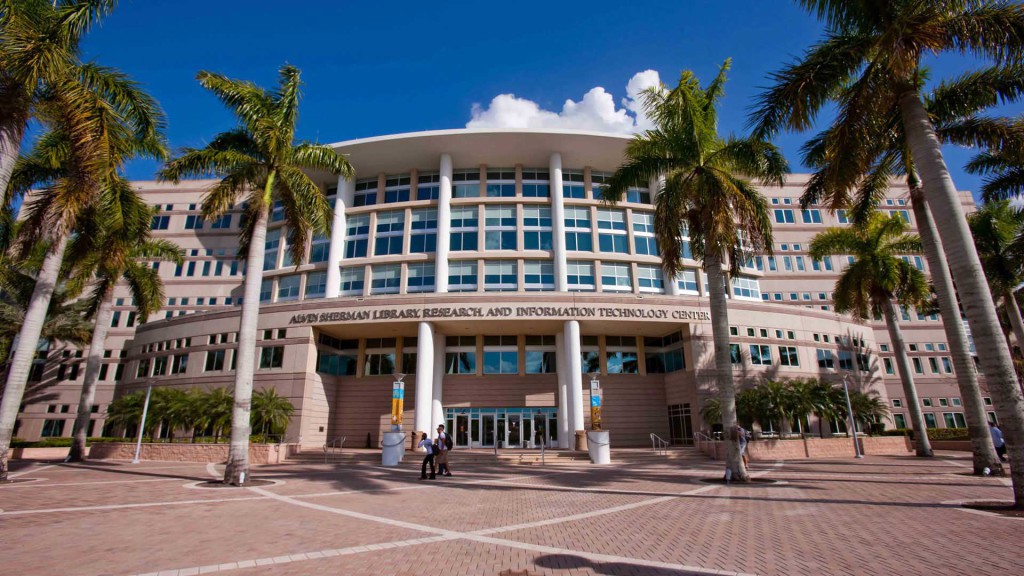 Nova Southeastern University started life as the Nova University of Advanced Technology when it opened in the 1960s. Less than two decades later, the school merged with another campus and shifted its focus to graduate programs only. It established its first campus on a base used by the navy during World War II to train servicemen working overseas. Though that campus is still open, NSU also operates two other campuses in southeastern and southern Florida and nine satellite campuses that it refers to as Student Education Centers. Those centers serve as affiliated education centers and allow students to take classes via satellite and computer programs. NSU also offers a number of online programs for those who live in other states or cannot attend classes on one of its campuses.
NSU accepts less than 50 percent of all students who apply, but it admits more than 6,000 students every year. Those figures include students attending on of its campuses and students taking classes online. Both Washington Monthly and U.S. News & World Report listed Nova Southeastern University on their lists of top colleges nationwide, and its health care and medical programs also rank highly. As an accredited university, NSU can offer its incoming students a variety of financial aid packages as well.
Nova Southeastern University Accreditation Details
One of the main things that sets a good school apart from a bad school is accreditation. The United States Department of Education often uses the term diploma mill when describing schools that do not have accreditation. These schools essentially have no governing body to determine if the school properly trains and educates students. Regardless of what you want to study, you must make sure that your school has accreditation. Regional accreditation is generally better because it means that a smaller organization or agency investigated the school fully before giving it approval. Regional bodies can also quickly investigate any claims made by former students.
Nova Southeastern University is proud of the fact that it received accreditation from the Southern Association of Colleges and Schools Commission on Colleges and that it never received partial accreditation or lost its accreditation over the years. This organization granted the university the right to give students bachelors, masters and doctoral degrees after completing the requirements for graduation. The university also has accreditation from the American Psychological Association for some of its graduate and Ph.D programs. The APA will only award accreditation to schools that offer well rounded programs and prepare students for passing licensing examinations and for working in the field with patients.
<!- mfunc search_btn -> <!- /mfunc search_btn ->
Nova Southeastern University Application Requirements
Applying for admission to Nova Southeastern University requires the completion of an online application packet. NSU requires that students complete an online registration form and select a user name and password. They can then log back into the system and check for updates regarding when the school received the application forms and any verifying documents. NSU will also notify students is the university accepted or rejected their applications online. Those applying for the Master of Science in Forensic Psychology will need to complete an online application and four other steps.
After submitting an application, students will need to pay the $50 processing fee by check or money order. The website also accepts payments via credit card or debit card. Applicants will then need to submit two letters of recommendation. The university recommends that students ask supervisors they worked with in internships, college professors and others who have knowledge of their skills and experience. Students must also mail in an official transcript from the colleges where they received their degrees. The last step is the completion of an essay. NSU requires that all forensic psychology applicants complete a 500 word essay of why they want to study the topic, their future career goals and how their past experiences can help them meet those goals.
Tuition and Financial Aid
Nova Southeastern University charges a flat rate of $670 per credit hour for master degree programs like the MA program in Forensic Psychology. As graduate courses range from three to five credit hours each, students will typically pay around $2,100 to $3,700 per class. Full time students often take two or more classes each semester. NSU also requires that students pay a student service fee of $175 to $350 each semester depending on the number of courses they take and an additional $25 registration fee each semester. Textbooks and other supplies can add $200 or more to the costs students pay every semester.
The Free Application for Student Financial Aid is something that all schools require of future students. This free form is available online. It asks questions regarding the income of a student's parents or guardians to determine if the student qualifies for any form of financial assistance. Nova Southeastern University uses the responses that students give to see if they may qualify for scholarships as well. Students who fall below certain income guidelines may qualify for free grants, but most students also qualify for student loans. NSU notifies all students of the assistance they will receive before they enroll in classes.
Master of Science in Forensic Psychology
Forensic psychology is significantly different from counseling and other types of psychology. Students who wish to work with patients and operate their own practices will need a graduate degree that includes a clinical component. Forensic psychology programs, including the one available through Nova Southeastern University, focuses more on the role of psychologists within the legal and justice systems. Graduates may work as corrections officers, parole or probation officers, in hospitals and jails or for crime scene investigation agencies. As the program takes place completely online, the university requires that students have a working webcam and a good computer.
NSU uses the Blackboard system, which allows students to log in and take part in discussions with their professors and classmates. They can also use this system to complete homework assignments, get in touch with their teachers and complete quizzes and tests. Many of the courses that students take look at why and how people commit crimes, populations at risk of making dangerous decisions and what psychologists do and how they help criminals and inmates. Nova Southeastern can also work with you to find an internship in your community, and the university may let you complete an in-depth internship in lieu of doing a capstone project or thesis.
<!- mfunc search_btn -> <!- /mfunc search_btn ->