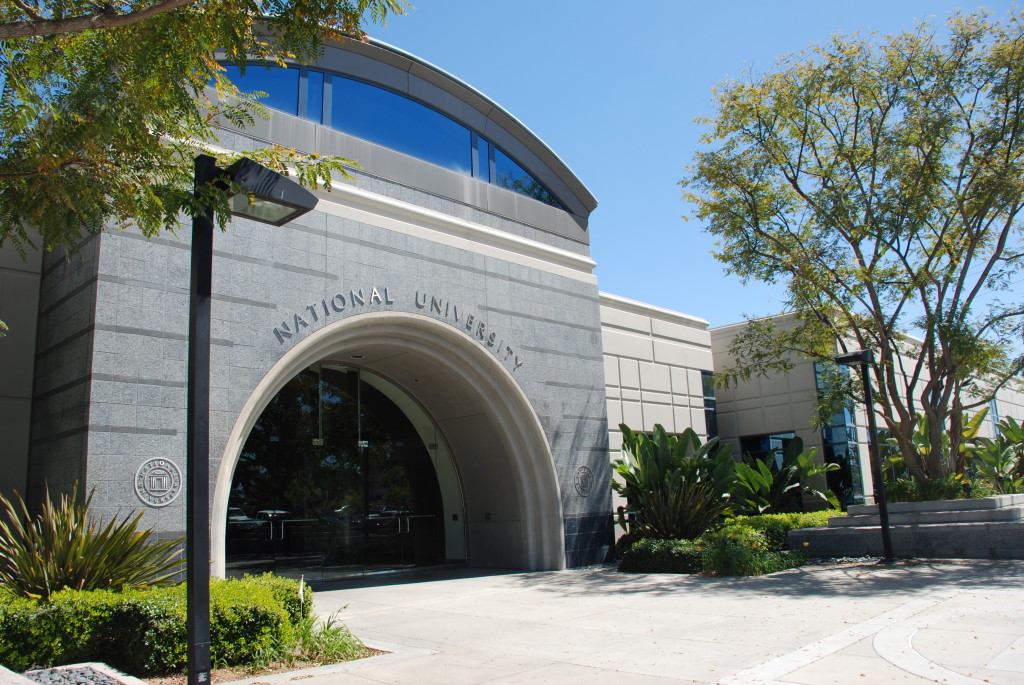 National University was the brainchild of Dr. David Chigos, who trained personnel as a Navy officer and civilian business director. He realized that many working adults without college degrees desired and would benefit from a non-traditional academic pathway to achieve career goals. With that in mind, Dr. Chigos enlisted community support to open National University in 1971 as a private, non-profit institution of higher education serving citizens in the La Jolla, California region. The popularity of the school's programs grew, and within a few years, National University had multiple satellite campuses around the state. The university continued to rapidly expand in the decades that followed due to increased popularity of distance learning programs. Today, instructional opportunities exist at campuses in California, Nevada, Georgia, Virginia and Florida or through highly regarded distance learning formats from any location. The university has strong commitments to educating students from all backgrounds and has earned recognition from Diverse Issues in Higher Education for conferring high numbers of master's degrees across all disciplines to Hispanic and African American college populations. The school also garners praise for the number of master's degrees it confers upon women and additionally earned the designation as a "military friendly school" by G.I. Jobs magazine for accommodating military personnel in duty stations around the world.
National University: Accreditation Details
National University holds regional accreditation from the Accrediting Commission for Senior Colleges and Universities of the Western Association of Schools and Colleges to confer undergraduate and graduate degrees. This accreditation applies to programs administered through online formats. National University also holds program accreditation from professional organizations that approve curricular programming aligned with industry standards for specific careers. Among others, these accrediting bodies include the Council on Education for Public Health, the International Assembly for Collegiate Business Education, the American Association of Colleges for Teacher Education, and the International Association for Continuing Education and Training. National University is an affiliate of the National University System, which oversees provision of innovative networking opportunities to students enrolled in non-traditional educational programs. NUS affiliates include institutions such as WestMed College, the Center for Integrative Health and the Center for Performance Psychology.
National University: Application Requirements
All interested students must complete an online admission form and remit a $60, non-refundable application fee. First-time or transfer students to undergraduate programs will also need to:
Submit official high school transcripts or GED certification
Provide verified transcripts for any completed college courses
Take National's ACCUPLACER math and English tests
Entrance into graduate programs is based on a candidate's educational record. Applicants should:
Provide official transcripts substantiating a bachelor's degree from an accredited school
Submit verified test scores from the GMAT, GRE, Miller Analogies Test or other approved program tests
Document any relevant work or professional experiences
Interview with an admissions adviser.
<!- mfunc search_btn -> <!- /mfunc search_btn ->
Tuition and Financial Aid
Current tuition rates cost $344 per credit for undergraduate courses and $394 per credit for graduate studies. Additional fees may also be assessed to cover administrative, processing or specific degree program costs. National University students are entitled to seek eligibility for all forms of financial aid. Examples of assistance programs from federal, state, university or private sources include the following:
Federal Student Aid and Work Study programs
Federal Supplemental Educational Opportunity Grant
TEACH grant
Pell grant
Cal grant A or Cal grant B
WebGrants 4 Students
PLUS Graduate loans
PLUS Parent loans
Subsidized or unsubsidized Stafford and Perkins loans
Assumption Program of Loans for Education
National University scholarships
Available Online Degree Programs
National University offers more than 70 undergraduate and graduate degrees that can be completely finished online and additional degrees that may be completed in a hybrid format of program delivery. State-of-the-art technology provides interactive program delivery of lectures, consultations, assessments, assignments and cohort activities via email, video-conferencing, streaming videos, podcasts, webinars and other electronic media. Flexible schedules accommodate adult learning with campus courses offered in off-work hours or distance learning courses available around the clock.
Undergraduate programs at National University require students to complete a general education curriculum in addition to concentrated courses in their major. General education content focuses on developing skills required in the 21st century workplace for all careers. It includes intensive studies in written and spoken communication as well as studies in cultural diversity, math, the humanities, natural sciences, fine arts, modern language and social sciences. General education degrees require completion of 70.5 quarter units of study.
Once general education requirements are in place, students can begin working on courses in their major. In the case of the Bachelor of Arts in Sport Psychology degree, this entails earning an additional 76.5 quarter units in upper-division courses. This popular degree choice explores how thoughts and emotions can influence performance, wellness and success in sports or business. Its curriculum prepares graduates for entry-level positions as performance or motivational coaches, athletic consultants, research assistants, recreational program directors, health counselors, or rehabilitation specialists. It also lays a foundation for further educational studies at the graduate level or to pursue professional certifications from the American Board of Sport Psychology. Students in this major can expect to study the following content:
Basic psychology principles
Foundations and history of sport psychology
Probability, statistics and research design
Psychological and social aspects of athletics
Cultural influences on sport
Motor learning and sport biomechanics
Exercise physiology
Applying psychology techniques in sports and coaching
Counseling techniques
Developmental and biological psychology
Personality theory and its affect on athletes
Psychopathology
Cognitive and positive psychology
To round out the curriculum, students will participate in a senior project involving field work. This two-month experience allows students to apply their knowledge of sport and peak performance psychology in real-world settings to develop professional competencies. These competencies include
Working as part of a collaborative team
Helping diverse groups of people succeed across age, gender or cultural groups
Advancing the principles of applied sport psychology in workplace or athletic settings
Holding and promoting high ethical standards
Innovating programs to reduce anxiety and stress-related symptoms while increasing performance capabilities
The Bachelor of Arts in Sport Psychology degree is just one of many relevant educational opportunities provided through National University's distance learning education programs. With supportive personnel and cutting-edge technology that encourages student success to reach career goals, prospective higher education candidates should investigate their options at National University.
<!- mfunc search_btn -> <!- /mfunc search_btn ->