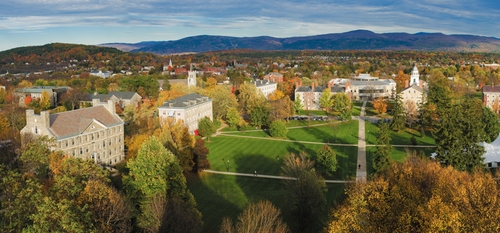 In 1800, a few men in the town of Middlebury took it upon themselves to build a college that would train young men for the ministry as well as other early 19th century. At the time, Vermont was still viewed as the American frontier and the start of the college was fairly humble. Students were required to "read, translate and parse Tully, Virgil and the Greek testament." In addition, they were required to write Latin and understand the rules of arithmetic. The first classes were all taught by the founding president, Jeremiah Atwater who came to Middlebury from Yale.
In 1819, Gamaliel Painter left most of his estate to Middlebury College. Mr. Painter was one of the citizens granted the charter for the school in 1800 and his gift was one of the first examples of philanthropic support for the college. Just a few years prior to his death, a new building, originally known as West College, was renamed Painter Hall in his honor. The building is now the oldest college building in Vermont.
Vermont abolished slavery when it ratified the state constitution in 1777, making it the first state in the country to make owning slaves illegal. In 1823, Alexander Twilight graduated from Middlebury and was the first African-American to earn a bachelor's degree at an American College. In 1883, the trustees voted to accept women, making the school one of the first all-male liberal colleges to become coeducational.
In the 1830s, the college suffered financially during a period of evangelical upheaval and religious revival. The college managed to remain open during the American Civil War when many colleges were forced to close due to the support of the citizens in the town of Middlebury as well as neighboring regions who supported the efforts of the college.
Today, more than 2,500 students attend Middlebury College and it has been named one of the top liberal arts colleges in the country.
Accreditation Details
Middlebury College is accredited by the New England Association of Schools and Colleges, Commission on Institutions of Higher Education. Accredited colleges have demonstrated that they offer programs that demonstrate excellence in education and a desire to constantly improve programs offered to a diverse student population. Specific programs may also be accredited by organizations that provide oversight for degrees offered in a specific industry as well.
<!- mfunc search_btn -> <!- /mfunc search_btn ->
Application Requirements
Students who wish to attend Middlebury College should complete the Common Application and pay the applicable fee. Students must also provide two teacher recommendations as well as a school report, counselor recommendation and official high school transcript. Students must also provide official SAT or ACT scores.
Students who have been or are currently enrolled as full-time degree seeking students at a different college or university should apply to Middlebury as a transfer student. Most transfer students are admitted as sophomores or first-year juniors, depending on the credits they transfer. Students who are transferring from another college or university must have at least a "B" average in their previous college classwork. Students must complete the Common Application for transfer students and provide an official college transcript from all colleges or universities attended. A transfer mid-term report is required if the student is currently attending another college or university. Students must provide college course descriptions for all classes completed as well as a secondary school transcript and final report. If the student does not have enough college credits to be declared a sophomore or first-year junior, they must provide official ACT or SAT scores.
Tuition and Financial Aid
Full-time tuition at Middlebury College is $47,418 per year. Financial aid is available using a need-blind admission policy for domestic students. This means that financial status does not have an impact on admission to the college. Middlebury offers financial aid packages that meet 100 percent of a student's financial needs as determined by the school's Student Financial Services Office. If a student's financial situation does not change, a similar package will be offered each year that the student attends. Approximately 50 percent of the student body receive some form of financial aid and the average grant offered is around $42,000. Student loans are offered at graduated levels that are based on family income. Loan limits for students are as follows:
Family income of less than $50,000 – $1,000 per year
Family income of $50,000 to $80,000 – $2,000 per year
Family income of more than $80,000 – $3,000 per year
Online Degree(s) Offered
The Psychology program at Middlebury Colleges provides students with an understanding of mental processes, emotions and behavior from a wide range of perspectives. Students learn to implement social, cognitive, neuroscientific, development and clinical approaches to addressing mental and emotional problems. Students are required to actively engage in research as part of the psychology curriculum and may choose to engage in their own research projects. The college offers a sophisticated collection of technological tools that promote teaching and research.
Students are able to demonstrate familiarity with concepts, theoretical perspectives, empirical findings and historical trends in psychology while also forming an understanding of basic research methods, including design, data analysis and interpretation. Students use critical and creative thinking, skeptical inquiry and a scientific approach designed to help them solve problems that are related to the mental process and behavior.
In addition to courses focused on Psychology, students are provided the ability to use computers and other technology not only unique to the mental health field but also used by other fields. Students are able to use technology to analyze and present data as well as apply those skills in upper-level classes. Students are able to demonstrate effective writing and oral communication skills while also collaborating with others. Students also develop an understanding and respect for sociocultural and international diversity.
The Psychology program at Middlebury College offers students insight into the social, familial and biological factors that can contribute to emotional or mental health issues. Because the program is offered online, students who have work, family or social obligations that prevent them from attending a traditional classroom are able to meet their higher education goals because of Middlebury College's flexible schedule.
<!- mfunc search_btn -> <!- /mfunc search_btn ->