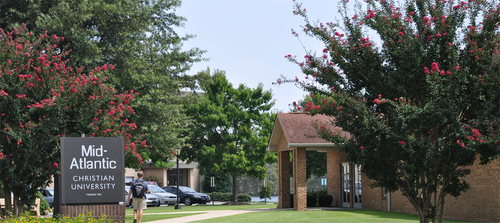 Mid-Atlantic Christian University grew out of the fact that in the mid-late 1940's, there was a shortage of ministers in the North Carolina area. There were so few ministers, in fact, that they were preaching only one to two Lord's days per month and rotating through several churches at a time. Despite their ability to still provide these services, a number of the ministers had no formal training – and while they practiced in good faith, they were not given any biblical preparation during that time period.
Roanoke Bible College,  which was later named Mid-Atlantic Christian University in 2009,  changed all of this. This school provided a platform for which these ministers, and many others, could continue to learn, grow and practice their faith in the name of the Lord. The name change came about,  almost 70 years later,  as administrators decided to take a look at the goals, objectives and forward focus of the school for years to come. They decided that "Mid-Atlantic Christian University" was a more profound and noteworthy name that represented their long-term aspirations.
The university spans across twenty acres; nestled in the heart of historic Elizabeth City, North Carolina. Although the city is rather small, it is home to many hospitals, colleges, museums and churches, all of which provide ample opportunity for business growth and development, employment and community involvement. Mid-Atlantic Christian University is in the midst of perhaps the most extensive network of churches spanning the east coast, which opens up the doors for preaching, youth ministries and involvement in church activities and other Christian services.
Mid-Atlantic Christian University currently has alumni living, working and practicing their faith in over 48 states and 25 countries around the world. For prospective students, Mid-Atlantic Christian University has a number of four year B.A. and B.S. programs that were created to foster extraordinary leaders both in the career world and in the Christian faith. They cater to transfer students, as well as students looking to finish a Bachelor's degree with an Associate Degree background. Their mission is to transform the traditional college experience; creating the perfect environment to learn, grow, train and impact the world around us.
Mid-Atlantic Christian University Accreditation Details
When Mid-Atlantic Christian University was still referred to as "Roanoke Bible College," back in the late 70's, it was accredited through the Accrediting Association of Bible Colleges. In 1999, Roanoke Bible College was accredited by the Commission on Colleges of the Southern Association of Colleges and Schools, more commonly known as SACS. Today, Mid-Atlantic Christian College remains accredited under this same organization.
<!- mfunc search_btn -> <!- /mfunc search_btn ->
Mid-Atlantic Christian University Application Requirements
Prospective students are required to complete the application requirements for consideration. Each student,undergraduate as well as transfer or those seeking continuing education, are assigned their own personal application webpage and an admissions counselor who helps guide them through the application process. The application process, since it is online, can be revisited at any time should corrections need to be made prior to the deadline. A completed application requires the following:
Completed online application – this includes SAT/ACT scores
Reference forms – either a church reference or character reference form
Official transcripts from precious university, college or high school
Personal Essay
Application fee of $30
To be eligible, prospective first year students must have successfully completed high school with a grade point average (GPA) of a 2.0 or above on a 4.0 scale. Incoming students must have a combined SAT score of 860, an ACT score of 18, or a college transfer grade point average of at least 2.0.
Transfer students are those who are have completed 12 or more credit hours of post-secondary education prior to admittance into Mid-Atlantic Christian University. The application process is similar; although these students are required to submit official transcripts of previous college experience.
For students looking to complete their degree, they must hold an associate's degree from another college or university, or have at least 60 semester hours of transferable credit hours. The application process, again, is very similar otherwise.
Despite what a prospective student may be looking to achieve, Mid-Atlantic Christian University selects candidates who are looking to excel in education and perpetuate a deep Christian world view throughout their college years and beyond.
Tuition and Financial Aid
The 2015-2016 tuition rates and fees vary depending on the program. For students looking to pursue Biblical Studies or Nonprofit Leadership and Social Entrepreneurship, the cost is $420 per credit hour. For those looking to pursue mental health counseling, the cost is slightly greater at $470 per credit hour. These costs do not reflect housing fees and other university charges.
Students who complete the enrollment process and who are admitted to Mid-Atlantic Christian University are contractually bound to paying all associated costs for education. To make it a bit easier, the university offers three different payment options: a pay-in-full option, a deferred payment plan and a monthly payment option. While the pay-in-full plan requires students to pay the full cost of tuition on the day of registration, the latter options allow students to pay in smaller installments; making it much more manageable and accommodating for students in all different financial situations.
Financial aid is available to all students. Financial aid advisers are available and willing to help students and their families figure out the best financial aid package to fit their individual needs.
Online Degree(s) Available
At Mid-Atlantic Christian University, online programs give you the flexibility to learn on your own accord. The learning format is very similar to that of a tradition classroom setting; although you are able to work at your own pace and have complete autonomy over your educational experience. MACU offers a 24 hour support system for online learners, and the faculty and staff that support these online courses are some of the brightest and most renowned teachers, mentors and supporters in the world of Christian education. Upon graduation, there is no distinction on your degree whether you completed your education online or in the classroom. A degree from MACU is well recognized and well respected regardless of the mode of completion.
The application process for online registration is exactly the same and financial aid packages are available for distance learners, as well.
Since Mid-Atlantic Christian University draws students from all over the world, they offer several robust online degree programs – and are still looking to grow. They offer online degree programs in Christian Ministry, Family Studies, Biblical Studies and Business Administration. The Business Administration program is currently pending title change approval from the Southern Association of Colleges and Schools Commissions on Colleges. The university also offers a Continuing Education for Teachers Certificate, available online.
Mid-Atlantic Christian University also offers a counseling and psychology program, in which online courses are available. They are one of the few schools in the world to offer an undergraduate program that covers a number of counseling methods as well as takes an in-depth look at psychology. This program is a great precursor for students looking to prepare for a career or graduate studies in this particular area of study. It also enables students to be better servants in their local church and in the Christian world.
<!- mfunc search_btn -> <!- /mfunc search_btn ->