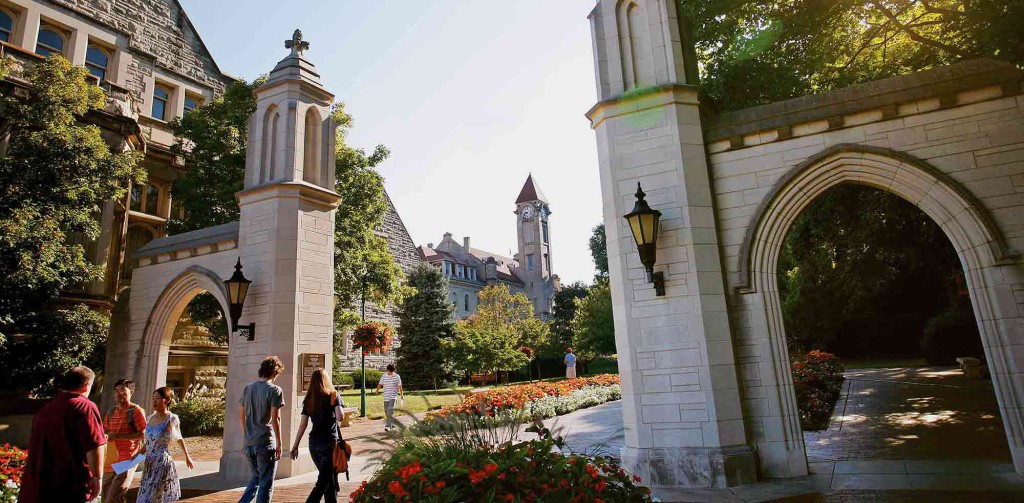 In 1820, legislative action crated a state seminary in Bloomington and, in 1822, construction began on the first building, the Seminary Building. In 1924, the first class with 10 male students began and, in 1828, the school became known as Indiana College and the school gained university status in 1838.
Indiana University has always been progressive, allowing African-Americans to attend long before other colleges permitted attendance. The Neal-Marshall Black Culture Center is named in honor of two of those graduates. Marcellus Neal graduated from the university in 1895 and Frances Marshall graduated in 1919. Both Mr. Neal and Ms. Marshall went on to have respected careers as teachers and school administrators. In 1867, Indiana University became the one of the first universities to admit women, and the first female graduated in 1869.
In 1956, formula developed by three Indiana University researchers became Crest toothpaste and Professor Alfred Kinsey established the Institute for Sex Research in 1947, publishing his best-selling book "Sexual Behavior in the Human Male" a year later. In 1972, Mark Spitz, an alumnus of Indiana University, won seven gold medals at the Olympics.
Today, Indiana University has achieved the following rankings:
First in Nonprofit Management Graduate Programs by U.S. News & World Report
First in Environmental Policy and Management Graduate Program by U.S. News & World Report
First in Online MBA Programs by U.S. News & World Report
First in Folklore Doctoral Programs by the National Research Council
Second in Public Affairs Graduate Program by U.S. News & World Report
Second in Social Psychology Graduate Programs by U.S. News & World Report
First in Music Schools by the Music School Central
Fourth in MFA Theatre Program by Onstage
Fifth as a Graduate University for Designers by LinkedIn University Rankings
First in Community for Women in MBA Programs by Nerdscholar
Ninth in Gay Friendly Schools by Newsweek
Eleventh as College for Veterans by U.S. News & World Report
Top Five Marketing Program by U.S. News & World Report
Top Five Analytical Chemical Graduate Program by U.S. News & World Report
Top Five Nuclear Physics Graduate Program by U.S. News & World Report
Top Ten College for Innovative Foreign Language Study by The Best Colleges
Top Ten Journalism Program by College Magazine
Top Ten Elementary Education Program by U.S. News & World Report
Top Ten African History Program by U.S. News & World Report
Top Ten Business Programs by U.S. News & World Report
Top Ten Library and Information Studies Graduate Program by U.S. News & World Report
First in City for Work-Life Balance by Forbes
Sixth in Bets College Town to Live in Forever by College Ranker
Seventh as Smartest Town by Venturebeat
Accreditation Details
Indiana University is accredited by the Higher Learning Commission and is a member of the North Central Association. Accreditation assures that an institution's academic programs meet acceptable levels of quality. In order to receive federal financial aid, a university must be accredited by a nationally recognized accrediting agency. Employers also seek candidates with degrees from accredited colleges or universities.
<!- mfunc search_btn -> <!- /mfunc search_btn ->
Application Requirements
Freshman at Indiana University Bloomington must submit an application, transcripts and test scores as part of the admissions process. Students who have completed 12 or more credits at another college or university may transfer to Indiana University. They must complete an application and provide official copies of transcripts from all colleges and universities attended. Graduate students must complete the online graduate admission application and provide official transcripts indicating a completed bachelor's degree or higher. Students must also provide a personal statement and letters of recommendation.
Tuition and Financial Aid
Tuition for undergraduate students who are Indiana residents is $10,388 per year and for non-residents is $33,740 per year. Financial aid is available in the form of scholarships, loans, grants and federal work study. Students must complete the Free Application For Federal Student Aid (FAFSA) in order to qualify for any financial aid award.
Online Degree(s) Available
Ph.D in School Psychology
The Ph.D in School Psychology at Indiana University prepares students to become practicing school psychologist, conduct independent research, take leadership roles in special education or prepare for private practice. It is grounded in scientist-practitioner models where research and theory inform the students' practice and real-world experiences are used as part of the students' research. The program is a 90-credit hour program that takes most students five to six years of full-time study to complete. During the program, students receive 800 hours of practica and 1,500 hours of internship work. Research focuses on educational equity, school discipline, school violence, response to intervention and autism spectrum disorders. Research may also include using the internet as a tool as well as dealing with anxiety disorders and depression.
There is flexibility in the major as courses from related areas of study may be included if relevance can be demonstrated. Six credit hours of inquiry coursework are also included and one of the courses must be an early inquiry experience, during which the student carries out an actual research project. The project includes the collection of data to answer a question, analysis of the data and the writing of a research manuscript. This research may not be part of the student's dissertation research. The second inquiry course must be relevant to the major field of specialization the student is studying and focuses more on the design and methodology.
Students must also complete a minor that complements the major. The minor must be approved by a committee member. Students must submit a written description of the theme of the minor, an explanation of the contribution each course requires and a rationale for the selection of the minor.
Although courses are available online for the Ph.D. in School Psychology, there are classes that must be taken on campus to complete the degree.
Indiana University in Bloomington has a long history of providing quality education to students so that they are able to advance in a current career or move into a new career path. Their online courses allow students to meet work, family and social obligations while achieving their higher education goals.
<!- mfunc search_btn -> <!- /mfunc search_btn ->