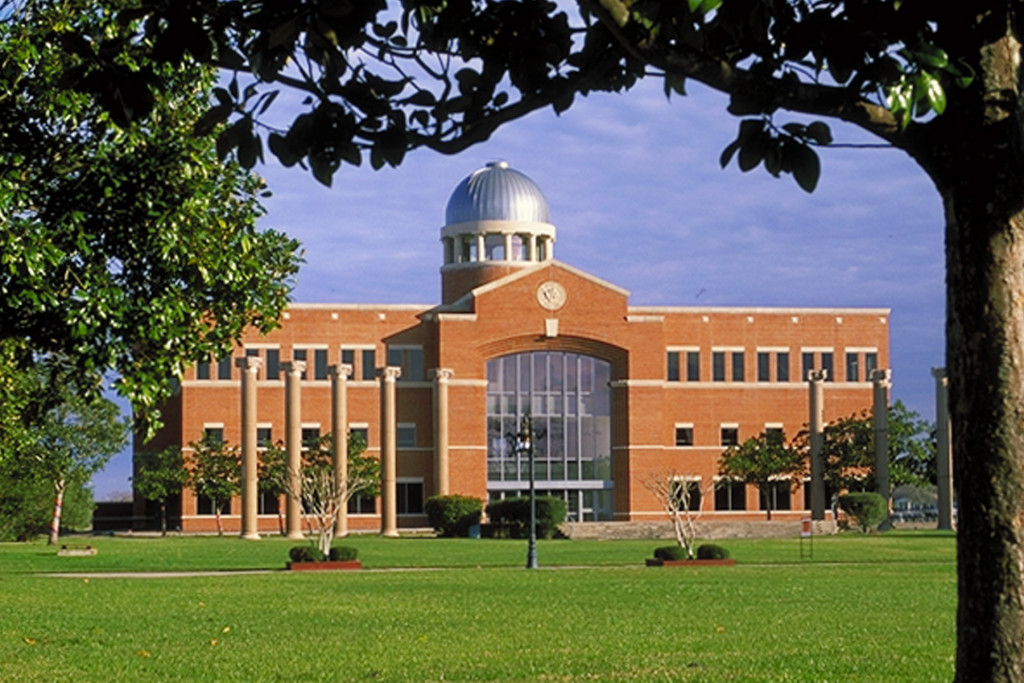 The Baptist General Convention of Texas came together in the late 1950s to establish a new college of higher education with an emphasis on Baptist learning principles. The Convention wanted a school that would teach students the fundamentals of their chosen field of study at the same time that it taught them how to use religious principles. That group officially established Houston Baptist University in 1960. Located in the small town of Greater Sharpsville, Texas, the campus is just a short drive from downtown Houston. Many of its students work downtown or do internships in their later years in and around Houston.
When the campus first opened in 1963, it had less than 200 students and only 30 professors. The university continued adding new programs to appeal to new students, which led to the school's population reaching more than 3,100 students in recent years. Houston Baptist University, also known as HBU, is unique in that it requires all students to take a certain number of religious studies courses before graduating. Students must take approximately 80 credits of worship and community classes that teach them the importance of helping others and working in the community. Though the university does not have a national ranking, it does have a solid reputation in the state. It is a popular choice for students who want to combine faith and their studies.
Accreditation Details
Houston Baptist University has accreditation from the Commission on Colleges of the Southern Association of Colleges and Schools, which is one of the main accrediting organizations operating in the United States. The university received accreditation the first time that it applied and passed the renewal process every time since its initial accreditation. Houston Baptist University also has approval from the Texas Education Agency for the programs that it offers for its education majors. This approval ensures that students complete the requirements necessary for teaching in the state of Texas. The university also has specialty accreditation for both its nursing and business programs. Its nursing program has accreditation from the Nursing Accrediting Committee, and its business programs have accreditation from the Accreditation Council for Business Schools and Programs.
<!- mfunc search_btn -> <!- /mfunc search_btn ->
Application Requirements
Houston Baptist University wanted to make things easier for potential students when it created its online application. It is one of the only schools in the state that does not require an application fee, and it is one of the only colleges that does not require students write an essay as part of the application process. Potential students can log in, create an account, begin the application and finish it later. The online application consists of several steps that begins with questions regarding the student's name, age and contact information. They must then enter information about their parents or guardians and complete a separate section about their high school experiences. HBU asks that students include the scores they received on a standardized test, the name and contact information of a high school guidance counselor and the name of the high school they attended.
After finishing the online application, students must arrange for their counselors to send official transcripts from their high schools and request that the SAT or ACT send their official scores to the university. HBU will use all that information to determine if students will receive acceptance to the university. Those applying for admission to one of the graduate programs must complete an online application, arrange for the university to receive their test scores and have professors and other professionals write letters of recommendation for them.
Tuition and Financial Aid
Any student who wants to take classes at Houston Baptist University, including those who only take online classes, will pay the same amount. The cost of tuition and fees for all full time students comes in at just under $30,000 a year. Students living on campus are also responsible for paying for a dorm room and a meal plan. The university estimates that students will spend around $1,000 a year for their textbooks and other supplies and another $3,000 or more for personal expenses. Houston Baptist University offers a number of financial aid packages and scholarships for new students.
Incoming students may qualify for a merit scholarship, and those who qualify will receive information from the university on how to apply and get that money. Other scholarships are available for students transferring from another college, students who completed a home school program and those who meet other standards. Both online students and those attending HBU's on campus programs should complete the FAFSA as well. This lets them know if they qualify for subsidized or unsubsidized student loans, grant programs and other financial aid. HBU notifies all its students of the financial aid they will receive in the weeks and months leading up to the start of the new semester.
Psychology Degree Program
All psychology degree programs offered at Houston Baptist University are available through its Department of Psychology. The Bachelor of Arts in Psychology program is a program designed for incoming and transfer students who want to learn the fundamentals of human thought and behavior. Students initially take courses designed to give them a brief overview of topics relating to the subject before taking courses to give them strong research and writing skills. The program consists of 46 credit hours of work in psychology topics, including 34 core credits of required courses like psychology of religion, psychology of learning, introduction to statistics, abnormal psychology and human growth and development.
Students must also take 12 credit hours of electives that cover topics like human sexuality, social psychology and cultural psychology. As with all programs offered by the university, students must also complete a minimum of 80 credits of community and worship courses outside of the programs they choose. As part of the final year in the program, the university asks its psychology students to take part in a capstone course. This course combines independent research with classroom learning to help students focus on a field of psychology that interests them. Houston Baptist University also has an honors society program that is open to students who have a high grade point average in all their classes that provides them with additional opportunities outside of their classes.
<!- mfunc search_btn -> <!- /mfunc search_btn ->